Hot Picks

- Yes 2019
- Abi 2019
Marital Problems


Australia 2017
produced by
Matthew Goldsworthy, Samuel McDermott, Julian Barbor (executive), Andrew Goldsworthy (executive), Shaun Miller (executive) for Reel Merit Films
directed by Dia Taylor
starring Nick Capper, Callum Gault, Aleis Duffy, Neil Goldsmith, Jonathan Hearns, Rachel Trainor, Drew Handcock, Peter Jermakov, Scott Knight, Nicholas Politis, Danae Swinburne, Matthew Goldsworthy, Julian Barbor, Raphe Basson, Dia Taylor, Marie Werrett, Chris Akers, Ian McCausland, Doug Mann, Darby Maxwell, David Mutimer
written by Julian Barbor, characters created by Chris Akers, Julian Barbor

review by
Mike Haberfelner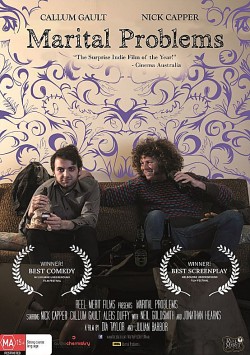 Ever since his breakup with Emily, Ian's (Callum Gault) life has gone down the drain, hitting a new low when a handiman, McManus (Neil Goldsmith) shows up at his door unannounced and tells him he's been hired by landlord Devon (Jonathan Hearns), and that Ian's to be evicted the very next day. Things don't get any better when Clarke (Nick Capper) shows up and demands payment for gardening work Ian has never requested - and furthermore, Clarke has actually stolen Ian's gardening tools and has been living in his garden shed. Now McManus and Clarke soon decide to stick around and have a few beers, much to Ian's dismay at first, but eventually he opens up to them, telling them how his life got off-track: He was very much in love with Emily and pretty much worshipped the ground she walked on, and wanted to provide for her. They lived in a one room apartment, so Ian worked his ass off to afford a house, but once he had found a place for them to live - the one Ian's evicted from now - Emily had left, and all she left was a cryptic note. And after Emily was gone, the job soon was gone as well and Ian's life turned to hell.
To cheer Ian up, Clarke tells his tale of woe: He had just been fired from a rock band for unruly behaviour when he, literally in the dumps, met Janey (Aleis Duffy), who must have taken an instant liking to him as she asked him to marry her within 24 hours - and Clarke said yes. Now in their relationship, Clarke was a kept man while Janey brought in all the money, and eventually he found out that she had never loved him, only wanted to marry him to get back at her parents - and of course, this proved poison for their relationship, and eventually she threw him out and he moved into Ian's shed and pretended to be his gardener.
Eventually, landlord Devon shows up, as he has decided to move into Ian's place himself with his new girlfriend - and that's where both Ian and Clarke are in for a big surprise ...
Now granted, the first half of Marital Problems seems to try a bit too hard to just be grungy comedy, is too occupied with getting its characters in and out of drunk situations, which is funny enough but at first lacks depth. However, halfway through, the film finds its heart and actually mixes some drama in with the humour, and this is when it falls together rather beautifully, as the characters are afforded arcs that weren't discernable earlier on, and the plot that seemed to be stuck earlier is driven forward nicely to a surprise but entirely logical conclusion, and thanks to a directorial effort that steers clear from gross-out humour as well as over-dramatizing, this ultimately becomes an unusual yet very enjoyable dramedy.