Abercrombie Von Housing aka Crom (Creep Creepersin) is the president of the Monster Killers Club, and also its special agent and sole member. Mostly he spends his time with investigating supernatural occurences that are not too supernatural on closer inspection, help kids against the (imaghined) monsters in ther closets - though most of the times, he freaks out the kids more than he calms them down -, or chase aliens off someone's lawn - though the aliens are invariably of the illegal variety doing yardwork whom the lawnowners have suddenly decided no to pay. To put it bluntly, Crom is a bit of a failure, but he sees it differently, so he has hired a cameraman to document his exploits ...
Anyways, even a man like Crom attracts a woman eventually, Pam (Nikki Wall), who dresses like a pirate for no apparent reason, and who lures him into her apartment telling him she thinks it's haunted by a poltergeist - but the poltergeist turns out to be her roommate Mindy (Cheryl Sands) having sex with other men while her boyfriend Jett Jaguar (Buz Wallick) is out sleepwalking.
All that doesn't sound especially supernatural or occult or anything, but Crom soon suspects Mindy of being a succubus, collecting sperm of her ever-changing lovers in a tupperware under her bed. And he suspects Jett Jaguar to be a sleepwalking cannibalistic zombie - and amazingly he is proven right on both accounts (maybe the first time in his life) and finds out he even has a nemesis, the Evil Wong (Charlie Vaughn), a Caucasian desperately but not very convincingly trying to pass as Asian.
For some reason though, while all this is going on, Crom totally misses to notice that Pam is constantly visited by dead people, and she gives them whatever, just as if they were her kids.
The show (or at least the first season) ends on a bang when Crom and Pam follow sleepwalking Jett Jaguar one night to witnessing him attacking, killing and eating several people before being gunned down by the police. Then ...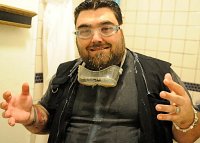 Creep Creepersin as Crom
M.K.C.: Monster Killers Club is a fun little series: Very obviously made on a shoestring and mainly in cast and crew's homes and neighbourhood, with rather little care put into artsy camera setups of perfect lighting, the whole series seems to rather show friends having fun trying to bring a few (sometimes quite hilarious) ideas across. And despite quite a few shortcomings - the shaky camera and documentary-style filmmaking gets on your nerve after a while, the acting's a bit uneven, less focus on Crom would actually help the story, ... - the fun is infectuous to the audience. Granted, it's better not to expect Citizen Kane when watching this one, but grab a few mates and a few beers and you will be greatly entertained.
By the way, the series can be found (for free) on www.dreadcentral.com - it's hidden somewhere under Videos though and might be a bit difficult to find ...