Hot Picks

- Yes 2019
- Abi 2019
Monochrome: The Chromism


USA 2019
produced by
Lozen Fükem for Tempest Studios
directed by Kodi Zene
starring Joshua Bangle, Devin Leigh, Cat Merritt, Ryan Barnes, Andre Pelzer, Sean Conley, Shashana Pearson, Floriana Hormillosa, David Shea, David Dittmeier, Nick Meyer, Perry Hinson, Kelly Hart-Hinson, Cody Enis, Ryan Kabir, Erwin Chung, Victor Young, Maija Johnson, Vitale Justice, Sean Demars, Carole Conner Davis, Hasan Eddins, Ron Cho, Dan Martinez, Juanita Wilson, Lozen Fükem, Baily Howard Leonard, Dan Lamas, Mark Branning, McKenna Tydlaska, Raegan Tydlaska, Krista Tydlaska, Torren Davis, Carlos H. Ransom sr, Jena Maharramov, Crystal Gattis, Heather Amakwe, Kat Frances, Jennifer Van Ness, Casey Williams, Barry Dull, Lauren Lamb, Kristen Lee, Charles "Chuck" Babu
written by Kodi Zene, music by Sha'ul the Israelite, Devin Leigh, Kodi Zene

review by
Mike Haberfelner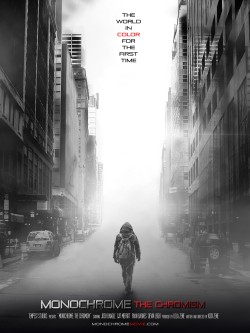 So ok, USA is at war with the UK, and it's less than clear they're winning, there's a virus roaming the country that nobody really understands, and there are rumours of terrorist activitiy - but none of this can spoil Isaac's (Joshua Bangle) mood today, as today is the day he's going to propose to his girlfriend Victoria (Cat Merritt), and he has planned everything for the event to be perfect with the help of his brother Jerry (Ryan Barnes) ... but then, in front of the location, he, a mere bystander, gets hit in a shoot-out, and rushed into hospital - where he recovers nicely safe for the fact that his skin starts to glow. For that he's soon isolated from the other patients, to a degree that his being at the hospital itself is hushed up - and when Jerry complains about this, he's injected some sort of mind-control drug.
The story behind this is of course this, whatever Isaac has caught is actually a virus developed by the gouvernment under operative Donavan (Devin Leigh) to gain a better handle on the populace in the trying times of war. However the virus should have killed but only makes Isaac glow - so while Isaac is kept at the clinic to find out what went wrong, the others who have contracted the virus are now called "hues" and are branded a public health scare and menace to society as such, and are pretty much free-for-alls.
However, before long, things take a different turn when all the East Coast is to be evacuated in preparation of a British attack, and thus it's easy for Isaac to escape the hospital - however it takes him some time to find out that he's seen as menace for society, and one of the fiercest hue-hunters is his own brother Jerry, who not only kills their parents (Perry Hinson, Kelly Hart-Hinson) before Isaac's very eyes but then also goes after Isaac - and while Isaac is usually a man who can take care of himself, it's still another matter to fight a man who he still considers his brother and he has grown up together with ...
A very nice science fiction thriller of the conspiracy theory variety that makes up for its modest budget with a strong and intelligent story that nevertheless allows for plenty of action, while leaving its plot wide open for interpretation - best exemplified in the artistic choice to show the world at large in black and white with the "hues" being naturally coloured spots. And a dynamic directorial effort paired with grounded performances makes this really work, and quite an entertaining piece of genre cinema, actually.