Hot Picks

Pumpkins


UK 2018
produced by
Maria Lee Metheringham for Great Northern Productions
directed by Maria Lee Metheringham
starring Maria Lee Metheringham, Terry Wood, Will Metheringham, Dani Thompson, Stacey Gough, Sarah Jayne Curry, Roland Martial, Craig Edwards, Iona Mckeown, Georgia Annable, George Walker, Marcella Edgecombe-Craig, Anthony Wakefield, Stefan Michaels, Mark Hindman Smith, David Healy, John Micheal Foulger, Mark Smith, Samantha Hindman, Dale Hooley, Nathan Jordie Keers, Jim Bayes, Debra Marie Mawdsley, Frankie Mckeown, Karl Revill, Richard Tyurland
written by Maria Lee Metheringham, Will Metheringham, music by Will Metheringham, special effects by Maria Lee Metheringham, pumpkin mask by Jade Campbell-Wilson, songs by Great Northern Hotel, Karl Revill, Richard Tyurland

review by
Mike Haberfelner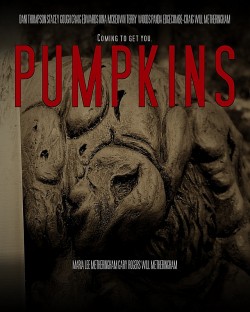 He (Terry Wood) was just a farmer who might have loved his pumpkins a bit too much and might have been a bit too rough on trespassers - which inspires two young hoodlums (Dale Hooley, Nathan Jordie Keers) to give him the scare of his life ... and ultimately scare him to death. But he's not one to stay down, as something in the soil (or in the fertilizer) brings him back to life as - Pumpkin Man (Will Metheringham), a giant of a man with a pumpkin face who will from now on go after all tresspassers, with the help of some Halloween pumpkins come to life.

As it happens these very same days, guides Denise (Sarah Jayne Curry) and Lance (Roland Martial) take a group of "survivalists" (Craig Edwards, Iona Mckeown, Georgia Annable, George Walker, Marcella Edgecombe-Craig) through the woods that happen to in parts be Pumpkin Man's property - but they're not doing a very good job, as they first happen to love a few of the group, then they leave the others alone to get themselves killed - and suddenly everybody's on Pumpkin Man's kill list. Somehow, one of the group (Marcella Edgecombe-Craig) makes it to the next village to Stan (Stacey Gough) and Pam's (Dani Thompson) pub, but nobody really believes her there's a killer roaming the woods - until it's much much too late ...

Director Maria Lee Metheringham plays Pumpkin Man's loving niece who does her best to cover up his tracks and lure some more victims in for him.

Now admittedly, Pumpkins doesn't exactly try to re-invent the teen slasher genre - but within the familiar formula, it shows lots of imagination, starting with the pumpkin-killer himself and his little pumpkin helpers as well as plenty of rather fun characters, plus an overall approach that is ironic enough to keep those not totally sold on the slasher formula entertained while gory enough and featuring enough creative deaths to keep hardcore fans glued to the screen. Plus, the filmscore pleasingly reminiscent (without being a copycat) of 80s genre movies deserves special attention for sure.

In all, really cool genre entertainment.