Hot Picks

Range Runners


USA 2019
produced by
Christian Crocker, Christopher Ganze, RoseMary Prodonovich, Jonathan Bross (executive), Devon Colwell (executive), Maggie Crane (executive), Gabriel Steven Levi (executive), Philip S. Plowden (executive), Abby Schoellkopf (executive), Brandon Wiley (executive), Jahred Zmolek (executive) for Fatal Funnel Films
directed by Philip S. Plowden
starring Celeste M Cooper, Sean Patrick Leonard, Michael B. Woods, Tiffany Renee Johnson, Sarah Charipar, Carl Clemons-Hopkins, Mariah Gordon
story by Devon Colwell, Philip S. Plowden, screenplay by Devon Colwell, music by Richie Palys

review by
Mike Haberfelner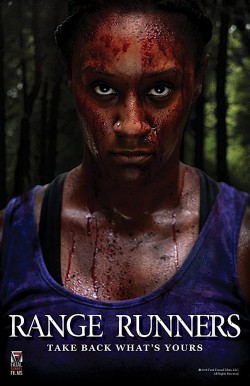 All of her life, her dad (Carl Clemons-Hopkins) has drilled Mel (Celeste M Cooper) to be a championship runner, and led her to the verge of a breakdown doing so repeatedly, without any regards if this was what she wanted. Now, Mel has long fallen out with her father, but his merciless training has left her with an obsession for thru-hiking. And on one such expeditions, she runs into a pair of fellow hikers, Wayland (Sean Patrick Leonard) and Jared (Michael B. Woods), men who seem to be ill-equipped for doing any serious hiking. Now she gives them some assistance - with the result that they tie her up and steal her backpack, then leave her to her own fate and devices. But if all the training that she has received has taught Mel one thing, it's to be tough, so it doesn't take her long to free herself, then she goes after Wayland and Jared, to get back her backpack. And of course, this will only lead to more confrontation and pain, and she could go the other way to safety, but she's too determined to just give up what's hers.
Now the story with Wayland and Jared is this, they have botched up a drug deal, and now drag a brick of cocaine with them, hiding out in the woods to stay out of harm's way, with the drugs being the bargaining chip for dealing with their employer. And then Mel shows up again, and when she can't get her hands on her backpack, she grabs the backpack containing the drugs instead, destroys the stash - and falls off a cliff. Wayland and Jared figured she's had it and leave her for dead while trying to make a hasty mistake. But Mel is tough, and she manages to take care of her multiple injuries and drag herself to the next street, where she soon manages to stop a ranger's (Sarah Charipar) car, whom she tells her tale of woe. The ranger promises to help her - and things go downhill from there ...
Range Runners is a tight little thriller that has really managed to strip its story down to the bones and build suspense on that rather than over-explaining and losing the narrative tension in the process. And it makes perfect use of its locations, that in their archaic beauty really help to keep the story very primal. Also, Celeste M Cooper really embodies the toughness and spunk of her character, both physically and acting-wise, supported by an able but very small ensemble.
Very cool for sure.