Hot Picks

Sweet Taste of Souls


USA 2020
produced by
Bee Pedersen for Flying Dolphin Productions, WinterGlass Films
directed by Terry Ross
starring Honey Lauren, John Salandria, Mark Valeriano, Amber Gaston, Sarah J. Bartholomew, Thom Michael Mulligan, Frank Papia, Jesse LeNoir, Darn Oldham, Scott Alin, Lonny Curtis, Mark Allyn, Samantha Larson, Tess Dunlap, Jesse Turner, Daniel Quezada, Monique Famisan, Will Fletcher, Lolly Boroff, Tyler Bruhn, Arkady Unterleidner, Brandon Marinas, Danielle Kaufman, Carl Ling, Carla Terrazas, Robert Chapman, Bryan Keith Davis, Dominick Nunes, Bruce Welnack, Thomas Peterson, Bee Pedersen, Laura Fowles, Chris Fowles, Dawna Lee Heising, Dave Frank Downes (voice), Cato Zane (voice), Charlotte Fitchy, Jaqueline Barone, Jade Harper, Kau Vang, Tabatha Lister
written by F. Scott Mudgett, music by Dennis Poore

review by
Mike Haberfelner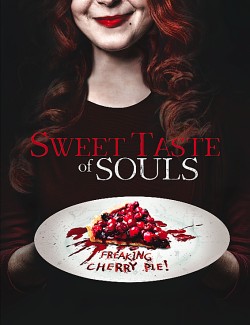 Nate (John Salandria), Kyle (Mark Valeriano), Wendy (Amber Gaston) and Lily (Sarah J. Bartholomew) are in a band and on their way to their "big" gig through the backroads of rural USA - and the strain of the trip is putting a strain on them already. Eventually they pass by Ellie's (Honey Lauren) pie shop and decide to - well, stop for some pies. And Ellie's quick to freak them out for sure. As are the framed photos on the walls somewhat eerie - and when Nate tries to inspect one and accidently drops it, Ellie loses it and throws them out. Nate swears he saw the characters in the photo move, but of course the others don't believe him - until they disappear into thin air one by one, and re-appear in a photo on Ellie's wall, a photo they despite their best efforts seem to be unable to escape. They now discover that all the characters in the other photos on the wall are trapped living humans as well, some being trapped for 20 or so years now ...
But how come? Seems when Ellie killed her abusive husband (Scott Alin) back when she somehow mustered up enough hatred to be entered by some kind of demon that gave her the ability to capture everything she has captured in a photo for real - which has lead to quite some disappearances over the last several years - disappearances that have triggered the interest of Sid (Frank Papia), whose own daughter is among the missing, and Barney (Thom Michael Mulligan), and their investigations have led them to Ellie's pie shop, where Barney soon gets a job as mop boy - while of course, he has no idea that all those who have disappeared are actually held captive in photos ...
Mop boy Barney gives our heroes new hope, as he's clearly not in league with Ellie and clearly snooping around, but their means to communicate with him are rather limited as by design they freeze every tie someone enters the room. However the hope is squashed soon when Barney's brutally killed by Ellie. What's worse though, Ellie falls into a depression and desides to destroy all her pictures, and their content with them, so an escape plan becomes imperative ...
Sweet Taste of Souls is a horror movie that puts surrealism back into the genre, and boldly and proudly so: Sure, by rational terms the premise of the film doesn't make any sense, and it's never really explained away, but somehow the film manages to create its own world with its own rules, and in today's general, overrationalized and streamlined take on the genre, this approach is really a breath of fresh air, especially since the thing is directed very beautifully and has a very homogenous feel to it. And while the film surely has its hints of irony, the actors, while in on the joke, play it straight and give solid performances throughout, all resulting in one of the weirder entries into horror - and for that all the more appealing.