Hot Picks

Una Great Movie


USA 2020
produced by
Matthew Morgan, Jennifer Sharp for Sharp Films
directed by Jennifer Sharp
starring JoNell Kennedy, Numa Perrier, Jennifer Sharp, Jose Casasús, Jake Olson, , Mark Beltzman, Zac Titus, Natasha Esca, Eric Edelstein, Charlie Finn, Jimmy Walker jr, Lodric D. Collins, Melissa Pino, Michael Ray Escamilla, Ben Solenberger, William McKinney, Cat Hammons, Matt Beurois, Santiago Ortiz-Monasterio, Tom Mesmer, Katie Cofield
written by Jennifer Sharp, music by Ben Colbeck

review by
Mike Haberfelner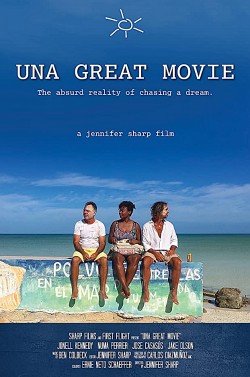 All black author Zoe (JoNell Kennedy) ever wanted was to write a very emotional and personal drama about a black woman, Susan (Numa Perrier), who wants to go to Mexico to see an old love of hers she still has feelings for, Luis (Jose Casasús), one more time, even though she knows he might not be that much into her anymore - a simple, almost archaic story with little in terms of frills but all the more real emotion. Problem is, a script like this doesn't exactly have blockbuster written all over it, and thus is a hard sell - which is why Zoe turns to person after person to get advice to improve the script, from producer to script therapist to a self help group to her PR agent, and everybody's glad to help ... and in the process, the script is watered down more with every new element she adds, including a sidekick for Susan, Jenny (Jennifer Sharp), who's in some scenes an ecologist, in others a love-hungry partygirl, several jarring subplots, and ultimately, a Hollywood star, Bryan Alonsio (Jake Olson), who really doesn't find any good place in any of the script's versions, but who is to add saleability. And ultimately her personal drama is turned into a middle-of-the-road romantic comedy with an all white cast (with Susan now played by Natasha Esca), and too many entangled subplots to ever tie up in one - and this is where things fall completely apart, as the script's by now so convoluted nobody even tries to make sense of it anymore. Zoe's heartbroken about this - until she just happens to run into Bryan Alonsio for real, and he turns out to be interested, even if Susan's unable to offer him a role. But it's questionable if this is a turn for the better ...
Now I'm pretty sure that everybody who has ever written fiction has lost faith in at least some of one's stories and listened to advice from others that was, well, not quite on the level. And I'm sure it's no secret to anyone that Hollywood loves rewrites for maximum marketability, but more often than not not for the better. And Una Great Movie, in a nutshell, is a satire on just that, and a good one, too, because it only rarely goes for the obvious joke but takes its material, and even the oft-rewritten film, very seriously, and focuses on characters rather than punchlines - and that said, there's plenty to laugh about in the movie nevertheless, especially in moments born out of subtlety rather than thrown in for a chuckle. And the resolution to the whole thing is just hilarious in its own right (even if it is one of the more obvious jokes).
Well worth a watch for sure.