Hot Picks

- Yes 2019
- Abi 2019
The Wall of Mexico


USA 2019
produced by
Adrian Durazo, Marla Arreola, Sarahí Castro, Craig R. Johnson (executive), Patrick Cassavetti (executive) for The Winter Film Company, Spécola
directed by Zachary Cotler, Magdalena Zyzak
starring Jackson Rathbone, Esai Morales, Marisol Sacramento, Carmela Zumbado, Alex Meneses, Moises Arias, Mariel Hemingway, Xander Berkeley, Blake Lindsley, Lilia Fifield, Constance Todd Smith, Pedro Rodman, Alex Scheinman, Agya Salas, Ryan Ellis, Andrés García, Laura López, Aarón Tintos, Melina Oronia, Úlises Lázaro Flores, Robert Patrick Briggs, John Hayes (voice), Robert Salmon, Eddie Gosset, Robert Loebl, Lanny Cotler, César Douriet, Bertha Alicia Sánchez Aceves
written and music by Zachary Cotler

review by
Mike Haberfelner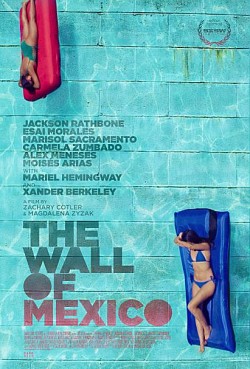 Don (Jackson Rathbone), a young and handsome, honest-to-a-fault but slightly naive countryboy, starts work as a groundskeeper at the ranch of the Aristas, an extremely wealthy but also slightly eccentric Latino family. The job's easy enough and the pay's alright, but what really catches Don's attention are the two Arista daughters, Tania (Marisol Sacramento) and Ximena (Carmela Zumbado), attractive and intelligent young women but also spoilt brats with a predilection for partying hard. For special occasions, they let him party with them, and Tania even lets him have sex with her, but basically they treat him like a toyboy rather than an equal. But because of that, Don gets slightly worried when he's asked to the boss's office and has to face Henry (Esai Morales) and Monica Arista (Alex Meneses), patriarch and matriarch of the family - but they're more concerned that the water in their special well is low, and that there seem to be water thieves around, so Don's to guard the well. Now the Aristas are very peculiar about that well, as they only use it for drinking, and even bottle it and sell it in small quantities - and as a result everybody in town thinks the water is something special, to the point where the well is suspected to be the fountain of youth. Don couldn't tell because he's not allowed to even drink the water he's guarding. Anyways, eventually water thieves are actually found on the property, and as a result the Aristas descide to build a wall around their property - much to the dismay of the locals, who demand to have access to the well, even if just to steal water, and who have to be driven off the property at gunpoint.
Through all of this, Don remains loyal to the Aristas, even if the girls are losing interest in him and try to avoid him at all cost, his one friend on the ranch, fellow groundskeeper Michael (Xander Berkeley) is fired from the job for stealing water, and he more and more feels underappreciated. So eventually, he has just one wish, to taste the water for himself - and too bad he's photographed doing so ...
Now its title itself is probably the bluntest thing about The Wall of Mexico, which turns out to be a very fine-tuned and layered satire that doesn't go for in-your-face commentary but veils its issues in a story set somewhere between rural drama and David Lynchean weirdness, with shots of surrealism even, and moving at a slow and steady pace and complemented by visually accomplished imagery, the plot is also given room to unfold beyond the obvious talking points. A quite unusual film, but also a very entertaining one at that.