Hot Picks

- Nox 2019
Who's Watching Oliver


Thailand / USA 2017
produced by
Aki Komine, Raimund Huber, Chariyawan Tavoranon (executive) for Motion Pictures Co., Joyplex
directed by Richie Moore
starring Russell Geoffrey Banks, Sara Malakul Lane, Margaret Roche, Kelly Woodcock, Champagne Nuttanun, Cecilia Belletti
written by Raimund Huber, Richie Moore, Russell Geoffrey Banks

review by
Mike Haberfelner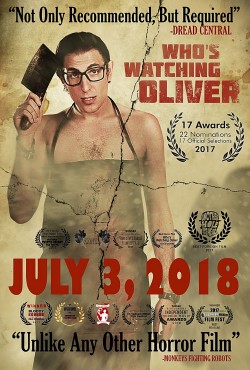 Oliver (Russell Geoffrey Banks), a socially awkward young man, has just moved to Thailand - but is pretty much in constant touch with his mother (Margaret Roche) via video chat, who gives him all sorts of mental support and also reminds him to always take his pills. And then one night, Oliver goes out, picks up a drunk girl (Kelly Woodcock), takes her home promising her drugs, then actually drugs, rapes and brutally kills her, to then saw up her body to properly dispose of it. None of this he enjoys in the least - so why does he do it? Because his mother told him to, and however hard he tries, he can't escape her control.
Eventually, Oliver meets lovely Sophia (Sara Malakul Lane) in a park, and he's pretty quick to fall for her, and the feeling is mutual, as it turns out that she like him is a broken soul. Thing is, without knowing Sophia, mother disapproves of it - and not only that, she insists on Oliver killing her. Now essentially Oliver listens to mum, but killing Sophia is just too much, so he picks up a girl (Cecilia Belletti) in a bar to kill her (on webcam, so mother can see it) in Sophia's stead. There's a problem though, Sophia has long grown curious about Oliver, so exactly this day she has spied after him after their date, has seen him go out, pick up a girl ... and ultimately dispose of her body - which naturally makes her see him in a very different light (especially since she doesn't know he has killed that other girl to save her) ...
Now Who's Watching Oliver is most certainly a film in a league of its own: It's deeply disturbing, not so much by what is actually shown (though there's plenty of on-screen violence for sure) but by what can be read between the lines, by the bigger picture the film only hints at - which works 100% for the film -, and all the while the movie's at the same time a very tender love story between two outcasts who only by the by grow into their relationship. All of this might sound like a shipwreck in my writing, but it works on film thanks to a well-conceived screenplay, a clever directorial effort, and a pair of very strong central performances.
Well worth a look!