Your new movie Cram - in a few words, what is it about?
Thanks for taking the time to chat, Mike! Iím grateful for the opportunity. Cram is about a not-so-studious college student named Marc (John DiMino) whoís struggling to finish a final paper the night before itís due. When he dozes off in the library, he wakes to discover his paper is gone ó a nightmare I think many of us have had in some shade. But for Marc, thatís just the beginning of the story, and what will become a much darker, more existential academic nightmare.
What were your sources of inspiration when writing Cram, and is any of it based on personal experience?
Yes. School was often a nightmare for me. I loved learning but I could never find a way to fit into the single mold that had been cast for students. I went to a rigorous math & science high school in NYC, and if you couldnít hack it there you were seen as either unintelligent or lazy. Itís easy to internalize that sort of feedback when youíre young, and it took me years to recover my motivation. Cramís cinematographer and co-EP Felix Handte and I actually met there. Felix is one of the smartest people Iíve ever known, so the fact that we were both not the best students was always encouraging to me. A big chunk of Cram emerged out of our shared desire to exorcize our academic demons.
The other piece came after I flunked out of college my first time around, when I was struck by the sort of Faustian bargain we all make with higher education ó a pathway to ďsuccessĒ in exchange for our youth and more money than most of us will ever see. If the higher education system were a person, youíd call it a vampire. So as we began to invite people onto the project, we realized pretty quickly that it wasnít just us bad students who had nightmares, it was everyone. From there, Cram evolved into this powerful desire to interrogate why the universal experience of school is fear. What are we all so afraid of??
What can you tell us about the library you filmed large chunks of Cram at, and what was it like filming there? And was the script written with that specific location already in mind?
After screenings, people come up to me with guesses (usually wrong) as to where the movie was filmed. Everyone thinks itís their college library. But I love that, I think the anonymity of the space lends to the universality of the story - ďSpooky LibraryĒ is a metaphorical space, and weíve all been there. And Iíll tell you, filming in it was creepy! More often than not, our approach to production design and cinematography was to respond to the existing qualities of the space rather than layer too much on top of it. Felix found consistently inventive ways to highlight the oppressive rigidity of the spaceís architecture and lean into its cavernous feeling. Also a big shoutout to our sound designer Daniela Hart for bringing the space to such vivid life on the soundtrack. Just like real life, she made sure there was always a leaky pipe a couple rooms awayÖ
Do talk about your movie's approach to horror, and is that a genre at all dear to you, and why (not)?
School is scary. Itís also full of silly nonsense. One of the cool things about horror is how it allows you to literalize metaphor, so in Cram, higher education isnít just vampiric in spirit, but in the flesh. Overall I wanted to express the fears we all experience in academia without sensationalizing them, so much of the horror in the movie is an expression of what Marc is experiencing. Thereís also a lot of fear to be mined from existing academic textures like the blank page, dark stacks, pencils, scantron forms, and blue exam books. I was insistent that the scantron forms we use in the movie were the exact same ones I used in school.
I do love horror, and Iíve always been attracted to explorations of darkness, but it took me a while to dive in. I was always too scared, too willing to cede to the seven-year-old kid who lives inside my mind and thinks movies are real. But I took a life-changing class when I was in college (it happens!) called Sex, Gender, and Politics in the American Horror Film where we watched four horror movies a week. By the end of the semester, I had fallen in love with the genre. Also Iíd been completely desensitized.
A few words about your overall directorial approach to your story at hand?
As far as low budget indie films go, Cram is a fairly maximalist undertaking. Dynamic camera moves with custom rigs, mechanical puppets, an old movie within the movie, monster prosthetics, a villain who speaks in iambic pentameter, an orchestral score, etc! We loaded so much stuff into this movie, and I always felt that as weird and out there as the story got, my job was to ground everything in an emotional and psychological reality.
As a writer, I feel the best material is the stuff that feels like it came from some mystical place beyond me. But as the director, I have to be deliberate about the rules governing things, especially a movie where anything can happen. Rules about what the camera can and canít do, the way my co-editor Trevor Wallace and I cut in and out of scenes, the role music plays, etc. Maybe Iíll feel differently when Iíve got more experience under my belt, but for now the only way I know to keep a handle on things is by doing as much homework as I can. Ironic, I know.
What can you tell us about Cram's key cast, and why exactly these people?
Marc spends much of the movie on his own with nothing but the stacks for a scene partner. It was crucial we find an actor whose thoughts would be legible through action alone. I remember during callbacks, John DiMino was reading for the scene where Marc discovers his paper is missing, and before he started he collected a bunch of props around him. All the other actors had done a bunch of business to try to depict Marcís thoughts but John was using the props as a way to NOT deal with the terror of the moment. It wasnít ďOh no, my paper is missing!Ē it was ďNo no no, my paper CANíT be missing. Itís here right? Right??Ē It was amazing! I could see the thoughts on his face. Thereís something undeniable about John, and itís a gift to work with him. Heís become a dear friend. You know itís been said by some that John DiMino is ďthe fourth OĒ, after Brando, DeNiro, and Pacino. I wouldnít dare though.
The Master of the Books was a different story. Brandon Burton and I have been friends for over a decade, and while the world is finally catching on to Brandonís power (he recently made his Broadway debut!) Iím not above a certain amount of pride in having seen it early on. Heís electric, and I wrote the Master of the Books with him in mind because honestly, how many people are there in the world that can play a centuries-old academic vampire who speaks in verse? Brandonís one of the great Shakespeare actors of his generation. Brandon came on board early and helped craft the dialogue, teaching me loads about verse in the process. I was lucky enough to see him as Falstaff in The Merry Wives of Windsor at Shakespeare in the Park, and his ability to hold the audience in the palm of his hand, and his facility with the language, all make you forget just how hard what heís doing is. But that degree of control is a must for the Master of the Books, particularly given how much of Brandon weíd be hiding behind layers of prosthetics and heavy costuming (by the incredible Beatrice Sniper & Alexandra Nyman respectively). That the character is a decrepit, monstrous white man and Brandon an attractive young black man is something we explored in-depth, and his dad to this day doesnít believe itís Brandon playing the part.
Do talk about the shoot as such, and the on-set atmosphere!
I could talk for hours about the experience of making Cram. It was frequently exhilarating, terrifying; the hardest thing Iíve ever done and the most fulfilling. I couldnít have done it without my co-producers. We made half the movie just before the pandemic hit and we had to shut down production. It was nine months before we were able to continue, and during that long interim we were uncertain if weíd ever finish the movie. Our heroic producer Zachry J. Bailey did a tremendous job coordinating a safe production before vaccines were available. Iíll never forget filming the party sequence in the movie. It was our first couple days of shooting following the hiatus, and thanks to Zackís rigorous health and safety protocol, we all found ourselves for the very first time since lockdown surrounded by people! Everyone had so much pent-up energy, and I think you can feel it on screen. Iím forever grateful that Cram was able to employ so many artists at a time when we were struggling for work.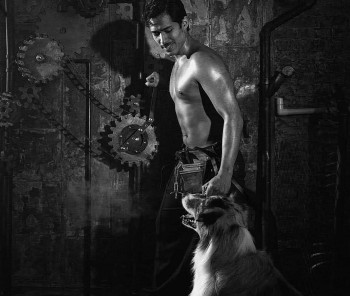 And you know, the vibes on set always translate to the movie. As tough as making Cram was, Iím always trying to remind myself and everyone that weíre making a movie! How cool is that?
The $64-question, where can Cram be seen?
Great question! Catch Cram on Tubi, Prime Video, Google Play, and elsewhere on-demand & streaming starting Friday, March 17th!! Big shoutout to Terror Films for distributing the movie!
Anything you can tell us about audience and critical reception of Cram?
Weíve been so lucky. Cram is an unusual movie with an unconventional runtime (45 minutes), and when we began our festival run we wondered how folks would respond. But the interesting thing is that the only people to ever even mention it are gatekeepers in the industry. Audiences love it, particularly broke students trying to cram a movie in while studying for an exam.
After we premiered at the Austin Film Festival, people were coming up to us on the street to tell us that Cram was their favorite movie from the festival. We ended up winning the Audience Award for our category at AFF, and the reviews coming out around then affirmed that success. Our festival run continued with more success, and now that reviews are coming out around the release, weíre thrilled to continue to see people connecting with the movie on a deep and personal level. Itís quite humbling and it means the world to me that people see something of themselves and their experiences in Cram. Horror has this amazing power to confront us with our fears, and can be quite healing as a result. My hope is anyone who watches Cram leaves feeling as though something inside them has been unlocked, that they feel less alone.
Any future projects you'd like to share?
Sure! Iíve been working for years on this script about a woman who loses her married lover to a horrific hot dog accident and winds up falling for the fictional fast food hot dog company that killed him. Itís a proper romance that really speaks to this strange moment weíre in right now where corporations increasingly behave like people online. Anyone brave enough to finance it will become filthy rich.
What got you into filmmaking to begin with, and did you receive any formal education on the subject?
I flunked out of traditional film school. When I returned to college, I ended up cobbling together my own major which combined film with sociology, linguistics, and political science. Iíve always been very interested in studying what a movie is and where meaning comes from. How to make a movie is something Iíve never felt comfortable learning in a classroom. Felix and I like to figure stuff out ourselves.
The real meat of my film education was when I was a kid. I was raised in part by the extended editions of The Lord of the Rings. I watched the behind-the-scenes material as much as I watched the movies until I pretty much wore those discs out. Those box sets taught me most of what really matters in filmmaking ó surrounding yourself with amazing people, refusing to quit no matter how impossible the task, and being insane enough to convince yourself and others that youíve got the goods to pull it all off.
What can you tell us about your filmwork prior to Cram?
Iíve done a bit of everything. Like most folks in the NYC indie film world, Iíve made shorts, music videos, commercials, a ton of educational media ó much of it with Felix and Trevor and my team at Rad Rhino. Iíve never been the type of person who can put out many original projects in a year. It takes me a long time to produce original work, which is sadly a luxury not really afforded young artists. But I donít buy into the idea that filmmaking is a race or that making art is a competition. Iíd rather make something that feels like honest self-expression than jump at every opportunity.
How would you describe yourself as a director?
The best thing about making movies is that they arenít made alone. Cram became the collaborative and communal education that was so sorely missing from our own schooling. That type of atmosphere is only possible when a director provides their collaborators with a shared sense of creative ownership. Itís my responsibility to allow my intentions to evolve in communion with the artistry of others. Iíve heard other directors say that their job is to fight for their movie and protect their vision against interlopers, but I think that if you approach making movies as conflict then your process will be filled with conflict. The idea that the director is the sole steward of a vision is wrongheaded to me.
Cramís composer Daniel Rudin once told me that he tries to cultivate a creative practice that feels like play, which really resonates with me. Itís less fun to play by yourself.
Filmmakers who inspire you?
I often admire filmmakers who feel idiosyncratic and explore spirituality in a way that embraces how hostile our world is to the spirit. David Lynch is a good example. He once said that abstraction in a movie gives the audience room to dream, and I think about that constantly. Iím very attracted to movies that leave space for the audience. On the other hand, Iím also drawn to filmmakers who play the audience like a fiddle. David Fincherís obsession with moving the camera in concert with the mechanics of the human mind and body really speaks to me.
Your favourite movies?
Iíve got a big anti-authority streak and the stories I tell tend to be about people yearning for transcendence in a world that forces material conformity. So all my favorite movies speak to that feeling in some way. Scorceseís The Age of Innocence, the Wachowskisí The Matrix Reloaded, Coppolaís Bram Stokerís Dracula. The list is endless and growing.
My favorite types of movie usually fall into a genre I call ďdumb smartĒ, which refers to movies that have a superficial silliness but real depth of feeling and true insight. Iíve been on a big early Kathryn Bigelow kick, and Point Break really is one of the greatest movies all time isnít it? The way that movie explores masculinity in crisis ó both the beauty and the violence of it ó really moves me. You canít help but think that Keanu and Swayze could make out okay if they just made out. If they spoke any love language other than force. And yetÖ men, you know?
... and of course, films you really deplore?
The inverse of the ďdumb smartĒ genre, ďsmart dumbĒ movies tend to be those I like the least; which are movies that sort of declare their Importance but feel spiritually empty because theyíre more about conveying a message than mining truth. But making movies is hard! We talk about movies as though they reflect the intentions of their authors in perpetuity but really theyíre time capsules. Iím not the same person who made Cram, you know? There are things about the movie Iíd do differently today. And the movie is a testament to the version of me that made it. I donít believe anybody making movies sets out to make something bad, and I do believe that everyone making art is doing their best in every moment. So if you make a movie, youíve done something pretty cool, and if people hate it then at least theyíre having an authentic experience.

Feeling lucky ?
Want to
search
any of my partnershops yourself
for more, better results ?

The links below
will take you
just there!!!


Your/your movie's website, social media, whatever else?
Movie website: https://radrhi.no/cram
Personal website: https://abiesidell.com
Twitter: https://twitter.com/absidell
Instagram: https://www.instagram.com/absidell/
Letterboxd: https://letterboxd.com/absidell/
Anything else you're dying to mention and I have merely forgotten to ask?
I think the Cram score is a triumph. I feel like I can say that because all I did was hire Dan and heís the genius who composed it. Watching that come together was one of the highlights of my creative life and the Cram soundtrack is dropping soon so everyone can listen to our credits track (Mom This Is) The Age of Exhibition on repeat like I have for two years now.
Thanks for the interview!
Thank you Mike for letting me dive deep! And to anyone out there who checks out Cram, thank you for dreaming with us a while J