Your new documentary Back to the Drive-in - in a few words, what is it about?
I visited 11 unique family-owned drive-ins across the country, to go behind the scenes to see what theyíre doing to keep their drive-ins alive. Itís a story of resilience.
What inspired you to make a documentary about the (mini-)resurgence of the drive-in, and what do drive-ins and the drive-in experience mean to you personally?
I went to drive-ins growing up outside of Chicago. My mom took us as kids, I went in high school and college, and as I got older I started to wonder why there were so few left. My first documentary was about the history drive-ins, and I wanted to do a follow-up about the families that own them today, since most of the drive-ins left are family businesses. When the pandemic hit, it added an unexpected layer to the story. I really love drive-ins and the whole experience of seeing a movie in a cool setting like a drive-in or a movie palace. I think it elevates the evening and creates great memories! Drive-ins are also community gathering places, which I think we need more of, especially after so much isolation in recent years. And theyíre fun!
About ten years ago, you've made another documentary about drive-ins, Going Attractions: The Definitive Story of the American Drive-in Movie - so how closely (if at all) are these two films actually linked?
Going Attractions focused on the history of drive-ins from the invention to the peak, and all the ups and downs over different eras until the present day. That movie came out 10 years ago, and I wanted to do a follow-up, with the focus more on the people, the families, that own drive-ins and work hard to keep them alive. So thatís why itís called Back to the Drive-in because Iím going back as a filmmaker, but also during the pandemic, a lot of people went back to the drive-in for the first time in decades.
Do talk about the locations in Back to the Drive-in for a bit, and how did you find/choose them?
I tried to choose a diverse cross-section of drive-ins so that I could show the full picture of what was going on during, and coming out of the pandemic. So I picked drive-ins in different states, some in cities, some rural, some old drive-ins, one of them had only been opened a few weeks when I filmed, some had new movies, some retro films, some served alcohol, some had one screen, others had up to seven screens - I was trying to show different perspectives, but after visiting the first few, I realized all these factors didnít matter. All the drive-ins were facing the same challenges, and they are all in it together!
A few words about your directorial approach to your story at hand?
Aside from selecting different types of drive-ins and owners to show the story, after that, I donít know what Iím going to get. I get on the road, and at each location, I just have to let the story unfold. When making a documentary you develop an obligation to the subjects of your film, and you have to listen and let them tell you what is important. I shot the film myself, so I had my primary camera, my drone, and a GoPro to do time lapse. I shot one day at each drive-in, starting two or three in the afternoon, and going until usually about 2 AM. The drive-in owners will tell you, I basically followed them around for around 12 hours, doing what they do, and trying to capture it.
What can you tell us about the shoot(s) as such, and the on-set atmosphere?
I think itís always weird at first for people to have a camera following them, but I try to just blend in and capture what theyíre doing without being too invasive. The drive-in owners were very open and let me into their worlds. And it was interesting that each location seemed to have its own mini-story that emerged.
The $64-question, where can Back to the Drive-in be seen?
Itís coming out video on demand on March 14 so anywhere you can rent or buy a new digital movie youíll be able to find it. Amazon, Google Play, iTunes, cable TV, etc.
Anything you can tell us about audience and critical reception of Back to the Drive-in?
We kicked off the movie on drive-in day (June 6) last summer on 20 drive-in screens in 17 different states. We were actually the second per-screen-average that day after Top Gun Maverick, which is pretty amazing. And itís 100% fresh from critics on Rotten Tomatoes. Everyone seems to really be connecting to the movie and rooting for the drive-in owners to succeed!
Now where do you see the drive-in heading in let's say 10 years or 20 years?
Itís hard to say. We are definitely in a time of transition for the whole film industry, especially the role of theatrical exhibition. Since drive-ins are about more than the movie, they are a total experience, they are unique, they are a place to create memories, so Iím very hopeful they can continue to survive and maybe even see an uptick over time. There is a stronger list of new movies coming out this summer, so hopefully the drive-ins will do better than they have the last couple years.
What - apart from a good movie, obviously - makes a drive-in experience perfect for you?
I think itís the whole atmosphere. Drive-ins are designed to be a venue, and so as soon as you drive on the property it has a special feeling. The sky and stars above, hearing the movie on the speakers of everybodyís cars around you is really cool. And of course some food and snacks, and good company.
Enough about drive-ins for the time being - any future projects you'd like to share?
Iím working on a bunch of projects. Under my Going Attractions banner I am working on roller rinks, bowling alleys, and regional/family-owned amusement parks.
What got you into filmmaking in the first place, and did you receive any formal training on the subject?
I always loved movies. I had a movie family. My dad had an 8 mm camera, we had reel-to-reel editing equipment in the basement, so I was always familiar with the process, even as a kid. I used to see every single movie that came out in theaters, from the biggest studio films, to the smallest indie films. I knew I would work in movies and TV eventually, but I had a business career first. When I switched into filmmaking, I took a bunch of classes at UCLA on writing and cinematography, and then I did narrative film programming for the Sundance Film Festival for over 15 years. I always say that was my film school.
Judging from your filmography, you seem to be equally comfortable in narrative and in documentary filmmaking - so how do the two compare for you as a filmmaker, and which do you prefer, honestly?
Yes I really think the format depends on the subject. For my narrative projects I am attracted to true stories, real people, underdog stories, which ties into the documentary side, and in my documentaries, I like more commercial topics, and I am always looking at my docs like narrative films, and applying the same structure, so to me they arenít that different. Telling a great story about something Iím interested in, especially if itís about something or somebody that most people might not notice.
Do talk about your filmwork prior to Back to the Drive-in!
I won a screenwriting competition for Script Magazine in 2004 and I have been working in different aspects of the industry ever since. Back to the Drive-in is my 4th feature documentary to be released.
How would you describe yourself as a director?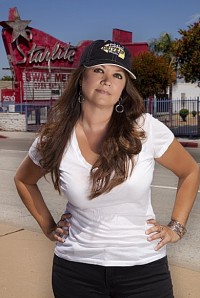 Feeling lucky ?
Want to
search
any of my partnershops yourself
for more, better results ?

The links below
will take you
just there!!!


Iím really interested in all the people I work with, and the subjects of my docs. In narrative, I really enjoy working with actors. I am also a writer, I also shoot, I also edit, Iím a drone pilot, I produce, so Iím very familiar with many aspects of filmmaking in addition to directing, which I think helps me to be a better director.
Filmmakers who inspire you?
I like Brian DePalma because my favorite genre is thrillers. Also Hitchcock of course. I like Steven Soderberg because he always tries something different. Same with Richard Linklater. John Landis directed some of the best comedies of all time. Penelope Spheeris inspired me for documentaries, because when I saw The Decline of Western Civilization Part II: The Metal Years in a theater, it made me realize documentaries didnít have to be boring or about heavy topics.
Your favourite movies?
My favorite movie is Rocky. I love an underdog story - the movie is one, and so is the backstory of how it got made. I also love Carrie, The Shining, Rosemaryís Baby, for docs The Kid Stays in the Picture, I loved The Beatles Get Back. And many more.
... and of course, films you really deplore?
There are probably a lot I donít love, but I canít think of them.
Your/your movie's website, social media, whatever else?
@driveindoc on Twitter
@april_wright_1999 on Instagram
Thanks for the interview!