First of all, why don't you introduce yourself to those of us who don't already know you?
Hello, my name is Arfon Jones - I am an artist/illustrator/indie comic artist from North Wales and I have a horror art channel on YouTube called Vid-O-Rama! - where I paint tributes to the movies that we rented on video back in the day!
Do talk about your show Vid-O-Rama!, and what was the inspiration behind it?
Vid-O-Rama! started out around 4 years ago. I am an artist that draws, then paints - in other words I do things the 'old fashioned way', and unfortunately most people these days assume your work is done on a computer, and don't fully realise that I can't simply remove or alter my work by pressing a button! I can be a slow process that involves hours of mixing paint and adding layers of detail. One day I decided to document the process and uploaded it to YouTube, hoping it would offer some insight to my process, and people seemed to like it. So I decided to do more of them and started painting tributes to the movies that I loved. My earliest videos were fairly short and basic, and they featured either the music from the movie or a trailer, but unfortunately YouTube comes down hard on channels using copyrighted music these days, so I found myself having to record a voice-over instead, explaining what I was doing - but I would sometimes run out of things to say! So, I started to reel off all the useless movie trivia that I have gathered in my head over the years! My wife and I felt that there were too many negative videos on YouTube, devoted to so called 'bad' movies, featuring people berating films - I wanted to create something positive, something that hopefully encourages you to watch the movie. I try to mix them up, exploring all genres of horror and I paint movies that I like, that I feel are worthy of a view. As for the name itself , that's the name of my home video shop, that houses my VHS collection.
What got you into painting in the first place, and did you receive any formal training on the subject?
I have always drawn pictures, as far back as I can remember. I did attend art college and I hold a ND in Graphic Design and a BA in Illustration, but I regard myself to be entirely self-taught. For most of my life I worked in felt tip pens but I noticed that the ink would fade after a time and thought it best to invest in a medium that retained its, colour and so I taught myself to paint, I took to acrylic (probably because it was all I could find at the time) and practised/worked on how to use the paintbrush and mix paint - and that was 20+ years ago!!
You predominantly paint horror motives - is that a favourite genre of yours, and why (not)?
Yes, I love comedy, and I love sci-fi but I've always liked horror, especially monster movies/creature features, and even though I aspired to becoming an animator/cartoonist someday, my work could be quite dark and would stray into horror at times. Back in 2009 I was commissioned to paint a movie poster for a locally produced indie horror movie called Zombies from Ireland, and was later approached by indie horror comic publisher Hellbound Media to work on their Slaughterhouse Farm series, and so I found myself working in horror circles.
Rather generally speaking, how do you get the inspirations for your individual paintings on your show, and how do you determine their layouts?
Sometimes it's just a case of having watched the movie the previous night I feel compelled to share it with others. I have quite a broad/obscure taste in horror, favouring low budget/indie movies, cited at times as 'B' movies, and I have amassed a large collection of them on VHS and DVD. With regards to layout it can be either be that I have something at the back of my mind that I would like to try out that month or it's simply trying to work within the confines of an A3 sheet of card.
Do talk about your painting techniques for a bit!
Well, having settled on which movie I want to paint I watch the movie again with a sketch pad on my lap and jot down ideas/things that I would like to feature. I draw up a rough sketch of how I think it should look (adding elements I would like to feature, that I hope will entice someone to watch the movie or prompt someone that has already seen it before to watch it again) and then once I have settled on the design I draw a main/central image (pausing certain scenes on the DVD or trawl Google image for reference shots). I tend to draw figures separately as I like to just let go, and get the likeness right, and then when I have all my drawings I need, I cut them out and stick them on a sheet of A3 paper, working out the layout (sometimes I resize the drawings to fit), and then proceed to add further detail/defining edges. Once I have settled on design and I am happy with it, I then photocopy the image to thin card for painting (I use card as it takes the paint better than paper). The colours that I use are usually what I think suits the 'feel' of the movie but sometimes I will pick a colour simply because I like it or I haven't used it for some time. Once I have selected the two colours I wish to use, I also add black and white, I use the white to lighten colours and black to darken. Detail and outlines are added with pens, and this is when I really apply all the detail.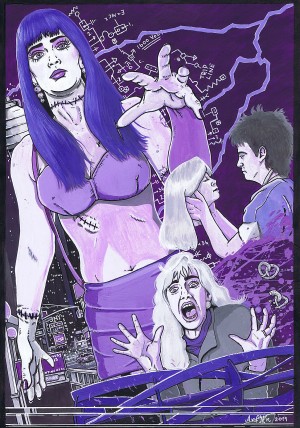 Of all of the paintings you did for Vid-O-Rama!, what are some of your favourites, and some that gave you the hardest time?
I can't really single out my favourites, let's just say I have ones I like more than others! Paintings that have been endorsed by the people involved in the making of the actual movie are always special to me. I've also had people reach out to me telling me of a connection that they have with a movie, that it holds memories of loved ones for them and that my depiction had stirred up special memories for them, that's always nice. When I am told that someone actually watched the movie for the first time because of my painting, I take that as a genuine compliment. I couldn't say that one in particular painting gave me trouble, each one is different and requires its own process, a process that I try not to take for granted! Sometimes getting someone's likeness right can be a challenge, especially if it's an obscure movie with little to no reference pictures to work from - but I love it!
The $64-question, where can Vid-O-Rama! be seen?
Vid-O-Rama! can be found on YouTube, simply search for Vid-O-Rama! on there OR go to www.vid-o-rama.com
We can be found on social media:
Instagram ► www.instagram.com/arfonart
Facebook ► www.facebook.com/groups/vidorama
Twitter ► twitter.com/arfonjones
We have an Etsy-store ► www.etsy.com/uk/shop/Vidorama
And if you would like to join the Vid-O-Rama Video Club (offering all manner of rewards) ► www.patreon.com/arfonjones
Do talk about your painting career before/outside of Vid-O-Rama!
Being the weird kid I was often bullied and so would stay indoors at every given opportunity, and so I was raised on a healthy diet of 1980's – 90's television, comics, toys and videogames, and I continue to surround myself with these things in my studio - so I never feel uninspired! Art is very important to me, I am genuinely hard pushed to think of a time when I wasn't drawing or working on something, be it drawing, clay sculpture or a puppet of some sort – I always tried to stay creative. As I mentioned before, I originally wanted to be a cartoonist for several years, and so I worked on my drawing skills taking influence from the countless television shows and comics. During the early 1990's I became interested in American superhero comics, in particular DC and Marvel, and during this time I worked at a vintage comic mail order company during evenings and school holidays, and this also proved to be a major influence on my style.
During my time in art college I had a few 'run-ins' with my lecturers'/differing opinions on what 'art' was, and this caused many a crossed sword/causing frustration for me, but being stubborn I continued my work regardless and developed my own style. But during this time I kept myself busy by working on outside commissions, working for both television and media working on illustrations, comic strips and animation concept art. As I grew older I abandoned the prospect of becoming an animator when I realised that I much preferred to be in full control of my own ideas and taught myself how to paint. I concentrated my efforts on creating single pieces of work and settled on being a freelance artist/ illustrator, and over the past twenty five years I have worked on countless books, comics, album covers, movie posters and DVD covers from all over the world. My work has been publicly displayed in the UK, Europe and America, and my craft has allowed me the opportunity to meet and work with the people that inspired me and brought me into contact with many other creative/like-minded people from around the globe.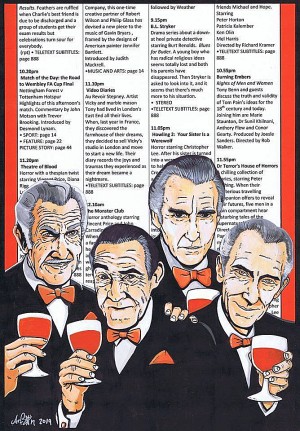 Artists, filmmakers, whoever else who inspire you?
My artistic influences vary, animators such as Chuck Jones, Tex Avery, Bob Clampett, Max Fleischer, William Hanna and Joe Barbera, comic artists such as Jack Kirby, Brian Bolland, Doug Mahnke, Jack Davis, Mike Ploog and Bruce Timm. Classic artists such as Leonardo De Vinci, Michelangelo, Botticelli, Sir Nathaniel Bacon and The Pre-Raphaelite Brotherhood right up to more modern artists such as Jim Hendson, Coop, Mitch O'Connel, Brian Froud Chris Sievey ('Frank Sidebottom') Wilf' Lunn, Jamie Hewlett... special mention to visionaries such as Stan Lee, Walt Disney, Lloyd Kaufman - to name but a few!
Actors that I like: (the greats) Vincent Price [Vincent Price bio - click here], Boris Karloff [Boris Karloff bio - click here], Peter Cushing, Christopher Lee, Bela Lugosi [Bela Lugosi bio - click here], Bruce Campbell, Jim Carrey, Laurel and Hardy, Groucho Marx, Leslie Nielsen.
Your favourite movies?
The list varies … Ghostbusters, Batman ('89), Back to the Future 1-3, Mystery Science Theatre 3000: The Movie, Robocop... ask me tomorrow I might have a completely different list! But my all time favourite movie is Who Framed Roger Rabbit.
... and of course, films you really deplore?
I would break out in a rash if I had to watch movies like Bridget Jones Diary, Dirty Dancing, Pretty Woman... movies deemed 'chick flicks' make my skin crawl! As a collector of VHS I come across these sort of movies all the time! I like escapism, so not much into drama/'real life' situations - who needs that?
Thanks for the interview!