Your new movie A Little Dead - in a few words, what is it about?
A Little Dead is a horror wrapped drama that, at its core, could be a metaphor for the monster that is dementia. Sometimes advancing more quickly because of life events, it usually starts with the memories on the edge of the mind and works its way inward until itís gone altogether. But then again, it could be about something else entirely. Itís up to you.
What were your sources of inspiration when writing A Little Dead, and is any of this based on personal experiences, however remotely?
The style of the story, believe it or not, came from watching the classic Rod Sterling Twilight Zone seasons. So, when I read your review actually mentioned the classic Twilight Zone series in relation to our film I about fell out of my chair with excitement.
The inspiration for A Little Deadís story in its final iteration actually came from my family. Several years back my aunt (who is a doctor), and my mom (who owned and operated an assisted living center at the time) had a disagreement as to the mental state of my grandpa. My aunt said that she thought he had the beginnings of dementia while my mom insisted that there was no sign of it. This argument lasted over a span of several months until it was found out that he did not have dementia.
I thought it would be fun to play with that dynamic, so Eden McGuire who played Hailey really channeled my momís point of view, and I (Kevin in the film) took the side of my aunt. We of course took a few liberties from what really happened in life though.
You've dreamed up the story for A Little Dead together with the film's producer Mike McDonald - so what can you tell us about him, what was your collaboration like, who came up with what, and how closely did the finished movie resemble what you've initially come up with?
Mike was fantastic to collaborate with on this project! I will say where the project started when it was pitched to me to what ended up on screen are vastly different though. Mike originally approached me to direct A Little Dead when it was completely a monster movie. The bones were there in that there was a grandpa, two grandkids, a monster of some sort, and it took place largely in one location. But other than that, it really was a completely different film in motive and story. From the moment I agreed to come on board though he really let me take the reins and pour into it creatively however I saw fit, to create my own vision for the story and film. That is something I really appreciated. I ended up rewriting the script from top to bottom, to be cohesive with the story that I had come up with, and we continued to evolve it until the casting process was complete and we brought on our DP, Andrew Smith. From there, it pretty much stayed the same.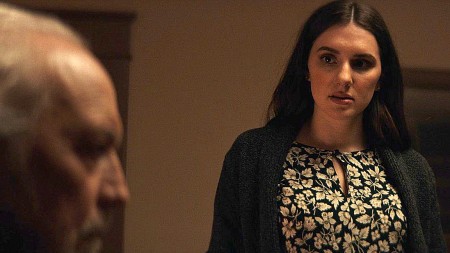 What can you tell us about A Little Dead's approach to horror?
I am a huge fan of less is more. I believe that our imaginations tend to make things that we donít see, or see only briefly, more frightening than they (sometimes) could potentially be if our mind were able to see it and process whatever it is. So, for me, we tried to achieve an almost Alfred Hitchcock-esk approach, where the suspense is (hopefully) greater with a lack of information given and the imagination fills in the gaps with that fear or suspense. Our hope is that the audience is intrigued enough by the story that has unfolded, and the character development that has occurred to be engaged for the pay-off.
Do talk about your overall directorial approach to your story at hand!
For this film specifically, I really felt like I needed to be very detail oriented. I really wanted to build a world and story that had an almost Back to the Future or The Matrix feel to it, in that I wanted to create a film that you can watch a second, or maybe even third time and pick up on the hints and nuances that lead to the filmís final outcome. From the sound design and music, to the title of the book that is read, and even the significance of the rock that is thrown in the pond, I wanted everything to connect and have a meaning or reason for it. No wasted scenes. So, even though it may appear that there may not be a ton of development happening, itís between the lines if youíre looking for it. And my hope is that some of the audience will pick up on a few of those and have conversations with people after they get through seeing it. Then want to see it again to see the elements that they may have missed the first time.
You also appear in front of the camera in A Little Dead - so what can you tell us about your character, what did you draw upon to bring him to life, and have you written him with yourself in mind from the get-go?
When Mike originally approached me about the film, I knew Iíd like to play the brother, but I really needed to evolve the character into something that would have meaning for me specifically. I thought it was important from an audience point of view to have someone that believed in Grandpa, but then someone that was asking the level-headed and tough questions that I think at least a percentage of the audience may be asking. So, I decided to tackle that character and have Hailey (Eden McGuire) play that opposite, which she does so effortlessly
So, in short, I did know I was going to play the male role, but I really didnít know what that role was going to be until I revamped the script to mold it to experiences I could draw from.
What can you tell us about the rest of your cast, and why exactly these people?
The rest of this cast is the backbone of our film! Without them, we definitely wouldnít have had the solid and immersive characters that we ended up with.
One of the things that really piqued my interest about this project was that I really wanted to direct something that had a senior person as the lead. Especially with watching all of those classic Twilight Zone episodes, you realize pretty quickly that they can be so great in a story. As far as why Jack C. Hays specifically, when he auditioned for the role he really brought a take on the character of Grandpa that wasnít afraid to ride the line of loving but unsettling, which I thought was perfect! And once on set, it felt like he really just embodied the character, giving us a ton to work with in the editing room to really craft the narrative.
And Eden McGuire! Goodness, from the second I saw her audition I knew she was our Hailey. She was seriously the epitome of the character. From her carefree and bubbly persona, to when she had to be serious and concerned, she literally nailed everything I threw at her, every time, and with an amount of ease I havenít seen from a lot of actors. She was an absolute joy to work with, and honestly knew her character inside outómaybe even better than I did, and I wrote it! Thatís when you know youíve really cast the perfect person for the role.
A few words about the shoot as such, and the on-set atmosphere?
The shoot really went smooth for the most part, except for a couple of hiccups, because of the massive amount of talent that we had behind the camera. Our cinematographer, Andrew Smith, and his brother Adam who was our 1st assistant camera really made it easy to get exactly what I wanted, even if they were tough shots. And Andrewís expertise really shined through with some of the shot selections that he chose. They just set the tone for the whole shoot in an amazing way. Them and a really strong 1st assistant director in Jordan Wilson, to make sure that we were staying on time while getting what we wanted. We had a snow storm that was moving into the area, so we really had to make sure that we got everything we needed right when we were shooting it, because pickups werenít going to be a thing for a while. But between all of that leadership on set, the talent really bringing what they did, and hopefully me really having a vision that everyone was on the same page about, lent itself to a good atmosphere on set. And one that I think people look back on as a fond one.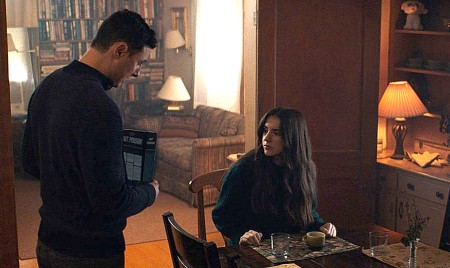 The $64-question of course, where can A Little Dead be seen?
We have two screenings coming up actually. First, it is in the Academy Award-qualifying deadCenter Film Festival (in Oklahoma City), where weíll screen on both June 10th and June 12th. Then that next week we are screening at another Academy Award-qualifying for our West Coast premiere at the Dances With Films: Los Angeles Film Festival! There we will screen at the iconic TCL Chinese Theatres in Hollywood on June 16th. So, we are very excited about both of those for sure.
Anything you can tell us about audience and critical reception of A Little Dead?
So far, the audience reaction has been absolutely amazing! Iíve been fortunate enough to hear so many people come up and tell me what they liked about the film, what they felt like it was trying to say, and really have just been very curious about itówhich I love! The best part is, I think only one person to this point has actually told me they got the meaning that I had originally intended with the film, but to me, thatís the beauty of art, is that itís all subjective, and that you can get something completely different out of what I made than had thought. And as long as itís beautiful to you, I am very happy and fulfilled in what I hoped to achieve.
Critically, even though we have only been to two festivals, we have already taken home the award for ďBest Thriller ShortĒ at Worldfest Houston last month, and to me getting into these festivals that have sometimes 4,000-5,000 submissions is really enough to know weíre hopefully doing something right. We are just so humbled to even be a part and have audiences see our film. Itís been really awesome to see.
Any future projects you'd like to share?
I recently completed writing a feature film script titled Jeff and Zoe that Iíd really like to get off the ground about an impromptu road trip between an ex-husband and wife that is slightly like Little Miss Sunshine meets Silver Linings Playbook. Itís really about family, dysfunction, and at its heart the sacrifice true love gives. It just placed as a quarterfinalist in both the Austin Film Festival and the ScreenCraft Feature Film script competitions, so I have really high hopes for that project moving forward.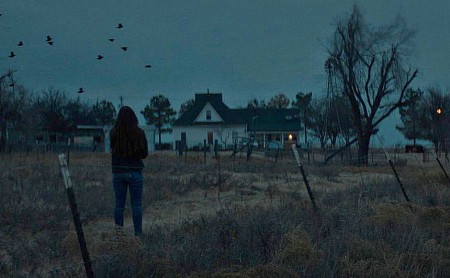 I also just co-wrote a new horror feature film with Mike McDonald actually, titled Cry Baby Bridge. Itís about a bridge thatís haunted with a mother that refuses to cross to the ďother sideĒ before finding out what happened to her baby, and generally just causes all sorts of trouble for our protagonists. Mike came up with the story and brought me on board to play one of the leads as well as produceóin addition to co-writing the script of course. So, weíre now looking for funding on that one as well.
I have a few more ideas cooking, but those are ready to be filmed now should the opportunity arise.
What got you into acting in the first place, and did you receive any formal training on the subject?
Well, I started acting when I was a wee little lad because I was just a ham, and wanted the attentionÖ But as I grew up I really did find that I enjoyed diving into characters and taking on and bringing these stories to life within the character that I could play. So, in my early twenties I started with stage acting. I didnít have any formal training at that point, just knew I loved it and wanted to give it a try. I found some success in that for a few years, but really felt drawn to film because I felt like the performances really lasted forever. For me, that was a real draw. I wanted people to really be able to enjoy the work I had done over and over again should they want to, so I switched from theatre to film. Thatís when I started getting formal training. Iíve now trained with folks from both coasts in America, as well as the Midwest. That has all led me to who I am and the actor/director that I am today. And I hope to continue to keep being able to tell stories that cause emotion, provoke thought, and break down walls that we arenít able to in regular life. To me thatís special, and I very much hope the universe affords me being able to keep doing it.
You eventually also picked up more and more jobs behind the camera - so why is that, and what are some of the jobs you enjoy the most, which could you do without ... and which side of the camera do you enjoy more, even?
I think that in this day and age, itís getting harder and harder to only wear one "hat." I feel like you almost have to wear multiple hats to get traction in the film industry today. So, some of the positions Iíve held in film and on productions have been out of necessity, while others have been a genuine joy to get to do. I also feel like itís been important to work in these other departments, so I can gain experience in them to make me the best director I can be. The more knowledge I have about these other areas, the better I feel like I can plan and help create a vision for them. But really, if itís any other position beside directing, writing, or producing (behind the camera), Iíd rather leave it to the wonderfully creative people that excel in those areas.
What can you tell us about your filmwork prior to A Little Dead, in whatever position?
A Little Dead is my fourth official release. I wrote/directed my first film back in 2017, titled Repercussion. That was a sort of ďwho-dun-itĒ mystery/suspense. It was good for what it was, and had a very good festival run. I think it really laid the groundwork for me not only getting my feet wet but deciding to dive into directing and writing more prevalently. So, thatís what Iím truly grateful to the film for doing. The following year (2018), I came out with a micro-short, titled Preservation that dealt with a ďwhat-ifĒ scenario for if someone broke into your house, what would you do to protect your family? After that, I was fortunate to collaborate with Mexican filmmaker, and Cannes alum Adrian Contreras on a short film that we co-wrote and co-directed called The Fisherman. It was made at a time when the American President wanted to build a wall between the two countries, so tensions between America and Mexico were a little high. Subsequently, we really just wanted to make a film that promoted both cultures without tearing the other one down. Thus, we made a film that was shot partly in Mexico, and partly in America.
Besides directing, I have produced several films, some shorts, some features, and been in over 35 films and television series as an actor.
How would you describe yourself as an actor, and how as a director?
Thatís a really good question. As an actor, I feel like I am still evolving. I largely donít think Iíve hit my stride yet. Iím still perfecting my craft and how I approach the characters that I take on. Maybe itíll always be that way, Iím not sure. But maybe itís that approach that keeps me really seeking the best way to portray it, and thatís what will bring an honest and authentic performance. I hope so. I can only just do the best I can and hope itís enough for the audience to not see the actor but the character.
As a director, I would describe myself as ready. I really feel like the last several years have been a training ground for me. Iíve been learning what to do and what not to do as a storyteller. And with A Little Dead, for the first time, I feel ready-- really ready to take any project and really bring it to life in the most poignant and meaningful way possible. Thatís not to say that I donít have more to learn, because I think Iíll keep learning until the day I die, but I am finally feeling good about where I'm at as a filmmaker.
Actors, filmmakers, whoever else who inspire you?
So many brilliant actors and directors have inspired and mold who I am and what I strive to achieve. On the acting side though, Tom Hanks probably tops the list. The fact that he has portrayed some of the most iconic characters of all time and still remains down to earth and humble is something I seriously strive to achieve in my own life. Other actors that I really have studied lately are Christian Bale, Joaquin Phoenix, Sean Penn, and the late Philip Seymour Hoffman.
On the directing side, I have great admiration and respect for classic Robert Zemeckis, Christopher Nolan, David Fincher, Jason Reitman, Rod Sterling, Alfred Hitchcock, and though Iím not sure Iíve pull a lot of my style from his (at this point anyway), I simply love watching Taika Waititiís work.
Your favourite movies?
I definitely might just have to make this a Top 10, and even then, itís going to be very toughÖ
That Thing You Do, Thank You for Smoking, Hunt for the Wilderpeople, Back to the Future, Lord of the Rings: Fellowship of the Ring, Stranger Than Fiction, The Truman Show, Forrest Gump, Blast from the Past, The Prestige.
... and of course, films you really deplore?
Deplore is such a strong word, but there are a few that I really didnít care for at all ...
The Notebook Ė Enough said.
Bohemian Rhapsody Ė For me, the changes from the real events and the (in my opinion) flat directing left me feeling that the film could have been so much better. Great acting by Rami Malek, but thatís where this ends for me.
Three Billboards Outside of Ebbing Missouri Ė This film started out so well, but for me lost the plot in trying to make Francis McDermottís character seem tough, rather than focusing on an ending that was better than a hill of beans.
Roma Ė I know a lot of people that like this film. I did not. I found the camera movement to be stiff and a bit film student-esk for me. And though I know what the filmmaker was going for, I feel like the story really missed the mark. And what story there was, was painfully slow in my opinion.
Your/your movie's website, social media, whatever else?
Our filmís social channels, are:
Instagram: @ALittleDeadFilm
Twitter: @ALittleDeadFilm
My personal handles are:
Instagram: @Benrichardson24
Twitter: @1Benrichardson
Anything else you're dying to mention and I have merely forgotten to ask?

Feeling lucky ?
Want to
search
any of my partnershops yourself
for more, better results ?

The links below
will take you
just there!!!


I know Iíve mentioned some of the on-set team that made this come to life, but I would be remiss if I didnít brag on the amazing post team we had! It all started with our editor/sound designer Paul Myzia, who really crafted an incredible edit, both with video and sound, that in my opinion helps the entire film be cohesive and enthralling. At the same time, I firmly believe that the film would not be near as good without Brandon Blanchardís haunting original score. It is so poignant and immersive, while remaining intimate. And finally, I really need to give a shout out to our unbelievable colorist Arianna Shining Star, who turned our footage into some of the most beautiful-looking scenes ever. She was simply incredible, and I hope she is on board for coloring everything I ever make from here on out!
Thanks for the interview!
Thank you again!! We are so appreciative of your time and consideration of our film.