Your new movie Locked In - in a few words, what's it about?
Locked In is a film about putting your personal viewpoints away and coming together to unite to take down someone who poses a equal threat to both of them and many women to come.
How did the project come into being in the first place?
The project came into my mind long before it came to fruition. What I mean is human trafficking has been a issue for the turn of the century and Iím sure has always been a concern, but it seems to be the biggest crime against humanity and thereís not enough people to be too concerned about it. Thatís alarming, it can be anyoneís kids, parents or siblings.
What can you tell us about Locked In's writer Charlie Brady, and what was your collaboration like?
My collaboration with Charlie for Locked In was a breeze. He always doesnít seem to be listening to my long pitches and he would just go humÖ and then a few minutes later he would respond with pages of what I just told him that I wasnít too sure he even took in JJJ
Locked In doesn't exactly hold back when it comes to violence - so do talk about the gore effects in your movie for a bit, and how were they achieved? And in terms of violence, was there ever a red line you refused to cross?
Steve-0 Sheppard was so amazingly talented and was able to go for the majority of what I wanted to do. We did cut some things out cause we thought we pushed the envelope too far!!! But I felt it was important to make people feel uncomfortable in a lot of areas because sometimes it takes people to be uncomfortable and upset for people to want to do something about things they donít like. Thatís how some of the most tragic events got changed for the better.
What can you tell us about Locked In's approach to horror?
I never truly done horror yet but I didnít approach Locked In as a horror film because I didnít want to feel like we're glorifying rape or terror but we wanted to treat this as a psychological thriller and hope that things change and spread awareness that thereís people whoís making a living off peopleís trauma.
A few words about your overall directorial approach to your story at hand?
Depending on each story I approach scripts differently. For Locked In I approached it as a very grounded, claustrophobic feel cause these women are being trapped in this barn for months at a time and itís hard to distinguish how much time has passed by. And it didnít help we shot this in the end of October/November and that was very uncomfortable for the actresses, but they were such good sports.
Do talk about Locked In's cast, and why exactly these people?
Amber Dawn Fox was absolutely incredible and we worked with each other in the movie Beasts of the Field, so our working relationship was much stronger than everyone else. Sometimes when you work with new people you just never know how things are going to go on set. You can only get a certain read of people on a few Zoom meetings or phonecalls. But Amber was always prepared and knew what she was supposed to be doing.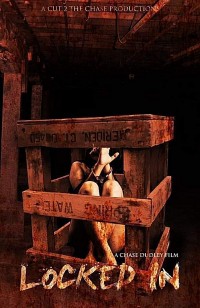 Feeling lucky ?
Want to
search
any of my partnershops yourself
for more, better results ?

The links below
will take you
just there!!!


Nailya Shakirova [Nailya Shakirova interview - click here] was more shy and quiet unless spoken to, and I felt our connection didnít really hit until she asked every single question, and when she got understanding she warmed up more and more as the days passed, and I loved working with her and she is very much a total sweetheart.
Robert Mukes was an absolutely very serious tone person, and sometimes I felt he found me more annoying cause Iím kinda bit of a goofy person and we just seem to be very different in that regard, but heís very serious about his character and did such a great job and I was glad I hired someone who was very intimidating cause he definitely isnít a push over.
What can you tell us about the shoot as such, and the on-set atmosphere?
The shoot for the most part was very laid back, some of the challenges was keeping our actors warm cause the temperature was just so cold so we had to buy headed blankets and stuff like that, but out of all shoots probably the least problematic shoot. Some of the issues came later in post production with my sound person.
Any future projects you'd like to share?
I have just recently shot Broken Innocence, and that was by far my biggest and most stressful shoot but in a good way. So many obstacles but we achieved so much!!! And I think this is gonna be amazing.
I am really excited about my next project Blood on the Bleachers, itís gonna be my most anticipated project to date. Weíre shooting to the moon on this project, our biggest budget yet. So excited!
Thanks for the interview!