Your new movie Backwards Faces - in a few words, what is it about?
I think it's about spending too much time with yourself. It's about how quantum physics intersects with personal identity and autonomy.
With the central theme of Backwards Faces being the multiverse theory, what can you tell us about your research on the subject, and given that the multiverse has become quite a popular topic in cinema of late, did that at all inform you when you dreamed up your movie?
My research began with a brilliant book called The Order of Time by Carlo Rovelli. It is a really fascinating book about quantum physics and time. From there, I just read a bunch of studies on different aspects of physics until I felt like I understood enough to write a character who understood almost everything. As far as the popular surge of multiverse films, I wrote Backwards Faces in March of 2021 and shot it in August of 2021, so I really saw all these multiverse films after I had completed Backwards Faces so I can't say they had much of an impact on the film.
(Other) sources of inspiration when writing Backwards Faces?
I watched a lot of independent hard sci-fi movies like Primer and Coherence. Those were big inspirations for me. I also read a little philosophy. SÝren Kierkegaard and his work inspired some of the major themes in the film.
What can you tell us about Backwards Faces' brand of humour?
It is heavily influenced by all my favorite humor. I am a big fan of the screwball comedies of the 40's and 50's. Films like Some Like it Hot and His Girl Friday where every line is a rapid fire joke were huge sources of inspiration for the tone of the film. I also really love the verbal comedy of the Marx Brothers and Abbott and Costello, and I think that kind of comedy isn't as present in modern films so I really wanted to have some verbal flares like that. I think anyone who has seen the movie will know exactly what scene I am talking about.
With Backwards Faces set in its entirety in one not-too-big apartment, what were your techniques to keep things visually interesting throughout?
Well, I only had access to one location which was my own apartment. I'd say the first technique was to hire an incredibly talented director of photography which I did with our DP, Jake Gorr. I wanted to shoot in black and white for a few different thematic reasons and Jake really was able to shoot some beautiful black and white cinema that I think spiced up my rather poorly decorated apartment. I don't have too many hard set rules for myself as a filmmaker but one is that you should never make a visual choice just for the sake of aesthetics. There should always be at least one thematic reason behind the composition, so for me, it was really about making the film look the way it should look to tell the story correctly rather than worrying about the one location being off-putting to a viewer.
A few words about your overall directorial approach to your story at hand?
In a lot of ways, I approached it like I was adapting a stage play. I think people think of stage to screen adaptations as just filming people acting but the really good ones add so much to the source material. What they are able to do with perspective and characterization with the camera is really impressive, and I was just trying to use the tools we had at our disposal to tell the story correctly. I think one of the things I am most proud of is that if you watch the first 10 or so minutes with no audio, you'll be able to tell the basic beats of the story. You won't know exactly what they are arguing about but you'll be able to tell the general idea of the conflict and exactly what the characters think of each other.
Do talk about Backwards Faces' cast, and why exactly these people?
Well first off, they are two of the best actors in the world. Andrew Morra is one of my best friends and my college roommate. We had been wanting to make our feature debut together for a while so the part was written for him from day one. Lennon Sickles auditioned for the role of Sydney and instantly blew Andrew and I away. They are really one of the most talented actors I have ever worked with. The script is not easy for the performers. I was asking a lot of them and they both nailed it.
What can you tell us about the shoot as such, and the on-set atmosphere?
We had an amazing cast and crew. It was a very fun group to collaborate with. The shoot itself was tough though. It was about 110 degrees in my apartment every day and we were all crammed in there sweating like crazy. We had some issues along the way with landlords, property management companies, Covid scares, a hurricane, and electrical issues but we made it through and were able to shoot the entire film in just ten days. I think sometimes itís less about how many people you have, and more about having the right people. If you watch the film, youíll notice thereís no end credits scroll. Everyone gets their own card because they earned it.
Anything you can tell us about audience and critical reception of Backwards Faces?
It seems like people are enjoying it. We had a great screening at the Other Worlds Film Festival in Austin and the audience was really receptive to the film. I get a little nervous reading critic reviews but so far they have all been quite kind.
Any future projects you'd like to share?
I have a few scripts that I would love to shoot one day. I canít announce anything at present but I think once the craziness of the release of Backwards Faces is done, Iíll start thinking of whatís next.
What got you into filmmaking in the first place, and did you receive any formal education on the subject?
I studied film at Lafayette College in undergrad which is where I met and began working with Andrew Morra. I have been making films for a while. I donít know if there is a specific instance that got me into it but itís just something Iíve been obsessed with my entire life.
What can you tell us about your filmwork prior to Backwards Faces?
Backwards Faces was my first feature film so the only thing I had made leading up to it was shorts. Some better than others. I had written something like ten or eleven feature films prior to Backwards Faces, so I was ready as a writer. As a producer and director, I was a bit more nervous but the process is really just like making a short but longer.
How would you describe yourself as a director?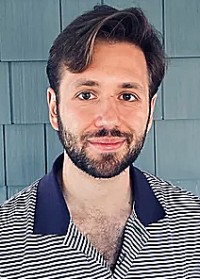 Feeling lucky ?
Want to
search
any of my partnershops yourself
for more, better results ?

The links below
will take you
just there!!!


That is a tough one. I canít say definitively, but I hope the people I have worked with would say I am creatively open to collaboration and make for a laid back and stress-free set.
Filmmakers who inspire you?
There's a ton. I grew up idolizing Paul Thomas Anderson and still do. Right now, I find myself most interested in Bong Joon-Ho, Park Chan-Wook, Jang Joon-hwan, and really all the filmmakers of the Korean new wave. On top of them, Ingmar Bergman, the Coen Brothers, Francois Truffaut, Mel Brooks, and David Lynch have all inspired my work as well.
Your favourite movies?
That's maybe the hardest question for me because it changes so often but I'd say the most constant films on the list are 2001: A Space Odyssey, Memories of Murder, Mulholland Drive, House of Games, Marty, and Persona.
... and of course, films you really deplore?
I don't know if I can say I deplore any films. Maybe Birth of a Nation and anything by Leni Riefenstahl.
Your/your movie's website, social media, whatever else?
You can find all the most recent updates about the movie at www.backwardsfacesfilm.com
Thanks for the interview!