Your new movie Undertaker - in a few words, what is it about?
It's a surreal story about a man who discovers his world is not all that it seems and realizes he may not be what he is. So, I would say it's an existential crisis story.
How did the project come into being in the first place?
The writer of the film, Kris Salvi [Kris Salvi interview - click here], with whom I collaborated many times, sent me the script telling me that he felt it was something that was up my alley given the last few films I've done, such as Imposter. That film had an eerie and surreal element to it also. Upon reading it, I knew he was right. It spoke to me in volumes. It's not often that I take on stories written by somebody else, but this felt like my voice when I read it.
What can you tell us about Undertaker's writer Kris Salvi , and what was your collaboration like?
Kris is a multi-talented guy. We share the same sensibilities as storytellers while also being good friends on a personal level. In the case of Undertaker, Kris sent me the script, and I read it a couple of times. I usually know when I want to make a film when I fall in love with the material. I would say it was love at first sight. It left me questioning the story in a good way. He and I discussed what we thought the theme was and how to interpret it. We saw different ways to look at it, which I think is a good thing. It's a healthy way of collaborating because it opens up a lot of possibilities. He then went on to suggest actors who could play the roles. I had worked with most of them previously, so it was easy for me to see it.
Undertaker isn't the first time you've worked with Kris Salvi - so what can you tell us about your previous collaborations, and how did you two first meet even?
Kris and I met nearly ten years ago at a film screening in Boston. I was showing a student film I did, and he had a short film in which he was the co-star. We didn't interact much that evening but kept somewhat in contact over the years. It wasn't until maybe 2015 that I got to know him. We met for coffee one afternoon. He had written the script for Bent and asked if I wanted to direct it. At that point and time, I wanted to do it, but I also had a lot of reservations because Bent was about corrupt cops in a gritty setting. I didn't know that world at all. Kris is well versed in that world as he's a big fan of film noirs and crime dramas. I am as well, but I was not familiar with the inner workings of it. I also had not done many crime dramas at that point. I was mostly making dramas or comedies. Always wanting a challenge, I agreed to do it. Bent didn't get made until 2017 as I had other projects I was doing. Also, by this point, Kris had been asking me to do the cinematography for his films. It's sort of how I got into being a working cinematographer.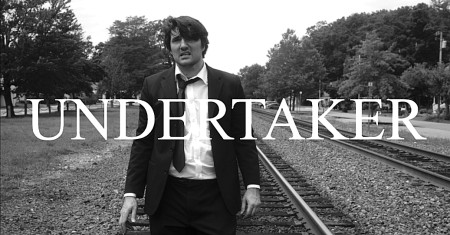 As I said before, he and I are a lot alike in our thoughts and sensibilities about filmmaking. We're also polar opposites in a lot of ways. Whenever I'm working with Kris on something he's directing, and I'm shooting, he's very much a run and gun type of filmmaker who likes to work quickly but has a very creative imagination for what shots he wants. On the other side of the spectrum, I do a lot of prepping and shot listing. Kris also does, but more loosely. We can play with the shots and experiment. I tend to think about how I want shots to cut together and experiment more with how I want to express the story.
Back to Undertaker - at least to me, the film's story is open to an endless number of interpreations, so how did you come up with yours (if you have even), and to what way did that impact your direction?
I had a lot of ways to think about it. My first thought was the Undertaker was dead or in purgatory or that he was having an identity crisis and everyone around him is a facet of himself. Kris felt it was about perception versus reality. One views themselves one way versus others. There's a "role" one plays in life, in other words. I wholeheartedly agreed with this also.
In terms of directing, I tried not to give the actors definitive answers to my thoughts. Rather, I tried to ask them what they thought and allowed them to use that to portray the characters. We did have discussions as to what we thought the story was. I also recommended watching two movies that inspired the visuals and how I wanted to tell the story. One was The Truman Show. Going on the concept of identity and playing a role, I felt that picture carried a lot of those themes. I also loved the production design and costuming of that film. While this isn't a period piece, I wanted it to have an old town feel even though it takes place in a contemporary time, so most of the characters wore either suits or period clothing. It is also why we had an old car at the end of the film. The second movie I recommend was Andrei Tarkovsky's 1979 film Stalker. That movie has a very surreal visual quality to it with its sepia tone and color transition. I fell in love with that movie upon first seeing it as a teenager. It felt appropriate here.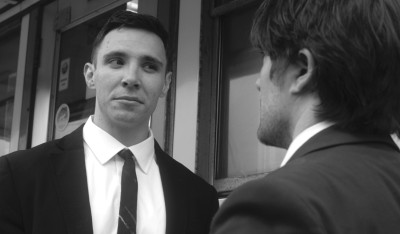 What can you tell us about your overall approach to your story at hand?
As I mentioned, I didn't want to give the actors definitive interpretations. I wanted them to be able to try things without having to fall into a specific box. I wanted to allow the film to have an open-ended feel as the script did. It also needed to enable the audience to walk away thinking about it without spoon-feeding a specific idea.
I also tried to keep in mind the visual aesthetic of the film. Again, it's not a period piece, but I automatically saw black and white and old school costumes. It's as if the characters are living in their past, surrounded by a contemporary world. Gabrielle Rosson [Gabrielle Rosson interview - click here] was our production designer, and she and I discussed a lot about costumes and colors that would work in black and white. She was also instrumental in helping us get the 1957 Metropolitan for the ending.
I also wanted to keep the camera work subtle. Colin Munson, who was the director of photography, and I talked a lot about this. We would shot list it, go on location and try things out. We only moved the camera when it felt necessary and did a lot of slow dolly push-ins or pullbacks. Other times we allowed the camera to be static because this is a very dialogue-driven piece, and I wanted that to be showcased without going crazy with the camera moves. In a film like Imposter, I kept the camera moving a lot more since that was a silent film, and it depended on the visuals to tell the story.
Do talk about Undertaker's key cast, and why exactly these people?
The actors were fantastic. I had worked with most of them in the past. Some I had worked with for the first time. I had worked with Dustin Teuber, who plays the title role of the Undertaker, on a couple of Kris' films. He's a great talent. I can safely say that he always does something different in every role he plays. He will either change his voice or mannerism. I was impressed with him, and we had wanted to work together for some time. I think Kris even wrote it with Dustin in mind, so I had arguments there.
Jennifer Drummond, who played the customer, I had not worked with before. I had heard of her but haven't seen her work. Kris suggested her. He showed me a clip of a film he directed that she was in, and I was impressed. I also saw her demo reel, and it confirmed my belief that she could pull it off, and she did. She's also a lot of fun to work with on the set. She always has a positive and fun energy.
Justin Thibault, who played the passenger, was a no-brainer for me. Justin and I had worked together many times. I previously directed him in Bent. He's an actor that loves to prep and gets into the role. He also has a fantastic ability to improvise and try different things. For example, at the end of his scene, he shouts to the Undertaker, "Hope you find what you're looking for!" That wasn't in the script. He just did that on the spot, and I thought that it was terrific.
I knew Teddy Pryor and Michael Lepore, who played the identical and the waiter, respectively, but in different aspects. Teddy is a great filmmaker in his own right and just got into acting. The character of the identical wasn't even in the original script I read. Kris had written that character in there, and suggested Teddy. Michael is a very talented designer. He designed the poster for this film. He had also been trying his hand at acting, having played a waiter in Gabrielle's film, Dessert. He was also a bartender in Kris' film, 10:59 PM. So, I thought they both would fit well in those two roles.
Finally, I wanted to give Kris the role of the driver. Since he wrote it, it felt very fitting that he would drive the Undertaker off at the end. I already know Kris is a great actor, so that wasn't a difficult decision.
A few words about the shoot as such, and the on-set atmosphere?
The atmosphere was fun. We laughed a lot while also working together very closely. That said, there were stressful moments. When we did the scene by the car, we got rained out and had to wrap and come back another day to finish it along with another scene. That, for me, was frustrating, but that happens, and you have to roll with it.
The $64-question of course, where can Undertaker be seen?
Right now, we're just submitting to festivals. We already got accepted into the Jersey Shore Film Festival in Asbury Park, New Jersey. It's one of my favorite festivals to attend.
Anything you can tell us about audience and critical reception of Undertaker?
From the few reviews we've gotten so far, the reception has been solid. We did screen it for an audience once not too long ago, and interestingly many asked if Rod Serling's The Twilight Zone inspired us. I love that series, and the funny thing is I didn't have that in the forefront of my mind when making it. I suppose it was on my brain subconsciously.
Any future projects you'd like to share?
Currently, I'm collaborating with one of my co-producers of Imposter on another short project about something very close to heart, Alzheimer's Disease. I've had family members that succumbed to it, so I wanted to make a piece about what it's like to suffer from it. I also have a project I'm looking to make in my hometown in New Jersey that I wrote. Among all this, I'm hoping to make my first feature film as a director finally. I am working on several scripts and ideas and wrote a couple of drafts of various things. It's just picking the right one.

Feeling lucky ?
Want to
search
any of my partnershops yourself
for more, better results ?

The links below
will take you
just there!!!


Your/your movie's website, social media, whatever else?
My website is storiesmotion.com. There you'll find my previous works and more information about Undertaker. I'm also on Facebook - https://www.facebook.com/Stories-in-Motion-316989045002591 -, Twitter - https://twitter.com/Chris_Esper - and Instagram - https://www.instagram.com/chris_esper/.
Thanks for the interview!
Thank you, as always, for being a huge supporter of independent filmmakers such as myself!