Your new movie Children of Sin - in a few words, what is it about?
Itís about two siblings who are sent to this creepy religious retreat for troubled teens whose parents believe they need to find Jesus and rid themselves of sin. Once theyíre there, they start to uncover some pretty scary secrets about this place and try to escape before itís too late.
Your personal thoughts about religious zealotry, "re-education camps" and the like, and to what degree are they mirrored in your movie?
I think theyíre awful and inhumane and should be outlawed altogether. The idea of changing oneís orientation is ridiculous. A gay person turning straight is about as likely as a straight person turning gay. Itís just how we come wired and no amount of praying, violence, intimidation, or mental abuse is going to change that. People who run or fund these places should be ashamed of themselves.
Other sources of inspiration when writing Children of Sin?
Iíd always wanted to write a dark fairy tale ever since I was a kid. Those were the stories that first got me interested in storytelling to begin with. Iíd had a few attempts at adapting fairy tales in the past, but they never quite worked. I also loved those pulpy V.C. Andrews novels when I was in middle and high school and thought it might be fun to tell a modern fairy tale with a style like that. Thereís a little bit of Carrie in there as well, which has been my favorite film since I was a kid.
What can you tell us about your movie's approach to horror?
Some of the scenes of abuse at Abraham House and Emma and Jacksonís relationship with their parents are the scariest parts of the film for me. Those are the moments that are grounded in the most truth and reality. The film still has some traditional jump scares and things of that sort, but the scariest parts will always be the human relationships for me and seeing just how low humans can go in the name of peer pressure or religion.
Do talk about your overall directorial approach to the story at hand!
From the start, I knew this story had the potential to be a little drab and depressing if I didnít play my cards right, so I tried to direct as playfully as possible. I wasnít very interested in most of the film being realistic and tried to embrace that fairy tale vibe where everything is a little detached from reality. The colors are sometimes too bright and the lighting is a little strange or some of the camera angles are odd and I think that just adds to that fairy tale vibe and sort of lets the audience know they can have fun with it. I definitely watched a lot of Italian horror films beforehand to soak up that style. Theyíre so good at showing you some of the most disturbing things youíve ever seen in a way that doesnít make you turn away.
You also appear in front of the camera in Children of Sin - so what can you tell us about your character, what did you draw upon to bring him to life, and have you written him with yourself in mind from the get-go?
My character is Hank and heís the nephew of Mary Esther who runs this horrible place. He says heís a recovered homosexual and no longer has those desires, but heís sneaking off with the gardener at every chance he can get. Heís a very sad and repressed character whoís trying so hard to be something heís not. Iíve definitely been there, so it was easier to go back into that headspace than Iíd thought. All that shame and self-hate were things I remember very clearly from when I was an adolescent. Iíd written Hank and Mary Esther to be a married couple, but I kept sending the script to actors around that age range and they kept turning me down because of a few scenes in particular. I think the script might have read as a little more explicit in some scenes than what was in my head. Iíd thought Hank would be more poignant if he were older and had less time to make an authentic life for himself. The role I had written for myself was Andrew Aiken, the head of Children of Abraham, but I stepped into this one instead after I couldnít find anybody. It was all for the best, because Will Lovorn is fantastic as Andrew and he had so much fun with him.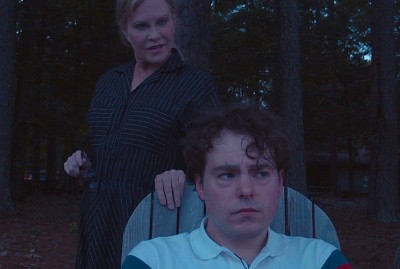 What can you tell us about the rest of your cast, and why exactly these people?
Iíd written the role of Emma for Meredith Mohler [Meredith Mohler interview - click here] after working with her on my last two films and having such a great time with her. She read the script and accepted right away, which was fantastic and sheís so wonderful in the role. Lewis Hines [Lewis Hines interview - click here] read for all the male roles in the film and did a terrific job with each one, but he just had this natural likability that you really need for Jackson, so he made that choice really easy. Jo-Ann Robinsonís [Jo-Ann Robinson interview - click here] audition scene played out basically beat for beat as it does in the movie. Thatís how wonderful she is! She knew exactly what to do with this part from the get-go and brought so much to that role. What pleasantly surprised me was the chemistry between everyone. We didnít have time to do chemistry reads with anyone, so when everyone got on the set and the chemistry was apparent from the first scene, I just had to thank the movie gods for being on our side. Ana-Claire Henley, Cami Rocbuck, Faith Stanley, and Jacob Thomas fit so perfectly and they each bring so much personality to their roles that you love them immediately. Iíd worked with George Mayronne, Keni Bounds, and Jeff Buchwald before in the past, and theyíre always so easy to work with and bring a lot of energy to a set. Jeff was stepping into a role on a few hours' notice and rocked it from day one. It was pretty impressive, especially since the role was the polar opposite of his real life persona.
A few words about the shoot as such, and the on-set atmosphere?
The first 5 days were all the scenes at Abraham House, and I was a nervous wreck because we only had that location for those 5 days and I kept thinking about what would happen if someone couldnít make it to set one day or if we needed reshoots and we couldnít secure the location again. Pretty much all of my anxieties turned out to be nothing, because those first 5 days mostly went off without a hitch. I remember a lot of smiling and wondering if anyone was going to take any of this movie seriously, because weíd all be laughing throughout most of the day. Once we moved on to the next batch of scenes, things got a little rocky because an actor broke his leg and had to drop out. We already had all the other actors on the location, so we switched the dayís schedule to something weíd planned for the next day instead. Thankfully, all the actors jumped right in even though we were all unprepared for that material. It gave us a day to contact Jeff and try to keep things moving. It was stressful, but it all worked out for the best in the end and I wouldnít change a thing. The best part was that, besides a few insert shots, we didnít have to get any reshoots.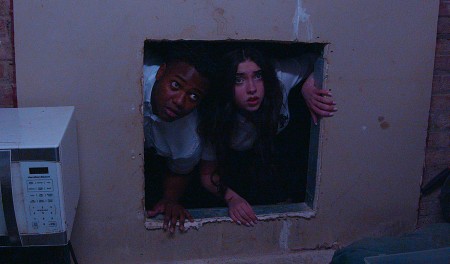 The $64-question, when and where will Children of Sin be released?
Itís coming to Amazon on April 22nd and will probably spread to some other platforms throughout the year.
Anything you can tell us about audience and critical reception of Children of Sin?
So far, itís been beyond my wildest dreams. We just had the premiere last week in a packed theater and the audience was clapping, laughing, cheering, and screaming throughout the whole movie and really pulling for the characters. It was a great experience and one that Iíll never forget. The reviews itís gotten so far have been very positive, so Iím grateful and optimistic that itíll find an audience that will enjoy it.
Any future projects you'd like to share?
I have a documentary I was hired to make at the same time as Children of Sin, so Iíve been balancing between these two for the past year. I finished post-production on that about a month ago and weíre trying to get it into some festivals. Itís my first documentary, so Iím a little nervous. As for features, I have about 4 to 5 really fun ideas marinating right now, but I have no idea which one Iíll sit down to write first.

Feeling lucky ?
Want to
search
any of my partnershops yourself
for more, better results ?

The links below
will take you
just there!!!


Your/your movie's website, social media, whatever else?
You can follow us on social media at www.facebook.com/childrenofsinmovie and on Instagram @childrenofsinmovie
Anything else you're dying to mention and I have merely forgotten to ask?
Iíd just like to thank you for this interview and for checking out the movie. I hope everyone that sees it has a good time with it.
Thanks for the interview!