Your new TV series Scare BNB - in a few words, what's it about?
It's a limited series about some of the weird/crazy/interesting things that can happen when you rent a vacation rental home. The first two episodes are about overzealous hosts.
How did the project come into being in the first place, and what was the inspiration behind it?
I had a friend who told me a crazy story about her vacation rental place and these hosts that just wouldn't leave her alone, so I took that and had fun with these first two episodes. The next three are about what happens when there's a double booking.
Do talk about Scare BNB's approach to horror, and is that a genre at all dear to you, and why (not)?
Horror movies scare me! I have always wanted to make one because the genre has given me nightmares. When I collaborated with Kat Trammell, the writer of the first two episodes, she told me about real life nightmares called sleep paralysis. We wanted to explore that by having one of the characters suffer from it. It was important to me that no lesbians die in the series. But it has a lot of jump scares and moments where you're wondering what is up with things, which is so fun. I think what I'm most proud of is that we discuss sleep paralysis, which isn't talked about much in the media world. I think to layer the true story on top of this story could be of interest to those who suffer from the disorder.
As we speak, the first double episode of Scare BNB, The Hosts, is about to be released/has just been released - so what's this two-parter in particular about?
This takes the idea of overzealous hosts and layers on it someone suffering from sleep paralysis and what happens when friends are stuck in a house together.
What can you tell us about The Hosts' writer Kathryn Trammell, and what was your collaboration with her like?
I've been a huge fan of Kat's work since she wrote Season of Love for me in 2018. She has since written I Hate New Year's and then moved into the horror genre. She has suffered from sleep paralysis so this is a very personal story for her.
A few words about your directorial approach to your story at hand?
The interesting thing about horror and romantic comedies (which is what I have made in the past) is that they are really connected more than people think. Romantic comedies are all about chemistry and tension. If you can create tension between the leads that is the best—and the same is true with horror. In horror/thrillers, you're creating tension as well, just monster tension. So the genre was easy for me to move into and really enjoy. I also wanted to make sure that the female leads showed their power and agency at all times. I didn't want them to act too much like a victim but to stand in their power and always be trying to figure out what was going on with this crazy house.
Do talk about The Hosts's cast, and why exactly these people?
I love that our four leads all identify as lesbian/queer and are part of the community. I am also very very happy that we have a diverse cast. They are all wonderful to work with and they all actually stayed in the house we shot in! The four totally bonded and it was so great to have that close vibe even though most of them didn't know one another. I knew all of them in some way prior to filming so I reached out to them to be in the show. The couple who played the hosts were local Tennessee actors and were perfectly suited to play those roles. They got the mix between "southern nice" and crazy. We had very few days to film and lots of lines and everyone came to set ready to go and prepared. It was absolutely lovely to work with everyone.
What can you tell us about the shoot as such, and the on-set atmosphere?
I asked a lot of the cast and crew for this movie. We had very few days to film and a lot of pages to get through each day. The crew was amazing and they really stepped up! They worked together so well, had a lot of fun and we made our days, sometimes early!
The cast was the exact same, they showed up knowing their lines and ready to work. After we wrapped each day the cast, and even some crew, would go over the next day, the cast would run their lines and we would discuss the scenes. It was wonderful and collaborative. I found my film family on this set and now work with the crew again and again. In fact many of them have done two other films with me already.
The $64-question of course, where can The Hosts be seen?
People can rent or purchase them on DIVABoxOffice.TV! It is the second original that will be distributed by this recently relaunched platform for the lesbian/queer community.
Anything you can tell us about audience and critical reception of The Hosts?
So far our reviews have been very favorable. I think if people are big horror fans who love blood and guts, this is not the movie for them. We have tension, jump scares and just overall "what is happening?" vibes, but we don't have blood and guts.
With the first story out of the way, what will the future of Scare BNB bring? And any other future projects you'd like to share?
I have three more story ideas in the works and the next three episodes called Double Booking are in post! We want to keep going with this series as we think it will really resonate with people.
What got you into filmmaking in the first place, and did you receive any formal training on the subject? And what can you tell us about your filmwork prior to Scare BNB?
I did go to college for TV production and learned a lot. I always loved the movies and the first time I was on set I fell in love with it. I moved out to Los Angeles to be in the business and learned a lot working for Regency Productions and the Writer's Guild of America. Then I ended up leaving to work for a non-profit but my love of storytelling was always there. I was working full time for the YMCA and then, one day, I decided to start a streaming platform—16 years ago! I didn't know anything about coding but just knew it's what I had to do. Netflix and Hulu were just launching when I started Tello Films. Once I got the platform up and running, I realized I needed original content, so I started to do interviews and then made my first web series, Cowgirl Up. After that, I just kept making as many original web series as I could. After three Emmy nominations, I decided it was time to make my first feature. I learned how to get investors and set up the business and then made Season of Love in 2019, which was the first LGBTQ holiday romcom with gay leads ever released. I've done four holiday romcoms to date and now I'm moving into the action/thriller genre!
How would you describe yourself as a director?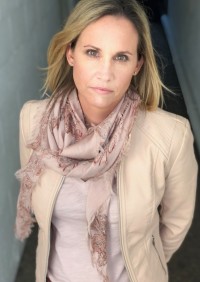 Feeling lucky ?
Want to
search
any of my partnershops yourself
for more, better results ?

The links below
will take you
just there!!!


I am an actor's director, I LOVE working with actors. I also have an amazing DP, David Y. Chung, who is just fantastic and we have a wonderfully collaborative relationship.
Filmmakers who inspire you?
Oh gosh, Patty Jenkins' work is fantastic; Greta Gerwig 's take on Little Women was inspiring; and Taika Waititi's Jojo Rabbit is brilliant.
Your favourite movies?
Too many to mention but I will say that Princess Bride is my "desert island" movie. I've loved it for so very long.
... and of course, films you really deplore?
I really dislike the movie Jenny's Wedding. I really wanted to like it but I'm just not a fan. I also wanted to like The Last Duel but very much disliked that movie as well.
Your/your series' website, social media, whatever else?
I'm Christintello on all the socials, there's Tellofilms and DIVABoxOffice. You can find my stuff there!
Anything else you're dying to mention and I have merely forgotten to ask?
You've been so great to support indie content and ask these questions! Thanks for this time and I hope your readers enjoy Scare BNB!
Thanks for the interview!