Your new movie Bring Out the Fear - in a few words, what is it about, and what can you tell us about your character in it?
Bring Out the Fear is a movie about a couple who are struggling to fix their doomed relationship getting lost in a nearby forest during a proposal that goes very wrong. My character Rosie is a very complex character with a troubled past. Rosie feels trapped in a lot of aspects of her life and craves freedom from her addictions, her relationship and now the forest.
What did you draw upon to bring your character to life, and how much Ciara Bailey can we find in Rosie?
Great question! I think the early scenes in the movie I drew from my own experiences (not a fan of the cold and hill hiking!), but the actual character is thankfully very different from myself. Rosie is a flawed individual and to truly understand her life choices I really had to understand why she did what she did, and what had made her rely so heavily on alcohol and most importantly what made her want to overcome this addition. These are all very big parts of her life that is so important when I was working on developing her fully. Rosie wanting to break free from every aspect of her life told me an awful lot about her inner courage and strength.
How did you get involved with the project, and what drew you to it?
I was lucky enough to have worked with both Richard Waters (director) [Richard Waters interview - click here] and Ally Scarff (producer) before on a comedy that I co-wrote. Richard had spoken about his project and asked me to read the script - so I was intrigued!
What were your initial reactions when you read the script for the first time
I loved it. I loved how clear I could see the pictures and how I just felt the story. Even though I loved the script and the story, to be honest I was petrified at the thought of taking it on! (I even rang Rich to make sure he wanted me as Rosie, as I was having doubts that I could do it!) I never played someone so complex or flawed as Rosie and I was scared I couldnít find her truth and couldnít find Ďherí, the character that Rich so clearly envisioned for his story (Iím dyslexic Ė so for me to bring a characterís dialogue to life and to actually remember my lines I need to understand my character inside out). It was a huge responsibility knowing that 95% of the time thereís just two of us on screen, and I didnít take that responsibility lightly. It was an honor to be offered the role and work with the guys again but overall for me I didnít want to leave Rich down and I wanted to bring his script he wrote so clearly to life.
Do talk about Bring Out the Fear's director Richard Waters, and what was your collaboration like?
As mentioned above I luckily enough worked with Rich before on another project, and heís a dream to work with! As a director he gives an actor freedom and confidence to explore their character and always makes you feel so comfortable and relaxed on set. Rich is always open for questions or queries on dialogue and his characters' purposes and objectives. I trust his eye on takes and he makes sure an actor is very comfortable and happy before we shoot. Rich always gets the best out of everyone he works with including us actors! It really is such a pleasure being in his company, and working with Rich is always an incredible experience.
What can you tell us about the shoot as such, and the on-set atmosphere?
Rich and Ally are very selective who they have on set. They like a positive and relaxed atmosphere throughout the shoot Ė and somehow, they always get it right! We shot Bring Out the Fear in November and it was absolutely freezing and I have a ridiculous fear of spiders, so this was a challenge in itself! But we had an absolute blast every day. We were like one big happy family! We all worked together as a team and wanted to tell this story as best as we could - and I think we did just that!
Any future projects you'd like to share?
I am in KIN 2 (Irish gangland TV series) which is due to be aired soon, and I have two feature films also due to be out soon: The Hurler and the new one directed by Richard!
From what I know, you've started acting on stage at a rather early age - so what can you tell us about your early days as an actress, and your education on the subject?
I was in a stage school called Stage Fright in Waterford from a very young age which I absolutely loved. Following this I appeared in a number of musicals. I took a break from acting for a number of years due to an illness and then I was in exam years in school so that unfortunately had to come first!
Over the years, you've also done your fair share of modelling and beauty pageants - so do talk about that aspect of your career?
When I was sixteen, I was signed to a local modelling agency in Waterford and a few years later I was selected to represent Waterford as Miss Waterford in Miss Ireland that same year. On the judging panel of Miss Ireland was the creative director of a nationwide hairdressing chain and a modelling agency based in Dublin who both wanted to work with me. I was lucky enough to do a number of campaigns while working as a model (face of Peter Mark for a year, Thomson Travel brochures, number of magazine covers etc). Although I was extremely grateful with all the work, I longed to get back on stage and play other more interesting characters than myself! So, I wanted to get back into training and really put all my effort into learning the craft. So, I started training with Conal Kearney for a number of years, and then I went on to study in The Gaiety, Film Actors Studio and did a number of workshops on character study, dialect, scene study, and just recently I studied Psychology in Acting. Coming from a modelling background I wanted to peel that layer back and embody the characters I was auditioning for. With modelling in Ireland, I was in a lot of commercials over the years which also kept my acting bug going while I was working on my craft!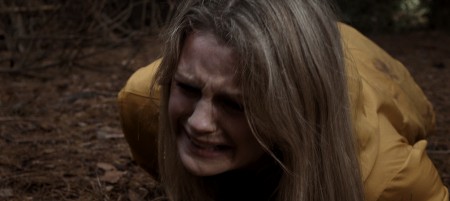 What inspired you to transition to movie-acting eventually, and how does it compare to performing on stage?
I did stage from a young age but I suppose with modelling I had more experience being in front of a camera, so it was more of a natural progression than stage. I still love stage and regularly go to the theatre, but at present I get more TV/film auditions than stage. With regards to the difference of a stage actor and a film/TV actor Ė I think you learn a lot more by being on stage, but both are executed very differently. In TV/film itís all in the eyes of the actor, every movement is so subtle and understated. A simple look can tell an audience your characters relationship with the other character on screen, their opinion of them etc, whereas on stage you are using every part of your body to tell the story, movement of the character, stance, and voice. A stage actor has to project to make sure the audience seated at the back of the theatre can hear every word whereas TV/film this is not needed. Similar techniques are used for both but screen actors internalizes their thoughts and feelings, which shows in their eyes and a theatre actor has to show the audience their thoughts and feelings through movement.
What can you tell us about your filmwork prior to Bring Out the Fear?
Before Bring Out the Fear I had filmed a number of TV projects including Doctors (BBC) The Tudors, Maru (TG4) and a romantic comedy film called The Food Guide To Love.
How would you describe yourself as a actress, and some of your techniques to bring your characters to life?
Being dyslexic I really need to understand everything about the character, or I canít remember the character's dialogue and struggle to bring them to life! So, preparation for me is huge. Unfortunately, this can be challenging when auditioning as a lot of the time thereís a very quick turnaround!
I always remind myself whatever character I work on for an audition that they are human and most likely want to be loved (love themselves or be loved by another character). I always look for their purpose in the story, their challenges, their relationships with other characters in the scene and what happened just before this scene as this can change the direction of where the scene/story goes.
Actresses (and indeed actors) who inspire you?
There are so many! But Meryl Streep and Kate Winslet are just incredible. I also love Julia Roberts as she always brings likability to every character she plays. Leonardo DiCaprio, Tom Hanks and Robin Williams also deserve a mention here! I absolutely loved Robin Williams, he was such an incredible character actor.
Your favourite movies?
Depending on my mood! Closer (school for actors!), Shawshank Redemption, Pulp Fiction, Django Unchained, Good Will Hunting, Bridesmaids, Blair Witch Project, To Kill a Mockingbird (also incredible on stage!).

Feeling lucky ?
Want to
search
any of my partnershops yourself
for more, better results ?

The links below
will take you
just there!!!


... and of course, films you really deplore?
I cant think of any Iím afraid!
Your website, social media, whatever else?
Ciarabailey1 on Instagram, @ciarabailey1 on Twitter.
Thanks for the interview!