Your new movie Lock & Load - in a few words, what's it about, and what can you tell us about your character in it?
Lock & Load is an action movie that follows the two haphazard characters, Nick, played by Nathan Shepka [Nathan Shepka interview - click here], and Derek, played by myself, as they attempt to rescue their friend, Agent Andy Stokes, played by Graeme MacPherson, from a government sting operation that goes wrong.
Derek is a relatively simple creature and if I were to liken him to a dog, he would be a Boerboels. He values his friends and comrades above everything and will not let anything get in the way of him doing what he must to ensure their safety. He is a character that suffers internally from demons of his past, but he chooses to channel that through violence, the only thing that has been a constant in his life. I would go as far as to say the only time he truly feels alive is when he is around death. There is, however, a depth and heart to Derek that I hope we will get to explore down the line.
What did you draw upon to bring your character to life, and how much Colin MacDougall can we find in Derek?
I try to bring a level of humanity and relatability to my characters, and Derek is no exception. When creating the personality that Derek is, I spoke often with Nathan, as the writer and director, to solidify what he was wanting the audience to feel from Derek and to figure out how I can create that in his character in a believable way. As this is an action film, there are limited opportunities to really expose the core of a character, but I tried to use the action scenes as a way to further expose some of the darker elements hiding within his character.
I don't think there is much of Colin MacDougall in Derek if I'm honest. The sillier moments we see of him are probably closer to who I am as a person, but I am certainly not in the same mindframe as him on the whole. It does make it lots of fun to play a character so intrinsically different, though.
How did you get involved with the project in the first place, what drew you to it?
This movie is actually the second installment from this world, but originally I worked on a short film with Nathan as a fight coordinator. After that, he approached me about his idea for a buddy action movie and if I would like to co-star in it with him.
In Scotland, especially in the low-budget, indie world, you just don't get ambitious action films being made, or at least you didn't at the time. So, for me, it was a very intriguing prospect to be breaking the proverbial mold, and it was a genre of film I wanted to sink my teeth into. As both an actor and filmmaker, I want to keep pushing the envelope for what can be achieved at this level and I believe this is a great way to do just that.
What can you tell us about Lock & Load's director Nathan Shepka, and what was your collaboration like?
One thing I will say about Nathan is he knows what he wants to achieve in his films. He is happy to work through character choice and will quickly tell you if he doesn't feel that something will work for what he has in mind for the overall story. I think over the years we have also developed a level of trust in knowing what each other can bring to the characters and story as a whole. Naturally, there have been times when we don't necessarily agree on things but we are always able to talk things through with our reasonings and come to an agreed conclusion. We are both invested in these characters, and our joint passion for these guys and their story certainly helps make the collaborative effort something we both enjoy.
Lock & Load wasn't the first time you've worked with Nathan Shepka - so do talk about your previous collaborations?
As I mentioned earlier, I first worked with Nathan on a short film called Four Floors as a fight coordinator and stunt performer. It was here that we first got to know each other. I then worked on a short film called Hunting Season, which was the first time I acted alongside him. It was after this that he approached me for the role of Derek in Holiday Monday. This was originally meant to be a stand-alone movie, but we both really enjoyed the characters and both wanted to see more of their antics. That brings us up to now with Lock & Load.
Since you're doing quite a few fights and chases in Lock & Load, how did you prepare for that aspect of the movie?
There was a lot of training and fight rehearsals that ensured I was as fit as I could be for the scenes. I worked with Laura MacDougall for around 4 hours a day, 4 to 5 days a week for a solid month to get our hero fight at the end choreographed and rehearsed so that we could achieve that fight scene as safely as possible whilst delivering a high level of grit and reality to it. With action movies or any movie that requires a more physical role, you have to dedicate the time and energy to getting that right. The safety of the cast and the crew around flying limbs and bodies is the priority. If you want to make something look decent and achieve it safely then it is a must to put hours into rehearsals for everyone involved.
You're also one of the stunt coordinators on Lock & Load - so do talk about the stunts you've overseen in the movie for a bit, and what sort of training do you have as stunt coordinator?
One of the good things about the cast in Lock & Load is that half of them have at least some background in either screen combat, actual martial arts training, or both. My responsibility was to coordinate with Nathan and assist the creating the fight choreography for Agent Stokes' hero fight at the end, as well as my own fight with Laura. I also worked with Nathan to help choreograph the fight between both our characters and one of the bad guys towards the end. On top of that, I ensured that any stunts out with the hero fights were rehearsed and carried out safely.
I don't have any formal training or qualification as a stunt coordinator but over the years I have developed experiential knowledge and practice which I am able to use to help ensure anything we attempt on set is both safe and achievable with the means we have at our disposal. I have said it before, but my main focus on set is the safety of everyone there, and I take it very seriously.
A few words about the shoot as such, and the on-set atmosphere?
On the whole, I would say the overall atmosphere on set was a fun one. We were all there to make something that we were passionate about and that brought everyone together nicely. There was plenty of laughter on set each day. The days that didn't have any action always tended to be very relaxed, and I could let myself simply enjoy being in the moment as we were filming. When we have action, I do try to balance having fun with giving things their due respect.
One thing I loved about the cast and crew on this was that when it called for it and we had to get serious, everyone did. It is great having a team that can balance the fun with the work.
Any future projects you'd like to share?
The obvious one that I'm happy to share is that we will be making a third installment of Nick and Derek, so do keep an eye on that space. Other than that, I have a couple of short films that are close to my heart that I'm hoping to get past the planning stage and into pre-production. Sadly, the really exciting projects are not something I am currently able to talk about, but I can at least say there are a couple of projects in the works.
What got you into acting in the first place, and did you receive any formal training on the subject?
Well, that's a funny story. Around 10 years ago now, I entered a competition being held by the deodorant company Lynx, or Axe in the States, to go into space in promotion of their new Apolo scent. I made it to the semi-finals in London and it is at that competition that I met a wonderful woman called Casey Michaels. I broke my wrist during the competition and sadly didn't win, but after returning home I found out that Casey was a professional stunt performer, with her mother being the stunt double for Carrie Fisher in Star Wars and her father being the stunt double for Pierce Brosnan in James Bond. After talking back and forth with her she inspired me to actively pursue a passion that I had as a little boy but never thought I could actually do as an adult, acting. So, with time off from my lifeguarding job due to a broken wrist, I started coming up with a business plan to be able to pursue this sudden change in my career path. I attended classes for screen combat training, and it is through making contacts there that I got my first agent. I also started taking acting coaching classes at Acting Coach Scotland for a year. Other than that, my training has been whilst on set and learning from watching others that are phenomenal at their craft.
What can you tell us about your filmwork prior to Lock & Load?
Over my almost 10 years working in this brilliantly mad industry I have been blessed with opportunities to work with and learn from some great people and be part of some fun productions. Sadly, not all of what I've worked on has made it to the final release, but regardless, I have friendships and memories that will stay with me on my journey. So far my acting work has been within the confines of the UK but, all going well, soon that may no longer be the case.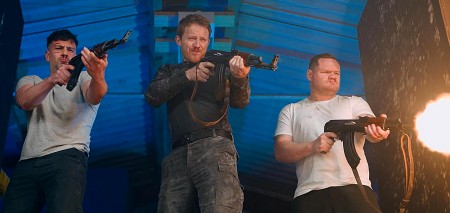 with Nathan Shepka and Graeme MacPherson
How would you describe yourself as an actor, and some of your techniques to bring your characters to life?
I try to be an honest actor. It is my job to create a character that an audience will have some form of emotional investment with, be it a positive or negative one. During my acting coaching classes, I learned about the various techniques used to create a character, but I didn't find that any one method really worked for me. Instead, I tend to adopt the approach of finding what works for you from all that is available and making it your own thing. The key thing is that I need to feel something for my characters and believe in them, even if I don't intrinsically agree with them. If I am not invested, then how can I ever expect someone else to be?
Actors (and indeed actresses) who inspire you?
I find inspiration through almost anyone I meet, let alone actors and actresses. I actually spend a considerable amount of time scrolling through YouTube and other websites that host low/no-budget productions and watch everything I can. I want to see people making things regardless of the fact they don't have anything other than passion, drive, friends, and kind people willing to help them. These are the people that truly inspire me. They are a reminder that the only limitation is what you will allow to stop or discourage you.
One such amazingly inspiring woman is Kate Sykes. Amongst other things, she is a major fan of Lara Croft, who she says is someone who inspires her, and it was her short film Athena on YouTube - https://www.youtube.com/watch?v=ihX0r2CFQoI - that first brought her across my screen. She is championing making a difference and encouraging others with disabilities to challenge how they are seen in the film industry but also how they see themselves. I'm looking forward to the release of her sequel that is currently in the works and hope she will continue to inspire those who come across her work.
Your favourite movies?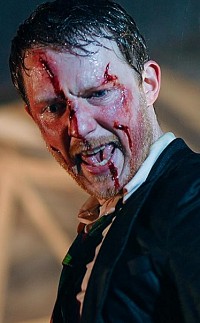 Feeling lucky ?
Want to
search
any of my partnershops yourself
for more, better results ?

The links below
will take you
just there!!!


I'm actually a sucker for a feel-good movie. I was brought up with Disney and Pixar, and it has stuck with me to this day. I'm also a fan of a movie that has an amazing score and soundtrack with it. I have often sat down to watch a movie purely because the composer attached is one whose work I always love.
... and of course, films you really deplore?
The movies I really have no desire to watch are full-blown horror. I just switch off and don't get any enjoyment or thrill from it. I know plenty of people love it but it's just not really a genre for me. Having said that, I would be interested in being involved in one as I think it would be a fun process in making such a film.
Your/your movie's website, social media, whatever else?
For anything film related my IMDb and Facebook page are where to go: www.IMDb.me/colinmacdougall and https://www.facebook.com/ColinMacdougallActor/
For my day-to-day social, I use Instagram: https://www.instagram.com/colinmacdougallactor/
Anything else you're dying to mention and I have merely forgotten to ask?
No, I think you have been pretty thorough with your questions :)
Thanks for the interview!
And thank you for having me.