Your new movie Prince of the Crimson Void - in a few words, what is it about?
Prince of the Crimson Void, my latest cinematic opus, is a grotesque visual and auditory nightmare - a cinematic descent into the dark abyss of the soul of the filmís main protagonist, Fabian.
What were your sources of inspiration when writing Prince of the Crimson Void, and where does its whole mythology stem from?
The genesis of this film began in April of this year, when I rediscovered an old story outline titled The Crimson Prince that I had written some years prior while searching through my notes. The story was essentially about a serial killer exhuming the corpse of his former accomplice on the one year anniversary of his death and rendering him as his spiritual slave for the afterlife. The themes and characters I had written at the time now seem to intrigue me these years later, so I was compelled to revise, modify and adapt this story I had written and bring it to the screen. I find that as I grow older and continually make films, I tend to thrive working on a minimalistic scale with a smaller cast like I did with such films as The Dark Days of Demetrius and Danteís Shadow of Sin. Iím not entirely ruling out the possibility of ever embarking on a cinematic project and working on films with larger casts such as when I made Sebastianís Unholy Flesh, The Acid Sorcerer or American Scumbags - it's just that I inherently believe (as a filmmaker) I produce better results when Iím able to concentrate on developing a suave narrative and constructing one or two multi-faceted characters, as opposed to dealing with multiple castmembers/characters, subplots - I donít find it at all necessary, I embrace the less-is-more approach. In regards to this new film, Prince of the Crimson Void I knew right from the outset that my old story outline of The Crimson Prince would enable me to create a minimalist film where only two main actors were required.
What I love most about Prince of the Crimson Void (aside from the filmís visuals and atmosphere) is that despite the filmís minimalistic yet grotesque plot, there is still this dense lore embedded within the film. There are numerous occasions during the course of the Prince of the Crimson Void when the history between Fabian and Kimball is briefly alluded to, yet never fully expounded upon. The origins of the burial ground, the identities of Fabian and Kimballís past victims who now exist as corpses in various stages of decomposition, Kimballís alter ego, and much more are and will remain a mystery to the viewer. This was all completely intentional on my part as the writer of the film. I suppose I tried to imbue ambiguity into the storyline. Only I (the writer) and the filmís two living main characters Fabian and Kimball are fully aware of the filmís full mythology, and I believe itís better left unstated.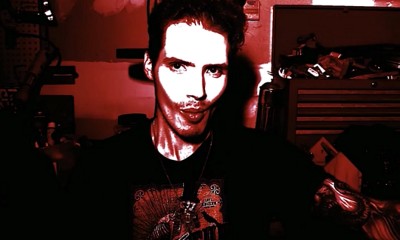 Prince of the Crimson Void isn't exactly free of violence and gruesome imagery - so do talk about these scenes for a bit, and how were they achieved? And how important would you rate the use of violent in this movie in particular and your body of work in general?
Absolutely. Itís a fair assumption to say that Prince of the Crimson Void is perhaps my most visceral and gruesome affair since The Dark Days of Demetrius. This is probably attributable to the fact that I was fortunate enough to work with the formidable S. Donatello, whose extraordinarily realistic latex props grace the screen in this film. The practical effects in Prince of the Crimson Void are unparalleled, the best I have ever had in any of my films, absolutely no exceptions. The level of detail and realism, the look of decay is astounding. Having such an impeccable effects artist such as S. Donatello amplified the level of realism in this film. Therefore I was able to create much more gruesome scenarios and convincingly portray them on screen, such as the scene involving Fabian, fingering and inserting a bottle of Absinthe into the bloody orfice of the legless female corpse that resides in his crawlspace. That being said, there are a pair of scenes that I deemed as Ďtoo extremeí and ultimately omitted from the final cut of the film.
In regards to how violence correlates with my films and body of work, I consider some films to be much more visceral and gruesome than others. For instance, my films like American Antichrist or Sebastianís Unholy Flesh I do not regard as being violent, profane absolutely, but not necessarily violent. My films such as The Dark Days of Demetrius, Prince of the Crimson Void and perhaps even Danteís Shadow of Sin are undisputedly my most savage films if Iím looking at my work objectively. Finally my earlier efforts such as My Master Satan, American Scumbags, The Acid Sorcerer and The Rise and Fall of an American Scumbag featured a medium level of violence, but their shock appeal lies in the fact that there was a palpable sense of realism embedded into those films, primarily because of the real substance abuse that was captured on screen.
Prince of the Crimson Void also has numerous references to Absinthe and substance abuse - so could you elaborate on that for a bit?
It would be my pleasure. Iíve openly stated that the only passion of mine which rivals filmmaking is that of Absinthe. My primary hobby is acquiring, tasting and collecting Absinthe from different regions of the world. Iíve always been most partial to the traditional French Verte but occasionally deviate and indulge in Blanche style, when in a particular mood. I find it only to be natural that my films are embedded with references and depictions of Absinthe, after all, I consume it on a daily basis.
The first time I consumed/experienced Absinthe was in early 2019, right before the production on The Dark Days of Demetrius commenced. What made me gravitate towards Absinthe was the historicity and shades of mystery that surrounded this very misunderstood spirit.
As of now, I have acquired a little over 50 different bottles from various regions of the world. My films such as Prince of the Crimson Void, Danteís Shadow of Sin and Sebastianís Unholy Flesh are practically synonymous with Absinthe - you cannot mention those aforementioned films in the same breath without conjuring images of the Green Fairy.
But anyway, in regards to Prince of the Crimson Void, the main character Fabian is an Absintheur, and the bottles of Absinthe that are shown so lovingly in screen and consumed only bolster the gothic, candle-lit red visuals and atmosphere of the film. I got actor Darien Fawkes to indulge in Absinthe with me on one occasion during the filmís production, however he has always been quite partial to Whiskey and marijuanna, so I donít believe it was too impactful for him to try Absinthe (some just have an aversion to the taste of Licorice, I suppose), but similar to me, Fawkes is set in his ways.
Those who follow me on social media (where my posts frequently feature the latest bottle(s) of Absinthe I have acquired) frequently ask me what my favorite brand of Absinthe is, and itís always a strenuous process for me to answer accurately this question, because Iíve tried so many brands - some of worldís finest Absinthe resides in my collection - and jf I could only choose one, ultimately it's Golden Moon Redux Verte, which is actually crafted in the state of Colorado, which coincidentally happens to be where I reside (Denver to be more precise). Normally, Absinthe produced in America carries a dubious reputation and is subpar and even illegitimate when compared to what is produced in Europe or regions abroad. However, the ingredients in Golden Moon Redux Verte are of the highest caliber and the product is assiduously crafted. To me, itís the only American produced Verte that can possibly rival any French Verte.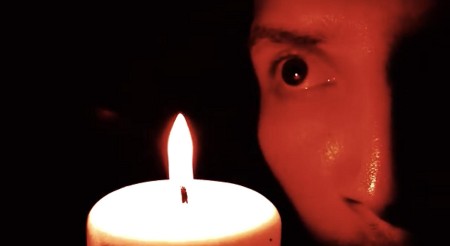 What can you tell us about your overall directorial approach to your story at hand?
My directorial approach as always, was to be as uncompromising as possible and rule with unlimited amount of artistic freedom. Whether it be the sound design, the camera work, or the monochromatic red color filtration that dominates the film - I reigned supreme over every facet of the film.
But anyway, one of my primary objectives as I executed this film was to create a chilling archaic atmosphere, and I believe I tremendously succeeded. To imbue the film with a sense of archaism I utilized candle light and candle umbras as my source of lighting - visually, theyíre astounding on screen and establish the notion that this film could have taken place in any era. In this sense, Prince of the Crimson Void has a timeless quality to it, much like the literary work of Edgar Allan Poe which was of great inspiration to me during the making of this film.
Cinematically, Iíve always had an affinity for classic black and white horror films, such as Nosferatu, Phantom of the Opera (1925), The Old Dark House, The Cabinet of Dr. Callagari and At Midnight Iíll Take Your Soul. I love the haunting imagery that proliferates those films - itís always resonated within my mind whether I want to deny it or not - and the imagery in Prince of the Crimson Void is frequently reminiscent of those aforementioned masterpieces. Iíve willing to go as far as stating that the imagery within Prince of the Crimson Void has a dark poetic quality to it. Iím also a fan of extreme horror and itís been no secret that Iím a fanatic of the serialkiller film genre, which isnít surprising when you consider the fact that virtually all of the characters that dwell within my films serialkillers. However, one film in particular that I can cite directly as a primary influence on Prince of the Crimson Void is Henry: Portrait of a Serial Killer. I love the visceral brutality and realism of that film, and thematically, Iíll openly admit that as a writer I borrowed some elements from Henry: Portrait of a Serial Killer, in a way to pay homage (in my own distinctive way) and acknowledge it as the genre masterpiece that it is.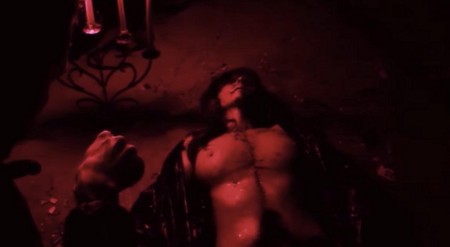 Now, I shall briefly touch upon the technical side of the production. Once again, I used my beloved Sony Cannon Vixia to film Prince of the Crimson Void. I have a sentimental attachment to this camera, Iíve been using it exclusively since 2018 when I made American Antichrist and onward, and as of now, I have used it to film five of my films. Itís literally the most reliable piece of equipment Iíve ever had. Now in regards to the camera work (as you stated in your sublime review, the angles are irritatingly close), it was intentional. My objective was to go out of my way to ensure that a majority of the angles were intimately extreme close up angles. I did this because I wanted to create a level of discomfort for the viewer. I find the scenes involving Kimball especially to be extremely uncomfortable, almost nauseating. When all of these elements amalgamate with S. Donatelloís magnificently detailed latex props, it becomes repulsive.
You also play the lead in Prince of the Crimson Void - so do talk about Fabian, what did you draw upon to bring him to life, and have you written him with yourself in mind from the get-go? And to what extent can you actually identify with a character as disturbing and disturbed as Fabian?
I identify with Fabian in the sense that heís an Absinthe connoisseur. Beyond that, no. I donít identify with any aspects about him, but Iíll certainly clarify that he is disturbed and weak. Fabian can be described as a damaged human being with delusional grandiose visions of himself, however, by the end of the film, heís nearly dismantled mentally and physically as he reaches the conclusion of his Ďbad tripí after exhuming Kimballís severed head, regardless of whether or not he has achieved his demented objective.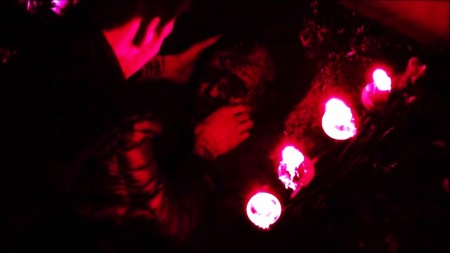 There was absolutely no one but me who could portray him and bring him to the screen. There is a certain amount of nuisance and physicality required to effectively portray Fabian, which left me with no other option but to take the role. Additionally, I spoke of minimalism either, and it is obvious that if I want more simplicity and less outside forces involved with my films, I was essentially forced to portray the main character - and honestly I wouldnít have it any other way as it was a blast to get to consume Absinthe on screen and work with Darien Fawkes and S. Donatello. And as Iíve stated before, with each passing film, I find I enjoy being in front of the camera, as much as I enjoy being behind it, but itís absolutely cathartic to be in front of the camera and see the end result.
The only other actor in the movie is Darien Fawkes, whom you have worked with before a handful of times - so why him, what made him perfect for the role?
Darien Fawkes is perhaps one of the best actors Iíve ever worked with - no exceptions. Not only does his grizzled appearance imbue any character he plays with an innate sense of realism, Fawkes as an actor possesses a wide range - he has a background in theater -, and Iím convinced he can sufficiently portray any character, regardless of what genre heís working in. In some regards, I consider him to be a secret weapon, heís perfect for my films and it was a privilege to work with him again. You see, his role in Prince of the Crimson Void was entirely coincidental. Around the same time I rediscovered the basis for the film, I found his contact information on my phone. Take into consideration that the last time heíd made an appearance in any of my films was back in late 2017, for The Rise and Fall of an American Scumbag.
I had envisioned him playing Kimball in Prince of the Crimson Void, he was the only actor within my social circle I could imagine that was capable of undertaking the role and imbuing the character with a grizzled sense of realism. So, I texted him offering the role and he responded back to me almost immediately. However, his role in the film was contingent upon his work schedule, which had been permitting him from acting and taking up a majority of his time since about 2018. However, as fate would have it, he abdicated his managerial/retail position to effectively become a free agent and resume acting. As a result, we were able to film almost ever weekend during the summer of 2022.
A few words about the shoot as such, and the on-set atmosphere?
It was humid, gritty, and Absinthe-stained - my camera bag, lights and equipment still smell like cigarettes due to the amount of smoking that Fawkes was doing on and off screen. Bear in mind that the burial ground scenes were some of the most uncomfortable scenes, as the outdoor swampy, insect-infested environment Fawkes had found for us was completely perfect yet sweltering and miserable due to the fact that we were filming in the middle of summer. Additionally, the crawl space scenes with Fabian were equally as uncomfortable and claustrophobic (from my perspective), having to transport S. Donatelloís props and my equipment down into the 4 foot crawlspace beneath my living space, but again, I am not complaining, the end results speak for themselves, and the atmosphere of the Ďcrawlspaceí scenes is astounding.
Believe it or not, the on set atmosphere was nothing likethe full blown chaos of Sebastianís Unholy Flesh or The Acid Sorcerer. It was different entirely. The on set atmosphere of Prince of the Crimson Void was professional. Humid. Sweaty. Absinthe-stained. The stench of cigarettes permeated everythingÖ thatís how I describe it, the on set atmosphere of Prince of the Crimson Void.
The $64-question of course, where can Prince of the Crimson Void be seen?
It will soon be available on my YouTube channel. Itís already available on DVD and Blu-ray. Silus David Massoff is undisputedly my favorite graphic artist, which is why it is an absolute privilege to work with him, and he has created alternate artwork for Prince of the Crimson Void and Danteís Shadow of Sin, which adorn the covers of the Blu-ray releases for the two aforementioned films.
Anything you can tell us about audience and critical reception of Prince of the Crimson Void?
Honestly all I can do now that the film has been brought to fruition is to release it and, as long as Iím satisfied (which I am completely) that will ultimately be all that matters. Of course I hope (and intuitively know) those who support my films (which I appreciate tremendously) will rapturously devour Prince of the Crimson Void, but I predict that similarly to the reaction of American Antichrist, there will likely be a contingency of viewers who love the film and those who will despise it, so we will just see what happensÖ

Feeling lucky ?
Want to
search
any of my partnershops yourself
for more, better results ?

The links below
will take you
just there!!!


Any future projects you'd like to share?
Nothing at the present moment.
Your/your movie's website, social media, whatever else?
Yes. Iím on YouTube, Facebook, Instagram - dakotarayfilmmaker
Anything else you're dying to mention and I have merely forgotten to ask?
Thank you for continually reviewing my films and presenting me with an opportunity to discuss them! An additional thanks to those who support my films!
Thanks for the interview!