Your new movie The Man in Room 6 - in a few words, what is it about, and what can you tell us about your characters in it?
It's hard to put into a few words what The Man in Room 6 is about because it's such a sprawling epic tale! It's seemingly about a young woman who suffered a trauma in her early life and therefore has been institutionalized after being accused of killing the man in room 6. We mostly see Carrie's journey from her trauma as a child, through institutional stay and beyond. With stops along the way to see William's (the man in room 6) backstories. Dr. Thomas is a physician who oversees the psychiatric institution where Carrie is being held. After Carrie escapes he goes to look for her. Just as Carrie seems to morph and change during the story, Dr. Tom changes from being somewhat sketchy to full fledged manic in his pursuit of Carrie.
What did you draw upon to bring your characters to life, and how much David Wassilak can we find in Dr. Thomas?
I have some vague impressions of doctors when I was a youngster that involved be treated like a kid, "What did you do that for?" Knocking me on the head after removing small metal ball bearings from my ear that I had put in there. "Cause I'm a stupid kid." And then sometime later when having weekly injections for an infection and the doctor trying to distract me from what is happening by saying "What's you name?" as he shoves the needle in my butt. I didn't consciously think about these events for the role, but they did help to form ideas of what a doctor is for me. Other than it being my visage/countenance on the screen I don't know that there is much of me in Dr. Tom. The range of emotions are a extensions of things I may have felt in my life extrapolated to fit the scene. That's what an actor should try to do.
How did you get involved with the project in the first place?
I had worked with director Trevor Juenger [Trevor Juenger interview - click here] before in Coyote and a short called Revolver, and one day I got an email asking if I would be interested in this new project, and I took a look at the script and said "Sure!"
What were your first thoughts when you read the script, and to what extent could you identify with The Man in Room 6's approach to horror?
That it was a sprawling epic, that seemed to have some interesting elements, and varied locales that made it different from other films I've worked on. I'm not a slasher film kind of guy, so the approach here with a concentration on eeriness, strange imagery, juxtaposition and tension was appealing. An otherworldly quality is always interesting to me. As is the idea of not knowing exactly what is happening... ever!
Do talk about The Man in Room 6's director Trevor Juenger, and what was working with him like?
Having worked with Trevor before on those other projects, I had a idea of how it was to work with him (and Carrie as producer and general calm presence on the set). Their hands-on approach with most of the aspects of the piece help to ground it in a way, so even if you are doing crazy things like standing in the cold on a winter's morning or sitting in a bathtub full of chicken soup--it's just another day. Trevor also has a knowledge beyond just horror film, so that you can relate to other things as well. The plays of Samuel Beckett for example. He also allows the actors a bit of space to explore the character and bring in ideas to try. That always makes for a good working experience.
The Man in Room 6 wasn't the first movie you've made with Trevor Juenger - so what can you tell us about your previous collaborations, and how did the two of you first meet even?
We first met, I believe, when I saw an audition notice for Coyote and showed up to read for a part. I guess he liked what I did in that film, and so asked me to play a role in Revolver, and that led to The Man in Room 6. During Coyote I was struck with how inventive Trevor was in creating sets from found environments that you wouldn't think would necessarily work, but ended up working well.
Back to The Man in Room 6: What can you tell us about the shoot as such, and the on-set atmosphere?
My first day on set, and it may have been the first shoot of the film, was a cold dreary morning near a body of water. We were there for hours, sometimes sitting in a van with the heater on to stay warm between set ups. But the atmosphere then and at most of the shoots was calm and relaxed as much as possible when shooting low budget. I try to bring my sense of humor to the set, as dry as it may be, so to help alleviate any tension that may exist (at least my own). And the crew was almost too nice and accommodating.
Any future projects you'd like to share?
I have a feature length film that is on track to finish by the beginning of next year. But it's been in the works for almost 11 years! I think I wrapped my role about 8 years ago. But I've since been involved with some writing and editing ideas as well has AD-ing one shoot weekend on the project. It's called The Box by writer/director Doveed Linder, whom I have worked with many times before.
What got you into acting in the first place, and did you receive any formal training on the subject?
I've always liked movies and TV, and was introduced to live theater at a young age. I did a bit of acting and directing for class projects in grade school, but then had an experience of forgetting my lines in front of an audience. So then I became involved in the backstage aspect of theater in high school and only in the later years, got up the courage to try acting again. While attending college, and not having an idea of what to do with my life, I decided to take acting classes and perform at the college level. After some encouraging words from directors and positive feedback from audiences and critics, with my degree in Communications with an emphasis in Theater, I continued on the acting path.
What can you tell us about your filmwork prior to The Man in Room 6?
While in college I did a short film and later did some extra work on a feature or two, but didn't really do a lot of film until the early 2000's. I've worked a lot with Doveed Linder on numerous shorts and a couple of features. A lot of my previous work has been shorts in the horror and suspense realm. I've done a western and a few comedies including the feature Bad Grandmas starring Pam Grier and Mrs. Brady herself, Florence Henderson.
How would you describe yourself as an actor, and some of your techniques to bring your characters to life?
Well, I like to think of myself as a versatile character actor. I certainly don't have the looks of the leading man type, but have played main characters for sure. The techniques I've used come mainly from the theater world, where a lot of time is spent in rehearsal, unlike film, but the character development, a focus on objectives, and some movement techniques of Michael Chekhov, help to get into the role on occasion. I also try to bring a natural style to the rhythm and texture of the lines.
Actors (and indeed actresses) who inspire you?
I think the first actor that inspired me after I decided to pursue acting more seriously was Bud Cort in Harold and Maude. He had that way of totally committing to the serious seeming attempts at the various suicides, but also having that sly sense of humor as he breaks the fourth wall at one point. Much later, I also remember being inspired by Cate Blanchett in Coffee and Cigarettes when she is playing two very different characters interacting with each other in the same scene. Now if we're talking horror inspirations I have to go with Lugosi [Bela Lugosi bio - click here] and Karloff [Boris Karloff bio - click here]. True, their acting styles are much different from what we would accept today, but that's the origin for me. But I don't necessarily follow particular performers, the performance itself has to really hit me to be inspirational.
Your favourite movies?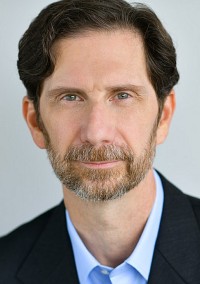 Feeling lucky ?
Want to
search
any of my partnershops yourself
for more, better results ?

The links below
will take you
just there!!!


Well, when asked this I usually go with Harold and Maude. As previously mentioned I like Cort's performance and the overall dark humor with a bit of an uplift at the end, and of course Ruth Gordon and the rest of the cast are great, and also Cat Stevens' music. But I really don't have a lot of "favorites" of things. I have things I like but don't keep lists and such so it's hard to come up with answers to these kinds of questions. I sometimes can't remember what I ate for lunch.
... and of course, films you really deplore?
Any COMIC BOOK MOVIE!!!! Well not all, I'm sure there a few films based on graphic novels that are fine, but all this superhero crap, wtf.
Your website, social media, whatever else?
Don't have website, don't so social media. You can see my film credits on IMDb: https://www.imdb.com/name/nm1964546/
Anything else you're dying to mention and I have merely forgotten to ask?
I just want to thank the Juengers for having me along and giving me a chance to expand the character of Dr. Tom. Originally Dr. T was only in the script until Carrie ran away from the institution, another character tracked her down on the train and at the motel. So it was great to be able to give a bit more dimension to the Doctor, and to have some more screen time.
Thanks for the interview!