Before we talk about your movie, give us a quick introduction to Finkel the band, your music and musical style!
Hi there! Thanks for taking an interest in us. We are Finkel, the Los Angeles-based electro-pop duo. We've been making weird music and art together since 2012, and the journey keeps taking us deeper. Our interests lie in workshop-based musical projects; we like to create in a vacuum with specific parameters and see what comes out the other side. We've done things like wearing colored lenses to see how it changes our view of the world and therefore our creative output, all the way to going to a small isolated island in northern Michigan and writing music using sounds captured on-site. We are gluttons for limitations.
So in a few words, what's your movie Islanders about?
Islanders is about being married independent artists in a uniquely small northern Michigan community, and goofing around.
What inspired you to go to Mackinac for inspiration for your music, and furthermore, what inspired you to take a documentary film crew with you?
Speaking candidly, this musical project was supposed to be our last, so we had nothing to lose. It was the height of the pandemic, our musical careers were upturned, and we didn't know what was next. With all of the madness of the pandemic, we decided to go back to Jane's hometown (Mackinac Island) and write music without any plan of release, using the island as inspiration. We let our friends Anna Gustafson, Joe Zook and Craig Harmer know of our plan, and it struck them with an idea. The five of us had been crafting a documentary project for a few years, and this seemed like the perfect chance for a proof of concept. We were all out of work, and all desperate to find our way through the dark tunnel of a total career pause. The clouds opened, and Islanders was born.
What can you tell us about Islanders' directors Craig Harmer and Joe Zook, and what was your collaboration with them like?
First of all, we love these two! What gems! They are such visionaries, incredibly hard-working, KIND as hell, FUNNY, and a treat to work with. They are truly a dream collaboration because there is so much trust in our collective visions that stepping on toes is kept to a bare minimum. Everyone in the group has such admiration for one another's work, that we assume we are going to love whatever they are working on. That kind of collaboration creates work that is formed on the basis of fun and trust instead of fear of rejection. The outcome is completely different because vulnerability is kept firmly intact.
Also, Anna Gustafson was the editor on this film, and included in all of the above statements. She's a motherf****** badass.
Do talk about the shoot as such, and the on-set atmosphere!
Craig and Joe did a fantastic job of making the camera feel like we were just hanging out with them. Our interactions with the camera were our interactions with them as our friends and family (Joe is Jane's cousin) and didn't feel like we ever had to act. What you see is exactly what it's like to hangout with this crew. The cameras were present often, so we quickly got used to them. Filming didn't happen non-stop, but moreso when moments of importance or creation were afoot. Thus, it always elevated the experience. We really loved the eyes of the camera making the music writing feel like we were on-stage.
Any stories you shot for the movie that didn't make the final cut?
Plenty, I'm sure! But honestly, we don't really remember because we were just living life, and 70 hours of uncut footage would be a horrible documentary, haha.
Anything you can tell us about audience and critical reception of Islanders?
So far, so grand, and we couldn't be more thankful. The most common response we've heard is that people feel inspired to create, and that's our whole ethos. We want to aid in making creativity feel attainable and exciting, so it's awesome that people are diving into their own projects because of Islanders.
Based on your experiences with Islanders, would you be willing to ever be the subject of another documentary?
Very much so! This was a proof of concept for a docu-series we'd like to create, so we better get used to the cameras. That's not to say that it wasn't a complete mindf*** to be filmed and then watch it back. You're like, "So I talk like that, huh?"
Any future projects you'd like to share, in whatever medium?
We can't give away too much, but it's going to be similar to Islanders, and also, different?
What got you into music to begin with, and did you receive any formal training on the subject?
Music is in everyone, and our parents were no different. They started us young on music appreciation, and their tastes were quite eclectic. Jane went onto study opera at Albion college, and Brian took a few guitar lessons, but mostly just messing around has been our greatest teacher.
Do talk about Finkel's past history for a bit, and some of your career highlights?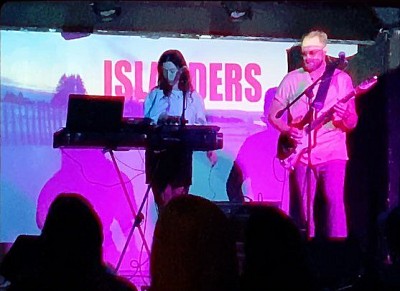 Finkel started as two participants in a college acapella group called Euphonics in 2010, then a cover band called Me and My Friends, then a folk band named Less Is More, then finally in 2018 we became Finkel. Finkel is the culmination of what we learned in our previous projects, turned into a super art project that combines music and many other mediums. The entire journey has been a true joy, and a never-ending chance to try something new. We've had the honor of playing at music festivals like Audiotree, Summerfest, Mile of Music, and Blissfest. We've toured nationally and regionally around 12 times since 2014. We've created this documentary and other docu-series works that have taken us all over the country and the world. We've engaged in countless self-inflicted writing workshops and collaborated with talented artists across many different art mediums. As independent artists, we consider ourselves grossly fortunate.
Musicians who inspire you?
The weirder and more adventurous, the better. We love it when somebody gets up on stage with reckless abandon and lets it fly. If you have to do anything at all, let yourself fall into the deep end and see what happens.
... and since this is first and foremost a film website, some of your favourite and least favourite movies?
Favorite movies - Spirited Away, Royal Tenenbaums, Napoleon Dynamite, Lord of the Rings: Return of the King, Amelie, Cutaway, Hausu, Dark Crystal, baaaaaaaad old movies we find on YouTube... there are more but that's all we can think of for now!
Least favorite movies - The Cat in the Hat movie from 2003 ... and the new Space Jam with Lebron James.

Feeling lucky ?
Want to
search
any of my partnershops yourself
for more, better results ?

The links below
will take you
just there!!!


Your/your movie's/your band's website, social media, whatever else?
Web: finkelband.com
Insta: @finkel_band
Twitter: @finkelband
YouTube: https://www.youtube.com/c/FINKELBAND
Anything else you're dying to mention and I have merely forgotten to ask?
We have merch, please buy it. Thanks for these questions and for amplifying the art that we created together.
Thanks for the interview!