Your new movie Clean Up Duty - in a few words, what is it about, and what can you tell us about your character in it?
Itís about different scenarios in which cleaning up is a necessary practice. My character is a man who draws a line in the sand when it comes to getting his hands dirty.
What did you draw upon to bring your character to life, and how much Fiore Leo can we find in Lou?
Louís sarcasm is definitely Fiore Leo.
How did you get involved with the project in the first place, what drew you to it?
Iíve worked with director Christopher Di Nunzio [Christopher Di Nunzio interview - click here] a number of times in the past so thatís what drew me to the project. He is a super guy and takes his craft quite seriously. I knew the set would be filled with people who wanted to create a good product and not filled with people giving 50%.
To what extent can you identify with Clean Up Duty's brand of humour?
To the full extent. Comedy is my genre of choice but Iím a large Italian man from Boston. Films involving organized crime is where I snugly fit BUT comedy is where I would love to live.
What can you tell us about Clean Up Duty's director Christopher Di Nunzio, and what was your collaboration like?
Iíve known Chris for around 15 years. He is a great, great guy. Witty, creative, fun, down to earth, easy on the eyes. He is an awesome director and will tell you what he wants, which is super helpful for the actors. Chrisís goal with every project is to create something people will enjoy. He wants the crew and cast to be proud of the final product and doesnít do things halfway. Itís 100% or nothing and he expects the same from the crew and cast.
Clean Up Duty wasn't the first film you've worked on with Christopher Di Nunzio - so what can you tell us about your previous collaborations, and how did the two of you first meet even?
We first met when I auditioned for The Unholy Order, back then it was called Livestock. It was one of my first auditions after returning to the world of film. A few days following the audition, Chris informed me that I got the role. It was then I knew that I was dealing with a very, very intelligent person. Iím kidding. I donít believe I was his first choice for the role. I think he settled for what was left on the pile of trash and chose me. I was the ďbuzzer beaterĒ. I am truly grateful. I loved that film and loved the cast and crew. I remember being nervous and Chris truly helping me relax and just act.
Back to Clean Up Duty - what can you tell us about the shoot as such, and the on-set atmosphere?
By far one of the most fun sets I have ever been on. So much laughter. So relaxed. No tension. Joking, poking fun at one another, last resorts. We had a lot of fun.
Any future projects you'd like to share?
I will be working with Chris again. This time, he will be behind the camera and not directing. It is a short, sci-fi film written by Matt Gorman. Filming is tentatively scheduled for late fall.
What got you into acting in the first place, and did you receive any formal training on the subject?
Iíve been attracted to performance for the majority of my life. I was an athlete so that left very little time to devote to performance. In college I crafted my schedule to ensure I could be involved with the theater community. Things went from there.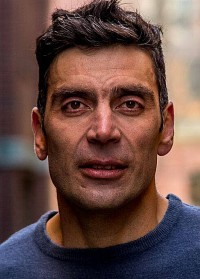 Feeling lucky ?
Want to
search
any of my partnershops yourself
for more, better results ?

The links below
will take you
just there!!!


Iím silly. I take raising my kids seriously and thatís about it. I believe everything is funny. I think of the oddest things and I know full-well my brain is broken, but thatís what I love.
How would you describe yourself as an actor, and some of your techniques to bring your characters to life?
I find extreme personalities easier to play than ďyour average guyĒ personality. I would much rather be crying or be angry or be insane or be over-the-top humorous/ridiculous. Cast me as the Joker not as Batman. I guess being more attracted to such extreme personalities is a reflection upon my own personality. Uh-oh.
Actors (and indeed actresses) who inspire you?
Tom Hardy, Bill Murray, Jack Nicholson. These guys make me rethink everything about acting. They inspire me while simultaneously make me want to pack my stuff, open a bee farm in the low-lands of New Mexico and forget about the art of acting. Basically, they set the bar quite high. Also, anyone who is silly, witty, sarcastic, funny, self-deprecating. Siobhan McSweeney, Diane Morgan, Bill Burr, the writers of Rick and Morty. All hilarious.
Your favourite movies?
For me, this is an impossible question. I love Talladega Nights, but I also love Vision Quest, but I also love Kingpin, but I also love The Outsiders, but I also loveÖ you get what I am saying. My taste is all over the place and I love so many movies.
Your website, social media, whatever else?
Iím not a social media guy. I was built in a world before the internet. Iím good with my flip-phone.
Thanks for the interview!