Your new movie Silicon Docks - in a few words, what is it about?
A group of American tech moguls drunk on a rainy afternoon in Dublin.
What inspired you to pickdilicon exactly this set of tech-moguls as protagonists for your movie?
When writing the screenplay, I tried to select quintessential tech rockstars. There were certainly ones I had to leave out, like Travis Kalanick who was behind Uber, and also people I kind of insisted on dragging in, such as Elon Musk - who is more focused on building physical stuff, not virtual stuff but whom I felt just had to be included. Of course, this whole recent Twitter company takeover drama probably vindicates my decision to include him, and he was the co-founder of PayPal once upon a time! I was basically looking for the right chemistry, contrast and irony in the group as a whole. In cases where some important tech giant wouldn't ultimately fit inside our toybox, I would endeavour to shore this up by at least having the featured ones refer to them in conversation - hopefully create the sense of a greater pool of people beyond the immediate group.
Other sources of inspiration when writing Silicon Docks?
Well, in Beckett there's a lot of standing around and waiting for shit to happen. It occurred to me the internet can be very like that too - it often feels like you are staring into a void. Then Covid came along and the streets were literally abandoned. So I think all of that played into it. I felt these particular characters must be at a loose end, seem detached or be unplugged in a very modern sense. Drinking in the park! I felt that was appropriate - like the internet had kind of spat them out and their socks were a bit wet.
Do talk about Silicon Docks's brand of humour?
I hope itís dry and ultimately a proper satire, rather than merely a collection of gags. It's not meant to create belly laughs, but hopefully makes people grin or even reflect a little.
Why did you decide to try your hand on animation with Silicon Docks, and what are the specific challenges making an animated movie from a director's point of view - also in comparison to live action of course?
Well, I did sort of dip my toe into animation about ten years ago when I made a crazy little animated horror movie called The Green Marker Scare. It was quite rudimentary, just green lines. However, during that process I became acquainted with this terrific 2D animation software called Moho. Recently, I was trying to figure out how to make Silicon Docks and had noticed that Kasia was very good with faces - sheís primarily an oil painter, and the faces and demeanours she paints are incredible. She really captures the spirit of a person, you know? It occurred to me that I could take my basic operational knowledge of Moho on the one hand and Kasiaís talent for painting characters on the other, and just sort of fuse them together. I felt animation would be ideal for Silicon Docks because what we are really dealing with here is the way the world has become so virtual, so animated - how humans have actually become slightly less real because of the internet. Above all, I wanted to subject these characters to the kind of dorkish distortions that are commonplace online nowadays. So animation felt like the perfect medium.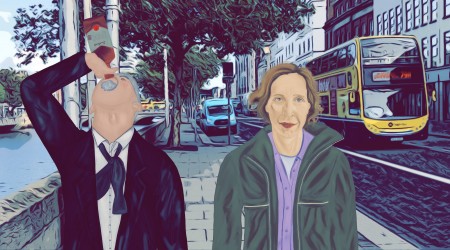 What can you tell us about Silicon Docks' animator Kasia Wisniewska, and what was your collaboration like?
Kasia and I were already married, already parents for many years. Then a global pandemic struck and like many other people around the world, we got stuck indoors. So we decided to try and work together on this one special occasion, and it just went incredibly well! She is a consummate artist, so it was pure joy for me.
The $64-question of course, where can Silicon Docks be seen?
Silicon Docks was custom-made for YouTube, and actually some of the characters in the movie gradually realise they are inside a YouTube video! Itís in 4K and people can watch it anywhere that YouTube is available - https://youtu.be/cG8gwP3kQfE
Anything you can tell us about audience and critical reception of Silicon Docks?
We're delighted the movie is being so highly praised by critics. There was one frustrated animator blogger who said he didnít find one thing funny in the entire film, which seemed very sad to me - but literally everyone else seems to have loved the movie. I know the real life events it refers to will be unknown to some viewers, but feel thatís kind of okay - this is early internet history we are dealing with after all, and over time that history will become more distilled. I think the movie plays and people get the basic story. Weíre receiving great messages from viewers every day and a lot of them are going totally wild. Everybody loves when Jeff and Elon take a leak in the street...
Any future projects you'd like to share?
I always have stuff percolating, but find it impossible to discuss!
What got you into filmmaking in the first place, and did you receive any formal training on the subject?
I got into filmmaking at a very early age, making dozens of short films as a teenager and then went to film school in London in the early nineties. I love watching movies and making movies. To me, itís a language and there are some things one can only express in this particular language.
What can you tell us about your filmwork prior to Silicon Docks?
Silicon Docks is my tenth feature, and some of the movies I made in the past were released theatrically or upon disc or projected on crumpled bedsheets hanging on walls - but nowadays thankfully people can watch all of them at http://www.grahamjones.ie/
How would you describe yourself as a director?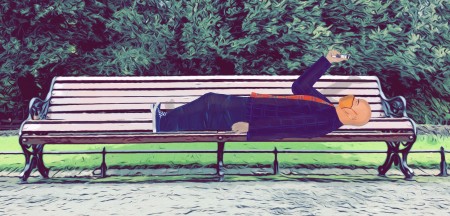 I would actually describe myself as a writer-director, which is different than just being a director. I conceive of the idea, do any research necessary and then write away - all before doing a single practical thing to make the movie happen. Actually thatís not true, because all of that early activity is part of directing, to my way of thinking. Youíre exploring, making choices, sculpting basically. I wouldnít rule out the idea of directing a movie I havenít written, but have no tradition of doing so, and there are certainly many writer-directors who are slightly apprehensive in that regard. As writer-director, you are truly the author of the movie and it means a lot of the questions people have for you can be answered by them just referring to the screenplay. It frees you to focus on directing itself - i.e. giving instruction to creative people like designers and musicians and actors. If the script is already solid, you can build on that, you can learn to fly. As a director, I try to become like an audience member - it's the best way to see and feel. That wasn't easy back in the nineties but it happens more naturally now. Itís like I live in both moments, if that makes sense.
Filmmakers who inspire you, and your favourite movies?
When Robert Altman was good, he was very good - Iím thinking of The Long Goodbye or The Player. Some of Elaine Mayís movies, like The Heartbreak Kid, are priceless. Mike Nichols was often brilliant as well. I really like George Roy Hill. Nora Ephron was definitely a very good screenwriter, and was becoming a very good director when she died. I appreciate some of Dario Argento and Roman Polanski's work. But David Lynch is who I always return to, particularly Mullholland Drive. I feel closer to him than anyone else, in terms of filmmaking.
... and of course, films you really deplore?

Feeling lucky ?
Want to
search
any of my partnershops yourself
for more, better results ?

The links below
will take you
just there!!!


The Cabin in the Woods or Little Miss Sunshine are examples of the kinds of movie I canít really get into - but they are just examples and I know there are many such movies made every single year. I donít mean any disrespect - I know people who love those movies, but I just canít feel anything watching them. To me, itís flavour-based filmmaking. The audience is familiar with a certain flavour and the film industry serves it up. What do you feel like tonight? Tex-Mex? Look, hereís a place! Itís a long, long way from what makes a movie interesting to me. I just donít feel there's any resonance whatsoever - itís mostly style or flavour or comfort! Iím not a snob, I love great popcorn movies or romantic comedies that actually work, but there are such a limited number! Actually, that's a good way to explain it - romantic comedies. They almost always disappoint us, yet our desire for them only grows. A lack of resonance...
Your/your movie's website, social media, whatever else?
https://twitter.com/nuascannan
Thanks for the interview!