Your new movie Montréal Girls - in a few words, what is it about, and what can you tell us about your character in it?
Montréal Girls is about what happens to someone who comes to Montreal searching for themselves, discovering the underbelly of this beautiful inspiringly free city and all the beautiful women (people) who come with it. Finding the balance between living in the nightlife while making something of yourself. I play Tamer, a very talented but chaotic dreamer who knows he hasn't achieved his full potential yet, feels he was born in the wrong era and that somehow he has to find his way out. He's excited to introduce his cousin to the nightlife that he has found himself in.
What did you draw upon to bring your character to life, and how much Jade Hassouné can we find in Tamer?
You can find a lot of Jade in Tamer ahah! It was actually one of my favorite roles to play ever. The process of knowing about / getting cast in the role lasted a few years, so I had an understanding of what director Patricia Chica [Patricia Chica interview - click here] saw in me for Tamer with our various conversations over the years. I feel like I was even closer to who Tamer is when we finally had the immense pleasure of shooting the film!! He felt so free and confident. I loved every minute of it. Plus the fashion was on point. I drew upon my love of music of course, but mostly that part of me that wants to be free. I'm very intuitive when I create characters and I like to draw from different fantasy characters that inspire me. I seem to play those types often: Someone who fits in but stands out and doesn't quite fit in at the same time. And he's a punk so what can you not love?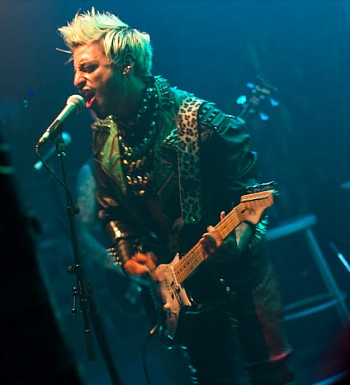 In Montréal Girls you also perform a punk rock song on stage - now did that come natural to you or did you need some extra preparation for the scene?
That was a blast!!! Funny story about the venue we shot at, I had been there to watch a show once and told myself "I'm going to perform here one day" - and a few months later, bam, there I was performing on that very stage but in an alternate reality where I'm a punk singer with cameras all over. Magical life moment. Back to the question, I had such a good time recording those songs written by David Deïas for the movie, it was liberating and I'm so happy I could embody the punk scream. The whole team guided me perfectly, we had great days at the studio, loved it!!
How did you get involved with the project in the first place?
One day about 5 years ago director Patricia Chica got in touch with me. I don't remember how she heard about me. We met at a bar and had a great conversation. I'm all about energy and so is she and she was very supportive of my projects and my vision. To this day. She talked to me about the movie and the role and a few years later we worked a few scenes together in a workshop/audition style moment. Then I got the part, then a few years of Covid and one day I got a text message from the 1st AD of the movie telling me that production starts in a week. I was like "what?" We were one of the first productions to get back to work after the first lockdown. When I got on set I was impressed and excited about how big the whole set and experience was. The costumes were brilliant and the whole vibe was a dream. Love movies!!!
What can you tell us about Montréal Girls' director Patricia Chica [Patricia Chica interview - click here], and what was your collaboration like?
I understand Patricia Chica's language because of my very intuitive way of working. When I act I feel like a channel for some character and story to flow through. I get out of the way and let it flow, and this character especially allowed me to go on a ride. I'm veeeeery excited to watch the movie, I still haven't!! I couldn't make it to the world premiere. Patricia loves her actors and wants to extract the very best out of them, and her method I find cool and fun to play with as an actor. She works with energy flow and connection with self and others and what that does to the work. I especially liked that we got to rehearse to find the essence of each scene. Then the seed grew and when the day came it was a nice thing to witness in everyone.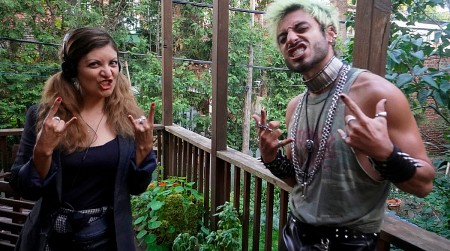 with Patricia Chica
Montréal Girls is said to be the first film to be made with Chi Power - so how has this method informed your acting, and maybe you personally?
That's how I like to work and so it fits perfectly. It allowed me to feel comfortable and confident and also push myself to a deeper level. Feels like the way this film was made allowed me to have an even smoother experience with creating.
Do talk about the shoot as such, and the on-set atmosphere!
I met really great talents working in all the different departments. It felt supportive and fun. I was inspired big time.
Any future projects you'd like to share?
I have a couple exciting films I'm shooting this coming year. One of them is allowing me to travel to Japan to make a feature film. And that is thanks to Montréal Girls and the work I did with Tamer, someone spotted me in this and offered me a role in a movie, a gift that keeps on giving. And right now I'm recording a music EP or album (not sure which yet, hehe) that I plan to release by next spring.
What got you into acting in the first place, and did you receive any formal training on the subject?
When I was ten years old I got on stage and felt my heart and mind open and told myself that's what I wanted to do for the rest of my life, find that feeling. And I've been following that feeling ever since, and it's made my dreams come to be. I studied in theater school, dance school and film school. And of course life school.
What can you tell us about your filmwork prior to Montréal Girls?
I'd been part of a few great projects that allowed me to travel to Europe and work with great mentors. I did a movie with Paul Walker called Brick Mansions (might have a different name in Europe), also one with Aaron Eckhart in my early days. My early but important days. My first bigger role in a feature was Cyberbully, a TV movie. I shot a web series called That's My DJ like a feature, one of the first times I got deeper with one character. Other than that it was TVseries, Shadowhunters, Heartland, Alertes. Television and feature films have a very different pace to them. I love both but there is something special about having more time to develop a scene.
How would you describe yourself as an actor, and some of your techniques to bring your characters to life?
Intuitive, emotional, I use imagery and visualization and channelization. I don't go too much in the mental.
Actors (and indeed actresses) who inspire you?
Johnny Depp, Jake Gyllenhaal, Sandra Oh, Brad Pitt, Vera Farmiga (I just spent 15 mins on this question).
Your favourite movies?
Oh God here we go, ahah: Blow, Donnie Darko, The Little Mermaid (original, excited for new one) Mysterious Skin, Mean Girls, Across the Universe, Edward ScissorHands, Beetlejuice, Hereditary.

Feeling lucky ?
Want to
search
any of my partnershops yourself
for more, better results ?

The links below
will take you
just there!!!


... and of course, films you really deplore?
Ahaha. Uh oh. Midsommar.
Your website, social media, whatever else?
@jadehassoune on Insta and Twitter, @j4dehassoune on TikTok , my artist name is J4DE, you can find most of my info through my Instagram or googles.
Anything else you're dying to mention and I have merely forgotten to ask?
If you like electronic dance pop music, check out J4DE on Spotify, Apple Music and everywhere else.
Thanks for the interview!
Thank YOU!
Be well!