Your new movie Triaphilia - in a few words, what is it about, and what can you tell us about your character in it?
Triaphilia is the fear of bad things happening in threes. The movie uses this concept to tell the stories of three sets of people who are all connected through their interaction with an antique shop called The Anointed Cherub that sells... well, unusual objects. My character, Susan, is a mom grieving over the loss of her young son. She is trying to come to terms with his death by packing his belongings, and her co-workers bring a trunk from The Anointed Cherub that contains something sinister in it. And then things take a turn for the worst!
What did you draw upon to bring your character to life, and how much Jenn Nobile can we find in Susan?
As a mom of three, I could definitely relate to the grief Susan feels about losing her child. She is also a passionate woman who has strong beliefs, which I can also relate to in my life. I brought my love for my kids and my strong belief system into my character development. What Susan does with those beliefs and with her grief is definitely NOT something I would ever do, though!
How did you get involved with the project in the first place?
I've been a student of the writer and director, Joshua Nelson [Joshua Nelson interview - click here], for 3 years now, and one of the things I love about Josh's studio is the opportunities he creates for his students. When he announced he was writing a feature length horror movie, I jumped at the chance to be a part of it!
To what extent can you relate to Triaphilia's approach to horror, and is that a genre you're at all fond of?
I grew up watching Tales From the Crypt and all the fun horror movies from the 80's and 90's, like Nightmare On Elm Street, Halloween, Poltergeist. I've also been also a HUGE Stephen King fan since I was a teenager, so this movie was right up my alley! My favorite horror movies combine humor with the scary stuff, and Triaphilia does that perfectly, I think.
What can you tell us about Triaphilia's director Joshua Nelson [Joshua Nelson interview - click here], and what was your collaboration like?
Josh is an actor as well as a director and writer, so he really knows how to talk to his actors and get a great performance. He focuses on character, and makes sure we are in the moment, truly feeling what is going on. Because we work on the movie by doing several read-throughs beforehand, by the time we're on set, we have a good sense of how the scene is going to run.
Since Triaphilia isn't the first time you've worked with Joshua Nelson, do talk about your previous collaborations for a bit?
Besides taking classes at LaGuardia with Josh, I've worked on a few of his short films: Special was a dark intense drama about a hit man who uses his daughter's "special powers" to do his dirty work. I was also part of Meow Mixer, a fun comedy about lesbian speed dating that we shot during the summer last year. The first short I did with Josh was Creature of Love - a fun, campy movie about a mad scientist who creates robots who are supposed to be the perfect mates for their owners, but things, of course, don't go as planned.
Back to Triaphilia - what can you tell us about the shoot as such, and the on-set atmosphere?
We shot our scenes in one day, which was tiring but was also really fun! We had a great time - I think doing a horror movie like this one is the best because you can be dramatic but it also has some funny parts that make you laugh. We had a great time goofing around with the creepy doll that's in our scenes!
Any future projects you'd like to share?
I just booked a role in a production of The Cemetery Club, which will be running at The Investors Bank Theater in Roxbury, NJ in October. I'm so excited to do theatre again, it's been a while!
What got you into acting in the first place, and did you receive any formal training on the subject?
As a kid I got hooked after going to see Annie on Broadway, and I did a ton of community theater until I hit my 20's, but never pursued acting as a career. Unfortunately my confidence was not high and I felt I wasn't good enough to compete. I left it all behind to build a career in marketing. Then I got married, had kids, and life went on! But in 2018, I had sort of an "ah-ha!" moment, and realized that acting was still in my heart, and I wanted to act and get paid to do it. I started searching for classes and that's how I found Joshua's school. I've been studying with him ever since.
What can you tell us about your filmwork prior to Triaphilia?
Since I'm still new to the industry, I am auditioning for parts and building relationships with casting directors. I had small roles in a couple of student films and a co-starring role on an episode of Diabolical (ID Network).
How would you describe yourself as an actress, and some of your techniques to bring your characters to life?
I love to find a character's strength and explore their reasons for their actions. I also love doing the work of building a life for the characters I play. I think about what their childhood might have been like, and what specific moments in their life may have contributed to how they are acting and feeling in the scenes I'm performing. I then try to find how I can connect with those same thoughts and feelings - what parts of me are similar and how can I use them to tell the character's story? I am always learning and growing as an actress, and never really satisfied with any of my performances!
Actresses (and indeed actors) who inspire you?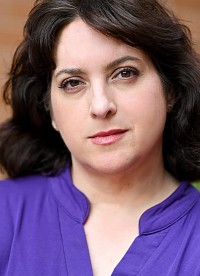 Feeling lucky ?
Want to
search
any of my partnershops yourself
for more, better results ?

The links below
will take you
just there!!!


I'm a huge fan of Kate Winslet, Cate Blanchett, Olivia Coleman, Tom Hiddleston and Leonardo DiCaprio, among others!
Your favourite movies?
Okay, so my favorite movie is Christmas Vacation because it still makes me laugh every time I watch it! Steel Magnolias is great for a good cry, and I really liked both A Quiet Place movies. Honestly, I have too many movies that I love to mention them all.
... and of course, films you really deplore?
Hah, I will watch almost anything but honestly, Ted is a movie that I will never watch again!
Your website, social media, whatever else?
My website is https://jennnobile.com, and I'm on Instagram as @jenn.nobile
Anything else you're dying to mention and I have merely forgotten to ask?
You were very thorough with your questions, thank you so much!
Thanks for the interview!