Your new movie The Last Deal - in a few words, what is it about?
It's about a blackmarket cannabis dealer that tries to make one final score before getting squeezed out of the business when marijuana becomes legal in California.
What inspired you to make a movie about the borderline legal marihuana trade in California, and what can you tell us about your research on the subject?
I've been looking to make an action/crime film for quite some time but couldn't find a strong enough and unique enough vehicle to set my lead actor in. I have some close longtime friends in the cannabis industry and I was trading a lot of cannabis stocks which taught me about the legal side of the business, so I had some knowledge on the subject from growing to selling and the legal ramifications. When one of my close friends who started as a cannabis grower turned seller was slowly getting squeezed out of the business when marijuana became legal, I saw the opportunity to have a character with his back against the wall.
Other sources of inspiration when writing The Last Deal?
Crime and gangster movies from the 70s as well as anti-heroes played a part. I watched a 1970s Cassavetes film in October 2019 about a gentleman's club owner, Ben Gazzara, that owed a gambling debt, and he made a deal that he shouldn't have with the wrong people. I thought that's a simple enough story, have a guy that owes money and makes a deal with the wrong people. So that night, I used my cannabis backdrop for the story and put the Ben Gazzara character into my main character's shoes. I wrote up a quick outline and showed a couple of my friends. They liked it so I showed my producer friend and veteran stunt coordinator Carl Ciarfalio the idea. He liked it as well so I started writing the first draft. We were shooting the movie less than a year later. Pretty crazy. Doesn't always happen that way. But the pandemic and lock-down helped since no one was working and I was able to get this wildly talented cast and crew. We turned a really bad situation into something better.
Do talk about The Last Deal's approach to the crime thriller genre!
I never thought too much about being genre specific cause I had to tell it my own voice, but I was very aware that I wanted a slick Michael Mann synthwave type sexy film. I wanted the audience to be empathetic towards Vince, the main character, so every decision he made, every word he'd said, although illegal at times, the audience would root for him. The 70s and noirs from the 40s and 50s focused on the anti-hero that you want to root for. So I more so placed my character in those shoes and what a Robert Mitchum from Out of the Past would do. It's very 40s and 50s inspired with these characters that you shouldn't root for but you do.
A few words about your directorial approach to your story at hand?
I wanted the character to always be behind. Just when you thought he'd get ahead, something else would happen. I used the George Lucas approach to Indiana Jones, where he was heavily inspired from the short serials that came out in theaters before your main show. Every 10 minutes the character would fall off a cliff or something drastic. So I did the same with Vince. In post-production I wanted to make sure I could cut the film so it'd slowly build and momentum would keep picking up. I wanted everything to always be very tense and anxious. Ryan Liebert, our editor, did an amazing job creating the tense and energetic pace of the film. To keep the tension up while shooting, I told Anthony Molinari, who played Vince, that I wrote the film very anxiety driven, and that feeling should come through in the character but without him busting at the seams. It's a fine line cause you don't want the audience to be constantly anxious but you want them interacting with your story and characters. I believe Anthony did an amazing job creating this character that we want to root for while he's in way over his head.
What can you tell us about The Last Deal's key cast, and why exactly these people?
The lead actor Anthony Molinari was a suggestion from my producing partner Carli Ciarfalio. It was important that the lead actor have a stunt background so I could keep all action on-screen and not cut away. Anthony was perfect because not only could he act but he's a veteran stunt performer. Anthony recommended Sala Baker, another stunt performer, to play the Boss. I remember talking with Sala on the phone for the first time and he has a New Zealand accent. Such a great device for a bad guy! It's like Hanz Gruber in Die Hard. I love bad guys with accents, and Sala is an amazing actor. We cast Mister Fitzgerald from New York to play Bobby, and I couldn't have been more blessed to have him in the movie. He's such an amazing actor and a great human. Jeffri Lauren, who plays Vince's girlfriend Tabitha, was probably my easiest cast because no one in the casting process exhibited everything I pictured in the lead than her. She's such a great talent and incredibly dedicated. Mike Ferguson who's the hardest working actor in Hollywood was an automatic cast as well. The man works more than anyone I ever met and since we shot during the lockdown he was available. I was very fortunate to be able to have all these actors as well as the rest of the cast in the film.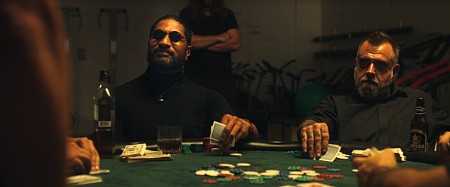 Do talk about the shoot as such, and the on-set atmosphere!
Very busy and very full days. It was an ambitious shooting schedule, but because we had a fairly small crew each day it gave the impression of a very chill environment even though no minute was wasted. I was blessed with an amazing DP, Dominic Lopez, that has a chill vibe and is an amazing DP so that helped trickle down to everyone else. Anthony was also very dedicated and guided but his emotions are fairly even off-camera so that trickled down with the cast. Everyone bought in on what we were doing. We would have 2-3 company moves on most days. We'd start in Burbank, move several miles away to Ventura Blvd for another scene and end up several more miles away on Sunset Blvd for our night time scene; that was a normal day. I built a script that was a low-budget movie disguised as a higher budgeted picture which meant a lot of locations. I prep a lot and I've been directing for quite some time now so I knew I could make it all work or die trying. All the grip and electric fit inside the back of Kia so it didn't require a lot of time per set-up. This gave me the opportunity of giving the actors at least a few takes and getting plenty of coverage even though we'd have three company moves and would shoot 5-6 pages a day on average. I wanted everyone to have the opportunity of doing their best and exploring their choices. It was very free in that regard and I made my days which was important.
The $64 question of course, where can The Last Deal be seen?
We open in 21 theaters across the United States on February 3rd and on VOD on February 7th.
Anything you can tell us about audience and critical reception of The Last Deal?
The response has been amazing so far. We sold out at the Boston International Film Festival and at the 400 seat Chinese Theater in Hollywood for Dances With Films film festival. Dances With Films is one of the biggest indie festivals in the country and we were one of the top three selling films at the festival. There's videos on-line of both crowds standing and applauding. I've been very humbled by the response so far.
Any future projects you'd like to share?
When things settle down, I'm currently writing an action film that I'm almost half-way through the first draft of the script. I'm hoping it's my next film unless hired for something else.
What got you into filmmaking in the first place, and did you receive any formal educaiton on the subject?
The bug caught when my father would project super 8mm family home movies on the living room wall. I remember being about five or six years old and completely mesmerized by it. When he upgraded to one of those giant VHS camcorders, I started making stop animation G.I. Joe short films. After I graduated college, I moved to Los Angeles and directed my first feature. I've had no formal education although I do wish I did study film in college. But I've been doing this long enough that I like to think I've learned a few things along the way.
What can you tell us about your filmwork prior to The Last Deal?
Prior to The Last Deal, I made three short films that did well in their own regard and got me some recognition and somewhat steady work but I wasn't getting the opportunities that I wanted nor regarded as a filmmaker like I would have liked. I did direct a feature and produced and/or directed three feature docs but I wasn't getting that satisfaction I wanted. The opportunities weren't there and it's near impossible to get any type of real funding without some serious "move the needle" elements in place. I knew I had to make a very commercial film that still beat to my heart. I looked for years for a script like The Last Deal. You have to go out and write it yourself sometimes unless you have a roommate, friend or friend of a friend that has a script. But all that experience that I gained was what led me to making this movie the ambitious way that I did and gathering the cast and crew to make it happen. If I didn't have all those years of training, there is no way I would have gotten the actors and crew that came aboard nor make the days that were written in the schedule. We had over 60 locations in some unique places with multiple company moves daily, it's quite crazy but with teamwork we got it done.
How would you describe yourself as a director?
I'm very prepared and if I'm not it makes me very anxious. I'm like your grandparent that shows up to the airport five hours early although I never actually did that. But I think my preparation is what makes me very calm on set and allows me to have fun. At the end of the day, I just want to explore and have creative opportunities while staying serious to the plan ahead. I think that's where the magic comes from is when you can pivot on an idea you originally had but because you already thought out all the possible outcomes, you can recognize a better option when it appears. I like to create a safe environment for everyone to play in and that they feel safe to collaborate and explore their talents. A lot of the fun for me is collaborating with others. Playing jazz as some say. You bring in all these people that are the best you could find at what they do, so I want them to feel safe to explore and take chances and be the best they can be. Many times the actors would give me different lines to try or choices and I love hearing them cause a lot of them make it into the final product. I mean you can't take every suggestion and you have to weigh them out but on every film, I make a speech on the first day that I want anyone in the cast or crew to not be afraid to take chances and make suggestions if something isn't working. Cause if it isn't working on set, it may not work in post.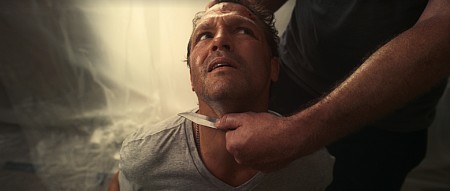 Filmmakers who insprie you?
I'm a big Christopher Nolan fan. I love how he brings all the elements of filmmaking to life. I'm a very emotional filmmaker and I love score and music, and Nolan does that coupled with his editorial smash cutting style. I'm also a big fan of filmmakers that use their own original voice without being pretentious. It's a very fine line sometimes where a director is communicating through their soul vs sense memory from other filmmakers they watched. A good example of the former is Sean Baker, I love everything he's done. It's so refreshing and he channels some Terrence Malick in all his works which I love. I love the wide angle Emmanuel Lubezski style of shooting. Taylor Sheridan is a big inspiration behind my writing. He gets right to the point in his scripts without too much exposition.
Your favourite movies?
I like the 40s and 50s noirs like Asphalt Jungle and Sunset Blvd, the Eastwood spaghetti westerns of the late 60s and 70s, the gritty crime films from the 70s - and since I grew up in the 80s, Star Wars, Jaws and Rocky.
... and of course, films you really deplore?

Feeling lucky ?
Want to
search
any of my partnershops yourself
for more, better results ?

The links below
will take you
just there!!!


There's nothing I'd say I totally deplore because I applaud all filmmakers that make a movie. No one goes into a film trying to make a bad film so I'm pretty empathetic towards that. But having said that, to play along with the question, I do have a short patience for films that come off pretentious in their style or writing. Where the filmmaker may possibly be trying too hard and the style isn't coming from an original place. So, yeah if you're framing your shots in a pretentious way all movie long, I have a pretty short fuse.
Your/your movie's website, social media, whatever else?
www.TheLastDealMovie.com. We use our Instagram the most which is @TheLastDealMovie
Anything else you're dying to mention and I have merely forgotten to ask?
Go out to the movies!
Thanks for the interview!
Thank you!