In my review, I couldn't help but liken the premise of The Dare to that of Saw - at all a fair assumption in your view?
I suppose it's fair, but with all due respect to Saw, Dominic's motives are bitterly personal, dating back to childhood, whereas Jigsaw is based on a macro worldview. Plus, we were careful to ensure that Dominic's methods of torture were directly related to what he suffered as a child, at the hands of his prisoners. For example, Kat forced a spider into his ear when they were kids - so he injected spider eggs into her ear in the basement. Everything in The Dare is grounded in Dom's history, on a deeply personal level.
(Other) sources of inspiration when writing The Dare?
Sleepers, for sure. For me, Mary Shelley's Frankenstein and Doctor Jekyll and Mr Hyde (novels) were big inspirations. I'm fascinated by the duplicity of man, and I studied those books as part of my university dissertation. Frankenstein is my favourite novel.
Now how did the project fall together to begin with?
I had sent Giles my screenplay The Nobodies - a drama screenplay about the complex relationship between a drug support worker and his heroin addicted client. He loved it so much that it acted as a sample to get me the gig on The Dare. Giles sent me a 2 page synopsis of his idea, which was originally called Welcome to the Last Day of Your Life, which we agreed wasn't a suitable title. I drafted a first draft in a week or so, and we went from there. It was a really smooth, quick process initially.
What can you tell us about The Dare's co-writer and director Giles Alderson, and what was your collaboration like?
Giles is a multi-disciplinary talent. He's pragmatic and logical. I loved our collaboration and I miss it a lot. I haven't co-written anything in the same way since. Giles was responsive, and most importantly we had a very comfortable relationship where we were able to deliver honest feedback without any tantrums or negativity. We had plenty of 6-8 hour calls, and I look back with fond, fun memories.
The Dare contains its fair share of violence - so were all the bloody bits in your script to begin with, or were they added during the shoot?
Oh they were there for sure. In fact they were worse. And we had to cut them to hit an R rating, rather than NC-17! There was one scene where Dominic forced Jay to eat a live light bulb, amongst other horrific attacks.
Do talk about The Dare's approach to horror!
Visceral was the word we always had in mind. We knew this was a midnight movie, to watch with pizza, beers and friends. One that people talked about and one that was morally grey. After the UK premiere I could hear people debating whose side they were on - the prisoners' or Dominic's, and I loved that. We wanted to be subversive in that way, we wanted people to question their own morals, and root for Dominic, even if they wouldn't admit it.
As a writer, have you actually been present during the film's shoot, and if so, do talk about the shoot for a bit?
I was on set for a week at the start. It was one of the coldest but best experiences of my life. I loved the collaboration, the comradery, and watching my work come to life. It was great to re-write scenes on set, and go through the next day's scenes the night before over a beer. It truly was a surreal experience and made all the blood, sweat and tears worth it. I made so many friends in that week, and I'll never forget it.
To what extent does what has been brought to the screen match what you've envisioned for The Dare?
I think it's pretty spot on for what we wanted at the time. Though Giles and I recently had a conversation about how it would sound, look and feel if we were to start from scratch now, given our experience since 2016, when it was shot. It was a learning curve for sure, but I'm happy with how it turned out.
The $64-question, where can The Dare be seen?
VOD platforms: Playstation, X Box, Google Play, Itunes, and I believe the Blu-ray will be released in the US soon.
Anything you can tell us about audience and critical reception of The Dare?
The more time passes, the more confident I am that people will like it. I don't know if there's been a cultural shift as a result of the pandemic, or if it's just that time has afforded less anxiety around reception. We received some fantastic reviews on release, Film Threat, Nightmarish Conjurings etc, but because of the divisive nature of the story, the reviews were mirrored. People appear to love it or hate it, which is fine by me. I'd rather incite passion than apathy.
Any future projects you'd like to share?
I'm working with producer Shaked Berenson - who distributed The Dare - on a folk horror movie called Nights Gone. We have Richard Brake and Bonnie Aarons provisionally attached, and we're currently considering potential female directors. It's quite a departure from The Dare, but I'm really excited about it. I can see it all in my head and I really hope we get to see it on screen one day.
What got you into screenwriting in the first place, and did you receive any formal training on the subject?
I've been writing stories since I was five years old, and even through school I was writing weekly episodes about a character called Crowman and sending them to everyone in my class. English was always my favourite subject, I studied English Literature in college and at University, then went onto do a Masters Degree in Creative Writing. I graduated with first class honors with distinction, majoring in screenwriting. So that blend of classic literature and creative writing gave me a strong footing. I started writing screenplays in 2009, and I've been honing my craft since.
What can you tell us about your filmwork prior to The Dare?
The Dare was my first produced movie - I guess you could call it a Baptism of Fire!
How would you describe yourself as a writer?
I like to think of myself as a character-focused writer, given my experience working with people from all different backgrounds. I'm very much a people person, and I'm fascinated with real life complex characters - this unconsciously feeds into my work. Naturally pathos feeds into my work because it's all about relationships. Every one of my scripts is about parenthood, in one way or another. Even the scripts I wrote before I became a parent. So I guess I'm a relationship-based writer.
Screenwriters, writers, filmmakers, whoever else who inspire you?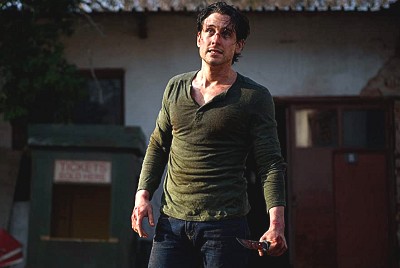 Storywise, I tend to take a lot of inspiration from sources other than films - mainly real life people and experiences. I'm a mental health first aider and historically a drug support worker, so I get a lot of inspiration from the work I did in my 9-5. In terms of being inspired by artists, I watch a lot of writer/director commentaries, which really inspire me to get my ass in the seat. But really there's nothing more inspiring than seeing my peers do well, and affirm that success in filmmaking is achievable. Giles Alderson, Jed Shepherd, Matthew and Tori Butler Hart, Phil Hawkins, all of those guys have made features and it just shows what can be done with the right mindset. In terms of growing up, Spielberg was the biggest inspiration - Jurassic Park changed my life and made me want to write movies - so he's a magician. And writer-wise, Cormac McCarthy, Mary Shelley, and I'd have to say old Bill Shakespeare, given I learned so much about drama and tension from his plays in college and university.
Your favourite movies?
My top 5 have been set in stone in my head since I was a kid. I can't imagine they'll ever change, until the day I die:
1. Jurassic Park
2. Ghostbusters
4. Terminator 2
5. Aliens
Though more recently -- Paddington 2 is the most perfect movie of the century. I love Pixar - I guess I've watched more animated, family-friendly movies than anything else since becoming a parent, and a lot of them are incredibly well told and written, so there's a lot to learn from them. Horror-wise I adore Hereditary, It Follows, The Witch. Midsommar has grown on me and I love it now. I also love the John Wick movies, they're such a good time.
... and of course, films you really deplore?

Feeling lucky ?
Want to
search
any of my partnershops yourself
for more, better results ?

The links below
will take you
just there!!!


I can't say I deplore any movies. I HATED Jurassic World at first, because I was comparing it to Jurassic Park, but I've seen it a lot since and I forgive it more and more each time. Comparison is the thief of joy, right? Though I still can't get over that teenager having no interest in seeing a T-rex... I wish he'd have been eaten by the Mossy, rather than the aunt.
Your/your movie's website, social media, whatever else?
The Dare's Instagram and Twitter: @thedaremovie
Personal Instagram, Twitter and Clubhouse: @wordswithjonny
Anything else you're dying to mention and I have merely forgotten to ask?
Thanks as always to Giles, Shaked and the rest of The Dare family!
Thanks for the interview!