Your new movie Extramundane - in a few words, what is it about?
It's really about a guy finding his own way. Trying to, at least. His dad left when he was little and the mystery of where he could be sometimes consumes the main character, Trevor, to stick his nose where it ought not to be. Heís almost trying to prove to himself via proving to his dad that he is good enough. It just gets him into trouble sometimes. And this all happens to be during the pandemic.
Since Extramundane explicitly refers to Covid-lockdowns - was it actually written while/after the pandemic had hit full swing, or was that an element only added to an existing script?
This script was written in October 2020. So Covid was very relevant. But I had a feeling tons of films would make that the premise, so I wanted it to just be an element of the story. I wanted that to just drive certain factors, such as why it is not odd that people are going missing or why the police were so delayed in responding. Those were all real elements during that time and aided the story. I also wanted to write a story where the characters didnít have to get so close to each other (6 ft rule) and it made sense for them to rarely be around one another.
(Other) sources of inspiration when writing Extramundane?
Inglourious Basterds. I know that sounds odd, but I love how Tarantino handled tension in that film, especially the opening scene. Elements of old school horrors, like Dracula, also influenced me. I wanted a faceless figure, draped in black. Something that the audience could project onto. Also, The Muppet Christmas Carol. The ghost of the future inspired the look. That ghost always scared me as a kid.
Do talk about your movie's approach to horror!
When youíre working on a low budget film, you have to make it work. And for me, I was dealing with Covid being around at the time, which in-it-of-itself was scary. But I played heavily on strung out moments and tension. Thatís where I wanted to go. With a few jump scares placed around to keep everyone engaged.
A few words about your overall directorial approach to your story at hand?
It was tough because I handled everything. Camera was on my shoulder. I pre-lit the scenes myself. I would mic the actor or have the boom microphone in the spot where they were going to land. There was a lot going on. So for this one, I was more in depth prior to shoot day. The actors and I would chat about the characters, whatís going on, what their motivations might be, etc. Then on the day, the actors were so talented, I rarely had to reel them back in.
What can you tell us about Extramundane's cast, and why exactly these people?
Talent. Talent all around. I knew many of this actors from acting classes years ago and had worked with others before in various projects. So I just really tried to assemble the best ones I could for the film. And without doubt, it is the most talented ensemble casts that I have worked with. They were game from the start and gave it all they had.
You also have to talk about the building you filmed Extramundane in, and how did you find it? And what was it like filming there?
This was an apartment building that I lived in. So it worked out that I didnít need to travel. Trevorís apartment was my apartment. And the garage was where I parked. So access was easy and the style of it worked for the tone I was going for.
A few words about the shoot as such, and the on-set atmosphere?
It was so much fun. The amount of times I was running up and down stairs with lights and a camera were ridiculous. The cast kept it light and I tried to as well! Pre-setting everything, then trying to watch the framing, then playback, then directing, it was a lot. But it was the most wonderful experience because of the cast.
Anything you can tell us about audience and critical reception of Extramundane?
Iím sure it will be a mixed bag. It wonít be for everyone and that is totally fine! Film is subjective. And most audiences donít care too much about what went into the making of, they just want to be entertained. So I hope even those who do not like it got a little bit of entertainment somewhere.
Any future project you'd like to share?
Yes! If you find me on YouTube (Joshua Sowden - Filmmaking with Joshua Sowden), I have my annual horror short film coming out on Halloween. I do one every year. I am currently filming a sci-fi feature film called Our Man In LA, and after that my next feature is The Book of the Witch.
What got you into filmmaking in the first place, and did you receive any formal training on the subject?
Iíve loved movies since I was a child. It didnít strike me until I was in grad-school that I should be in entertainment. So, I packed my bags and moved to LA from Virginia in 2013. There I figured out acting wasnít it, it was directing for me. The rest is history.
What can you tell us about your filmwork prior to Extramundane?
Iíve made a number of short films. All can be seen on my YouTube channel. I also have on sci-fi short available on Tubi called The Processed that was made during the pandemic as well.
How would you describe yourself as a director?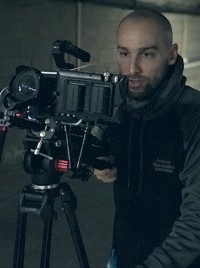 Feeling lucky ?
Want to
search
any of my partnershops yourself
for more, better results ?

The links below
will take you
just there!!!


I hope an actor's director. I trained for 3 years as an actor, so I get a sense of what it feels like to be on that side. I also try to film what I want to see. I try not to think about the audience when Iím filming because I will never be able to please everyone. So I try to just do the best I can and shoot what I want to see.
Filmmakers who inspire you?
Christopher Nolan, Tarantino, David Sandberg.
Your favourite movies?
... and of course, films you really deplore?
Oh that is tough. No one sets out to make a bad film. I try not to be so hard on them.
Your/your movie's website, social media, whatever else?
Here is my link tree with links to everything: https://linktr.ee/selfesteemproductions
Anything else you're dying to mention and I have merely forgotten to ask?
I appreciate the time!
Thanks for the interview!