Your new novel The Unhallowed Horseman - in a few word, what is it about?
In a town enamored with its Unhallowed Horseman legend, a distraught teenage boy must come to terms with his personal demons, and perhaps the Horseman himself.
Hereís a brief synopsis:
Set on All Hallowsí Eve, psychological thriller The Unhallowed Horseman takes place against the backdrop of a seemingly peaceful, picturesque American small town with an iconic past. The story follows Vincent, a distraught and troubled high schooler, and his descent into the demons that plague his mind.
Some things about the town and its inhabitants arenít quite as they seem. Generations of families have been living there with a deep and dark secret, one on the verge of reincarnating itself once again.
With the help of his newfound love for classmate Lorraine, Vincent navigates the treacherous obstacles in his life. Whether it be the overbearing no-holds-barred sheriff, his tempestuous mother, or the holier-than-thou townsfolk, Vincent seems to be under constant bombardment from prying eyes. What's more, Lorraine's overprotective father, Deputy Constance, suspects Vincent of having committed some heinous crimes. Only after uncovering the town's history does Vincent begin to unravel its complex mystery and that of the people living there, including his own ancestors. Can he solve the mystery in time to save the people he truly loves, or will he, like others before him, fall prey to an age-old curse passed down through the centuries. The town prepares for the return of a killer legend, while one young man prepares to take on his innermost demons.
Your book is somehow based around The Legend of Sleepy Hollow - care to elaborate, and why exactly this inspiration in the first place?
The novel is a contemporary re-imagining of Washington Irvingís (the Father of American literature) classic ghost story The Legend of Sleepy Hollow, originally published in 1820. Ever since being a child I was fascinated with that story and specifically that character. He was the first anti-hero in my developing mindís eye and I often found myself routing for the Headless Horseman rather than Ichabod Crane.
My story takes place in modern day, in the real life Sleepy Hollow, New York, known formerly as Tarrytown, but renamed posthumously in honor of Irvingís classic tale. The small sleepy New England hamlet with a legendary past is the perfect setting for a modern day ghost tale. I took that setting, the history of the area ó primarily with the American Revolutionary War ó and all things Irving. I then wrapped that up with modern problems that face young adults and everyoneís mundane struggles. In the end itís a morality play set in awesome folklore, with a killer legend, but like all good horror fiction, essentially gives the wrongdoers a taste of their own evil.
Other sources of inspiration when writing The Unhallowed Horseman?
Halloween in general is a huge inspiration. Its the most wonderful time of year, despite what Andy Williams says about Christmas. Itís a time when ďkidsĒ of every age can let their hair down and tap into all they love about their darker sides. I also love being scared in safe environments. I think thatís the reason modern day adults love haunted attractions and morgue and cemetery tours. With the Disney versions of the different variations of Sleepy Hollow, they were scary as a child, but you always knew it would come out ok in the end. Unfortunately for a lot of my characters thatís not the case here.
Tim Burton is probably my number one cinematic inspiration and someone I can relate to on many levels. His Sleepy Hollow was a perfect macabre version of the story. My story is similar to Timís in that regard, but is more modern. It takes place on the Triduum of the Hallows, the three days a year when the dead can interact with the living. The town essentially is owed some karmic revenge due to the sins of their fathers. Essentially, the Horseman is pissed, rightfully so, and itís time to pay the piper. In regard to writing influences after Washington Irving, Edgar Allan Poe would have to be number one, followed by Roald Dahl. They both are masters of the twist ending. A lot of people think of Roald as all peaches, and foxes and chocolate factories, but his adult short story collections get very dark. And like Poe, he has mastered the twist ending long before M. Night Shyamalan ever hit the scene. I cannot give enough credit to Stephen King. I admire his horror the most because he says what he means. His characters are not always PC or pleasant, but thatís the way the real world is. We cannot have good people without the bad, and I feel there is a real need to have true disdainful characters that represent that small section of society. Without villains there are no heroes. Another reason you might be routing for the Horseman. And finally Charles Dickens and a small touch of HP Lovecraft probably snuck their way into my inspiration.
You've had a long career in the film industry, but The Unhallowed Horseman is your first (published) novel - so what can you tell us about this switch in creative outlet, and how did your experience as a filmmaker inform your writing prose?
Well, I have always been a creative at heart, and have written prose since as long as I can remember, but the query and publishing world was completely new to me. I was shocked at the similarities though. Thereís development, execution, editing and marketing just like in film. My years as a producer, now producerís council PGA, paid off big time in meeting my own personal goals and deadlines. As in film, there are only so many personalities in the world, so if you can manage them along with your own expectations and budget, both time and fiscal, then youíll do ok. Throw in some worldwide time zones, language barriers, tons of research and fantastic mentors, and the process runs parallel.
As far as creative, I would say everything I have ever done, both in front and behind the camera, has led up to this moment. Just like writing and directing my first produced feature The Incantation was in 2018, I feel like all my life and professional experiences up to this moment have led to everything I put into it. Writing like acting or directing, or any creative effort, is a craft, and the more you do it the better you become. It is imperative to remain always the student and never the master. You wouldnít critique your college writing with that as an adult. Same goes with film, fiction or anything even remotely creative.
What can you tell us about your novel's approach to horror?
I believe that all horrors, in fact all stories, are ultimately morality tales. The good guys donít always have to win, but there certainly has to be a lesson learned. In The Unhallowed Horseman we learn of a universal quelling that happens ever so often on bloodred harvest moons. Itís at this time when the universe sort of cleanses itself and shakes the fleas off its proverbial back. Unfortunately for some, theyíre going to end up as collateral damage. But like the Buddhist mentality (Iíve lived in Thailand for over 20 years), and a lot of religions, the point is the purer and cleaner you try to keep your thoughts and actions, the better you will be when itís time to pay for your transgressions. That can be seen as literal in the form of a Headless Horsemanís bloodied battle axe, or metaphorically when itís time to pass on and leave your legacy to the next generation. Now all that said and done, it still has to be cool! So throw in an awesome setting, an iconic supervillain, characters that are multi-dimensional humans that are upstanding one moment and diabolical the next, and make it take place in a town steeped in tradition during Halloween. BOOM! You got yourself an interesting read.
Do talk about your writing style for a bit
Iíd love to. I tend to pepper my prose with a lot of pop culture references and historical facts, if relevant. I canít help myself from putting in a reference, sometimes even an obscure one, if I think its a masterstroke. Luckily for the readers I hired a professional editor to inform me of going off on tangents. I will say that world-building is awesome. In the case of Sleepy Hollow there is so much already established. Once you start to delve into the history and the many iterations, as well as Irvingís personal inspiration, there becomes a treasure trove to draw from. But Iím a firm believer that every sentence up to paragraph up to chapter has to have some sort of arc, otherwise people lose interest. If people check their watch during your film or novel, you have taken them out of the escapist fantasy, if even for a moment. That of course, is a writerís hardest job, but something to ultimately strive for. I try to have a wide range of characters and dialogue for everyone. Some characters are downright coarse and ignorant, where other prose or dialogue uses $10-SAT words. I think itís important to have a little of everything, but I never assume my audience is stupid. I would much rather have someone be taught something newólike a word or historical factóthan have a reader feel that their intelligence has been insulted. And believe me, thatís myself included. Thank God for the internet to teach a writer new vocabulary.
Could you take us to the writing process, and do you have any writing rituals you follow?
Absolutely. In fact, this is something I often am curious to ask other writers myself. Depending on my mood, I need a drink of some sort. Coffee in the mornings, or an ice cold beer once Iíve finished a chapter or particular daunting sequence or chapter. Often a writing session is bookended by both. Some people are morning or evening writers. Iím probably dead afternoon. Wake up late, after being well-rested, churn through some stuff, and finish around evening. Then unwind with some meaningless show so your mind can decompress. I donít push writing, and for me thatís important. If the brain's getting distracted or shutting down, itíll have to wait for the next day. I try to consistently write, but sometimes you just need a break. Writing is as intellectual as it is creative, so it uses both sides of your brain. Getting a rest or turning off is a fine technique.
I probably averaged 5 days out of 7 during my novel writing. The next session usually starts with editing the chapter or section from the previous day, or session, and starting the process all over again. I love to listen to inspiring music when I write, although sometimes itís on very low volume so as not to interrupt my thoughts. Danny Elfman and Hans Zimmer soundtracks, and Mozart or Vivaldiís Four Seasons are some of my go-tos. Usually just instrumental stuff as singing along could become detrimental.
When I first started the process it was slow and felt like chipping away at a very daunting iceberg. Eventually I landed on a comfortable average of around 1200 words a day, sometimes more if it was a particularly inspired sequence. Everyoneís different, so if you are starting out go at your own pace. As I went I often experienced ďthe flowĒ. IĎve described this as the mind pumping out thoughts, words, sentences etc. faster than the keyboard can record them. Almost as if I was a vessel receiving divine inspiration. I personally fantasize that was Washington Irivng giving his seal of approval and chipping in from time to time. Itís a great feeling. I once killed off a character I had no intention of doing, and hadnít in the script version. It was so liberating at that exact moment I knew the story had a life of its own, and who was I as a mere writer to stand in its way. When the Horseman appears, you best run or at least get out of the way!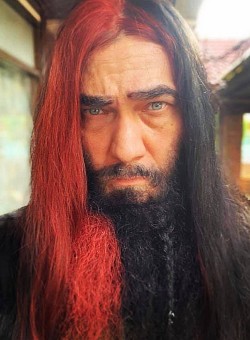 Some people use outlines when writing and charts like a CSI episode. Iím not that guy. I did previously write the script version of this story, so that was essentially an outline, but even when I wrote that I just did it as it came to me. Itís hard for me to tell if thatís a natural talent or if my mind automatically structures stuff that way. I think the most realistic answer is that I have spent 5 decades of my life watching and reading master storytellers and pop culture. That, in addition to studying the mediums, have taught me about act structure, story arcs and character development.
I do feel the need to say that everyone should just write if they feel so compelled. Donít be intimidating by all the armchair novelists and screenwriters on social media. Everyoneís different and has their own pace and method. If you are reading this right now, you are smart enough to give it a go. Donít let fear of the unknown paralyze your creative outlet! Everyone has a story to tell. If I told you to fly a 747 right now youíd look at me like I was crazy. But like all crafts you start at the beginning and build it up over time. Donít be afraid of flight simulators, Cessnas and gliders (metaphorically). Itís all part of the process and I promise you it will be ever so rewarding.
At the moment, you're running a fundraiser for The Unhallowed Horseman - so do talk about your campaign, and what will you use the money for?
The campaign is at about 70% and remains live - (https://www.gofundme.com/f/help-jude-publish-his-halloween-novel. I still get a smattering of donations every month. It covered a lot of the costs of the cover design, the professional editing, copyright, ISBNs, digital, paperback and hardcover formatting, artwork, uploads, marketing ads and all the things that go into self-publishing a 100K word novel. Prices may vary, but expect to pay between $2-$5K when all is said and done, or learn how to do all these things yourself, if you are thinking of self-publishing. But now that the book's out there, if you want to contribute, simply buy a copy. If you canít do that then give me a review or share it on your social media. Every little bit helps. You can use the hashtag #TheUnhallowedHorseman if you so desire.
When and where will The Unhallowed Horseman be released onto the general public?
It releases worldwide on October 29th just in time for Halloween, which is on point for the theme of the novel. It is available as an eBook, paperback and soon to be Hardcover. Itís up to distributors who puts it on their site, so just search the title in their search bars. I know for a fact that Amazon carries the ebook (Kindle) and paperback version - https://www.amazon.com/s?k=%22the+unhallowed+horseman%22&i=stripbooks-intl-ship.
Based on your experiences writing The Unhallowed Horseman, will you ever write another novel? And/or other future projects you'd like to share?
100%! I canít wait to get started on the next one. I have entertained even starting a sequel to The Unhallowed Horseman, depending on how itís received, or an entirely new world all together. I have lots of stories to tell. On the film side of things Iím currently producing and co-directing a docu-series called Sons of Fallujah in conjunction with my business partner at Blue Falcon Productions, Dan Campbell. Itís the real life account of Dan and his fellow Marines and their role in the pivotal Tribal Awakening there. Let me just say itís heart-wrenching and heart-warming all in one.
Your/your book's website, social media, whatever else?
The Unhallowed Horseman:
Goodreads - https://www.goodreads.com/book/show/59316303-the-unhallowed-horseman
Twitter - https://twitter.com/HorsemanRides
Facebook - https://www.facebook.com/TheUnhallowedHorseman
Website - http://www.theunhallowedhorseman.com/
Jude S. Walko:
Amazon author page - https://www.amazon.com/Jude-S-Walko/e/ B09K6ZLSGF
IMDb - https://www.imdb.com/name/nm0908351/
Twitter - https://twitter.com/judeswalko
Facebook - https://www.facebook.com/JudeStephenWalko/
Instagram - https://www.instagram.com/judeswalko/
YouTube - https://www.youtube.com/c/HollywoodhoBRO
LinkedIn - https://www.linkedin.com/in/judeswalko/
Anything else you're dying to mention and I have merely forgotten to ask?
Yes! I want to take this opportunity to thank you Michael for all you do. Itís because of you indie artists like myself can get the word out about their projects. I only hope I can do the same for you. To your audience, feel free to drop me a line on my social media. I would be forever indebted if you could rate or share my novel, especially on Amazon and/or Goodreads. If you want to check out my film The Incantation, a movie I shot in France with former Superman Dean Cain, itís available on iTunes and Paramount+ and all over the place. The silly BTS footage is on my YouTube channel listed above.

Feeling lucky ?
Want to search for books by
Jude S. Walko
yourself ?
The links below
will take you
just there !!!


Thanks for the interview!
Thank you! And to all the readers and fans out there for taking time out of their day. For that I am most appreciative. One last thing, if youíre alone on a dark rural road and think you might hear the heavy breathing of a diabolical Hellstead, or the slight creak of a leather glove around the handle of an enchanted battle axeÖ MIND YOUR HEADS, THE UNHALLOWED HORSEMAN RIDES!!!!