Your new movie ReBroken - in a few words, what is it about?
A father, Will, recently lost his young daughter and now spends his days and nights in an endless cycle of grief. He only leaves the house to go to a grief counseling group and then buy more alcohol so he can drink himself into oblivion. When he meets a woman in the group who tells him about a stranger who can help, Will takes her advice and visits the man - who lives in a tent on the outskirts of town. The stranger gives Will some old vinyl recordings and soon Will starts receiving messages from his daughter and feels he can bring her back. The deeper Will goes, the more he starts to realize that those in his counseling group might not be who they appear to be.
What were your sources of inspiration when scripting ReBroken?
I'm a huge mystery fan and love psychological thrillers and mindbending stories. So The Machinist and Memento were two we kept referencing during the creation of this one. I also took some inspiration from The Changeling with George C. Scott, as well as a little bit from Guillermo del Toro's The Devil's Backbone.
ReBroken is based on a story by the film's lead, Scott Hamm Duenas - so how detailed was this story, what inspired you to develop it into a screenplay, and what was your collaboration with Scott like during the writing process?
It started with a short story idea Scott had about a grieving father who is in a freefall of despair. Scott had written a few pages of the short and came to me with the idea, wanting to turn it into a film. So I took the foundation of that story and expanded it into a script, filling out the world with the other characters. I wanted to take this heavy topic - grief over the loss of a child - and address it through a mystery thriller. As the script progressed, the story became a puzzle and then it was about making sure all of the pieces were there by the ending.
I've worked with Scott a few times, so it's an easy process for us. On this one, I would touch base with Scott while scripting if I hit a point where I felt it might be deviating from the original blueprint, so to speak, but otherwise, I sent him the first draft - along with our director, Kenny Yates - and took notes for the revisions. We did that a couple of times until we had the draft we all wanted to put on film.
Do talk about ReBroken's approach to the thriller genre!
The film has a lot of 'quiet scenes'. A lot of Will drinking, being miserable and home alone. Of course this can be someone's reality as they go through grief, but it can be hard to sustain just those elements for a feature film. Starting from the point of dealing with grief, we latched onto what someone would want if they were in the position Will is in. And reversing the grief, bringing back his daughter, is what Will clings to. This drive in Will leads him down a rabbit hole, which is what every good thriller does - drives us down a rabbit hole or casts us into a spiral. The journey of escaping that while discovering the truth makes a great thriller, and that was our approach to this one.
ReBroken is rather maze-like when it comes to storytelling, with more than just one layer or reality - so how easy or hard was it to not literally lose the plot writing a story of this ilk?
Honestly, this sort of script can make you literally lose the plot - and your mind! For this sort of story, I have the working script and then I have various other documents going at the same time. One document might be a character's backstory that does not make it into the actual script, but drives their current motivations, another document might just plot a character's goals for the overall script and the steps to reach those goals. Then of course I have a big diagram that shows who has done what and when. That particular document looks like the drawings of a crazy person!
What were the challenges of bringing ReBroken to the screen from a producer's point of view?
Money! It's always money when you are making a low budget or micro budget film, because less money gets you less crew, less equipment, less supplies and worse, less time to make the movie. So you are really up against it. However, this is where you have to roll your sleeves up and plan. You have to prepare and plot out every day and every moment so you are as ready as possible to face any issues that arise during production - or post production. So the challenge is making sure you have the right cast and crew involved who are on board with the crazy schedule and tight budget. That is always a challenge, but we have been blessed with working alongside some awesome people who are like-minded in this respect.
You also play a major role on camera in ReBroken - so what can you tell us about your character, what did you draw upon to bring him to life, and have you written him with yourself in mind from the get-go?
I play "Bryan", who on the surface seems like "Mr. Helper" in the group. He has a forced pleasantness about him, and he slowly loses his smile as the film progresses. I did write the character knowing I would play him and drew upon some people I knew growing up who always seemed nice, but you could tell their smile was forced and it eventually became off-putting. And these same people insisted on trying to help you and claimed to know what was best for you, so I tried to work in some of those traits into Bryan. Someone who means well, but might not go about things in the best way.
There's a danger sometimes for an actor to be writing a script where he knows he is playing a role, especially if it is not the main focus of the story. So I tried to make sure to focus on Will's journey first and foremost, and Bryan's journey would then naturally intersect with - and sometimes interrupt - Will's journey.
What can you tell us about ReBroken's director Kenny Yates, and what was your collaboration like?
This was Kenny's first feature as the director. He and I met in 2019 on a film, and after that film wrapped I was chatting with him about some of the film projects I had in the works in the low budget world. He expressed he had a goal to direct a feature in the next couple of years, and when Scott and I started discussing ReBroken, it seemed like a great first feature for Kenny. We pitched him the idea and he loved it and signed on.
Kenny was fantastic to collaborate with. He comes very prepared, knows the story in and out. He is also an actor, so he understands both sides of the camera when directing. And he also has produced a lot, so he knows how to adjust if you get a wrench thrown in your production plans. That is a very important skillset for a director to have.
Do talk about the shoot as such, and the on-set atmosphere?
We had an incredible group - both cast and crew - and the mood was fun and light. However, we had very little time to truly enjoy the process because we were on the go non-stop in order to get the film completed in the short time we had. But everyone was a trooper and there was never any tension on set. No one was making much money, but we all were there for the love of the project, and that makes for a great environment because it's not as much like a "job" as it is a project we all share.
Anything you can tell us about audience and critical reception of ReBroken?
We couldn't be more happy with the reception ReBroken has received. Reviews from critics have overall been very positive and the audience reception has been great. You never know how a film is going to play, and what was well received last year might not find an audience this year. But so far, we've been very pleased with how viewers have reacted to ReBroken.
Any future projects you'd like to share?
I have a few in the works and some that just wrapped. Scott, Kenny and I did another film in December called Xmas Gamble, and it should be out this coming Christmas. More to come on that. I also just wrapped Place of Bones, a western that we're super excited about. Additionally I have two films coming out in April, Hunt Club and Wolf Mountain. Currently in post I have Joe Baby, a classic private eye thriller. I am also in the early stages of writing a new film I plan to direct and star in later this year.
What got you into the filmworld, and did you receive any formal education on the subject?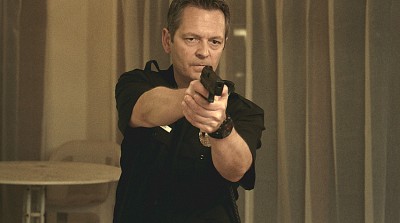 Insanity got me into this! So I was a theatre actor and was working in radio, but always wanted to get into film as an actor and then eventually create my own projects. But I had no film training - as an actor or filmmaker - but I read a ton on the subject, as well as talked to anyone and everyone I could in the business to learn as much as possible. After reading Robert Rodriguez's book Rebel Without a Crew, I felt I was ready to make my own film and secured a little bit of financing. I co-wrote the script, directed, produced and starred and THAT was my film school. I had no idea what I was doing and learned more in that experience than any film school would have taught me. Once the film was finished, me and my friend - who also produced and co-starred in the film - drove across the country to LA, and by the end of the week, we had three offers to buy the film. We signed the deal on Friday afternoon and drove straight out of town. After making another film and doing a few more stage productions, I ended up moving to LA three years later.
You seem to be equally comfortable in front of the camera as behind it - so which side do you actually prefer, and why?
I'm an actor first and foremost. That is my focus for sure, however, a close second is my work as a writer. I really enjoy directing and will continue to do it, but will become a bit more selective in what I direct now. Producing is something I will always do because it sort of comes with the territory of creating your own stuff, but I also get to craft and tell even more stories by helping bring others' stories to the screen. If there is a role I respond to in one of those projects, then actor Kipp Tribble will be happy about that, too!
Do talk about your filmwork prior to ReBroken, in whatever position!
I've been kicking around the independent film world for a pretty long time. As I mentioned, my first film was my film school, but it wasn't for several years of making small films that two things happened around the same time that accelerated the career a bit: 1) Me and my longtime friend and partner wrote a script that got us some notice around town and we nabbed a studio gig from it; and 2) I made a film which struck a cord of some sort. That film was Coffin, which was picked up domestically by Redbox. That one was where I got to indulge my love of the mystery-thriller with a twist ending. It did so well, we ended up doing a sequel, Coffin 2, which was also picked up by Redbox. On both of those, I wrote, directed, produced and starred - and we keep flirting with doing a third one.Scott Hamm Duenas was also an actor in Coffin 2 and made his producing debut. Soon after that film, he and I co-wrote, produced and starred in The Stay, which has done very well and continues to find viewers around the world. During the lockdown, Kenny Yates and I also made Evil at the Door, an experimental home invasion thriller, and Scott was an actor in that film with us, too. But right before both of those, I made a found footage film called Char Man. It was mostly improvised and we shot it in one weekend on smart phones and an iPad. But that little film went on to do great for us and even got us a studio TV deal - but as is the case with so many film and TV projects during that time, Covid had other ideas!
How would you describe yourself as an actor, and how as a writer?
Oh boy, what a loaded question to ask an artist! Let the self analysis begin... As an actor, I do pride myself on the basics: I will know my lines. I will be on time. I will be respectful to the other cast and to the crew. While these are the simple principles that one would assume all actors should abide by, you'd be surprised how many do adhere to these rules. On the performing side, I'm an "Everyman", which means I can step over to both sides and be the lead or the supporting character actor. I also have worked hard in recent years to play everything as real as possible. It's easy to fall into that trap of "Oh, I'm on camera now. I must suck in my cheeks and turn my head a certain way." Sure, you have to do certain things for lighting and to get the right shot, but when you start with that instead of focusing on the realism, you've already lost. I love naturalistic dialogue and have worked hard on that in recent years to make it as conversational as possible.
As a writer, I tend to let an idea ruminate for a while before I sit down to start hammering away at an outline. Once I get a rough outline laid out, I usually will get my "vomit" draft out pretty quickly. Then I come back after a few days or weeks and start reworking it from the beginning. But style-wise, I gravitate towards thrillers with a mystery or twist to it and definitely use every opportunity I can to infuse some comedy into at least one of the characters. Which was nearly impossible to do with ReBroken because of the subject matter!
Actors, writers, filmmakers, whoever else who inspire you?
Well when discussing inspiration, most that I am inspired by are actors, who are also writers and filmmakers. People like the Duplass Brothers, Edward Burns, Lena Dunham, Brit Marling, Joe Swanberg [Joe Swanberg interview - click here]. The ones who put story and performance over glitz and polish. I also love Scott Ryan's story. Look him up. He made his own micro budget film and then got nothing in this business for 13 years. Then that micro budget film was turned into a TV series on FX called Mr. Inbetween. But he never quit.
As for actors not usually considered in the indie scene, I aspire to have the careers of a couple guys: Jason Bateman and Denis Leary. Yes, they both seem like opposites in many ways, but their shared ability to shift between drama and comedy - often in the same film or show - is some of the best I have ever seen. And on top of that, they write, produce and at least in Bateman's case, direct. To be able to handle both comedy and drama equally as well when performing, but then also be creating with the same expertise, it's inspiring and something I hope to master myself.
Your favouritemovies?
Oh man, I am all over the board with movies, just like I am with music. I truly like all brands of films, from Hitchcock to Mel Brooks, from Tarantino to Ron Howard, I really am all over the spectrum. Sometimes it depends on my mood. But if I had to narrow it down, it's a film that takes me on a journey and makes me think, then hits me with the unexpected. While I love a good comedy, there is nothing like a mystery-thriller that makes you think you are going one way, then you get diverted another direction. And as you can see from some of my scripts, I guess I am partial to mystery thriller films. I do also love a good crime drama as well and there are so many great ones.
... and of course, films you really deplore?
I've come to really dislike the modern day blockbuster. They just seem to have lost the fun and I believe it comes down to taking the human connection out of them. The focus is so much on CGI, explosions, etc., and they skip past what makes us care in the first place: the characters. And just in general, movies that spoon feed us, especially with dialogue and specific plot points. I don't need to be told every single detail. I like to figure some of this out on my own.
Your/your movie's website, social media, whatever else?

Feeling lucky ?
Want to
search
any of my partnershops yourself
for more, better results ?

The links below
will take you
just there!!!


ReBroken is mainly on Instagram @rebrokenfilm. And you can find me on Instagram @kippdiddy, Twitter @kipptribble, and Facebook @OfficialKippTribble.
Anything else you're dying to mention and I have merely forgotten to ask?
Special shout out to my beautiful wife and three daughters for putting up with this crazy life in this crazy business!
Thanks for the interview!
You bet, and thanks for having me!