Your new movie Kill Teaser - in a few words, what is it about?
Kill Teaser is the story of the studier a social outcast in love with a girl he's never talked to, being manipulated and lead down a dark path by a serial killer, and at the same time the girl he likes is dating a total scumbag, and it's obvious to everyone.
What were your sources of inspiration when you dreamed up the concept for Kill Teaser?
We finalized the script for Kill Teaser in South Korea while I was developing the project. During that time I had watched a lot of Mamoru Oshii films, and also I was extremely pissed off by the movie Zeiram. Zeiram is this like sci-fi slasher movie with this amazing, monster, totally scary trailer, but it undercuts its entire premise by focusing on two standup comedians instead of its monster horror plot.
What can you tell us about Kill Teaser's screenwriters, and what was working with them like? And how did this collaboration come into being even?
The first draft of Kill Teaser was created by myself, Joe Witouski, and Ian Roardan, who wanted to encapsulate the true crimes the the general plot, and I had a list of scenes I wanted to get in the film. We had several writers come off and on after that throughout the process, and in the end our executive producer Rosemary Hallaren had final say on a lot of the film's elements.
To what extent can you actually identify with Kill Teaser's protagonist, the Studier - or with the titular character even?
For the Studier I put some elements of my awkward teenage days into there, and I think we've all been in situations where we have met dangerous people.
You just have to talk about Kill Teaser's mask for a bit, and how was it achieved, and how much say did you have in its creation?
Hey, good question: So originally I drew Kill Teaser's mask on a napkin, and wanted something with a cyborg/Japanese/Egyptian mix to it. After that we sent the picture to Ronin's Armor Shop in Colorado, and they sent me back an awesome photo-realistic drawing of the thing I had drawn on the napkin. Thankfully we had cast Charlie Liao by then, since he had a uniquely shaped head we had it designed for his specs, and it was made relatively fast.
What can you tell us about Kill Teaser's approach to horror?
For Kill Teaser we were trying to tell a unique Asian American horror film, while also centered around facts from a true crime case known as the Poughkeepsie Incident that occured in 2005. Those elements pretty much came together on their own after that.
A few words about your overall directorial approach to your story at hand?
I've been on a few different sets and the director takes a lot of responsibility for everything going wrong, but at the same time has to remain in control to execute the story properly. The biggest benefit we had was we did a lot of pre-planning and I was very careful to make sure we had just enough takes of everything we needed.
Do talk about Kill Teaser's key cast, and why exactly these people?
The cast was great to work with. We did an open audition in Times Square where over 200 people showed up, some of whom had driven in from other countries. But If I'm being completely honest with you, that audition was kind of a disaster. We cast Charlie Liao in it, whom I'd met before in some acting workshops, and who really totally blew it out of the water with his audition, and Dylan Porteus who did just the same. Other than that, with Times Square and the open door policy we got a large amount of mentally unstable people who showed up to that audition, including a guy who couldn't read the script, or anything. And a teenager who got massive stage fright and left after a minute or so when it was his turn to go up. Our lead Tobee Paik came through a casting agency, and we also had a really hard time finding the Waitress until Laurie Riihimaki came through for us. Any other members of the cast were standouts from the audition projects, or people who had connections with the producers.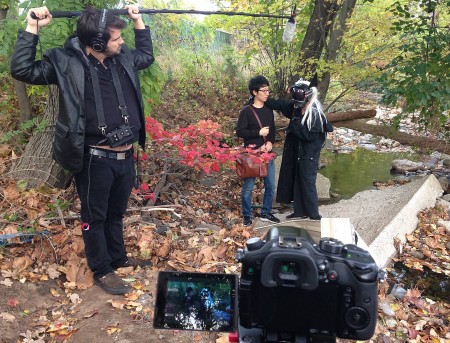 What can you tell us about the shoot as such, and the on-set atmosphere?
The tricky thing about the shoot was we shot I wanna think 7 days on 7 different sets with some time breaks inbetween, and it was definitely a bit difficult keeping the energy of the cast up after the first 3 days. The schedule was tricky as well, it's amazing it came out as well as it did.
The $64-question of course, where can Kill Teaser be seen?
MB X. McClain's Kill Teaser starring Tobee Paik (The Studier) and Charlie Liao (Kill Teaser) is available now on Vubu, Vimeo, and Microsoft from Midnight Releasing.
Anything you can tell us about audience and critical reception of Kill Teaser?
It won several awards when we did its film circuit run. It also was the last movie aired at the NJ Horror Con in 2019, I think it's being recieved decently although it's very much an outlier with its Asian film style, and hard sexual violence.
Any future projects you'd like to share?
I'm currently sitting on a relatively finished movie we made in the pandemic about NJ being invaded by mutants, that I need a little bit more money to finish post production with. Also yesterday had an argument with some guy about boxing, so I'm currently thinking I should make a boxing horror film.
What got you into filmmaking in the first place, and did you receive any formal training on the subject?
When I was 7 I made a remake of the Star Wars trilogy with my dog and the kids from down the road. I did an internship in college with a major studio working on an Adam West project that never got finished, and then after that I was in Japan during the Fukushima nuclear meltdown and helped some filmmakers document it.
What can you tell us about your filmwork prior to Kill Teaser?
Prior to Kill Teaser I have been helping out on various top level movies like Fantastic Beasts, Ghostbusters, and John Wick, in various different capacities. Kill Teaser was the first original feature film I've done. I've also done a lot of pilot projects and short films before that, but mostly for fun.
How would you describe yourself as a director?
I'm a very reasonable person, dictated by logic.
Filmmakers who inspire you?
I am currently in awe of Hideaki Anno who gets to do whatever he wants after all these years. James Gunn has also been pretty conistently good, Edgar Wright too, I need to see Last Night in Soho soon.
Your favourite movies?
Shin Godzilla, Godzilla vs Biollante, Godzilla vs Hedorah, Space Runaway Ideon, Macross: Do You Remember Love?.
... and of course, films you really deplore?

Feeling lucky ?
Want to
search
any of my partnershops yourself
for more, better results ?

The links below
will take you
just there!!!


Zeiram, although Kamen Rider ZO is a masterpiece and Mechanical Violator Hakaider was pretty interesting too.
Your/your movie's website, social media, whatever else?
https://www.facebook.com/killteaser
Anything else you're dying to mention and I have merely forgotten to ask?
I think I'm good, let me know if you have any followup questions for any of these answers.
Thanks for the interview!