Your movie Infinite Santa 8000 - in a few words, what is it about?
Simply put, it about is a cyborg Santa Claus fighting mutants and robo-people in a vast post-apocalyptic wasteland. In the year 8000. With a heavy metal soundtrack. Yeah, it sounds pretty goofy - itís easily the strangest project Iíve ever done.
I'm sure I'm not the first to ask this: Why put Santa Claus into a post-apocalyptic scenario? And your sources of inspirations when writing Infinite Santa 8000 in general?
Yeah, we get this a lot. In late 2009, Greg Ansin and I had just finished Drive-In Horrorshow, an anthology horror film which is basically Creepshow at a post-apocalyptic drive-in. We were looking to do a new project, and I am a huge fan of Christmas horror, and Christmas in general for that matter. From a business standpoint, Christmas films are appealing because they are relevant every year, so each December your film has the potential to grow. So we decided to do something in the Christmas genre. We went through a bunch of ideas, including a Christmas parody record comprised of wacky Christmas songs, but ultimately settled on Infinite Santa 8000. We have no memory of how we got to that point, but weíre glad we made it there. It started as a web series that we released in 2010 on YouTube, and when it attracted enough fans that were asking for more content we decided to adapt it into a feature film.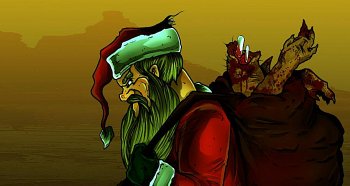 Even though the concept is pretty out there, we take a lot of inspiration from fairly traditional sources when writing: Mad Max, Star Wars - basically any great action-adventure film. We try to keep the stories very simple. The web series is comprised of 13 short episodes, so our only rule when writing was to end each one on a cliffhanger so that the viewer would want to keep watching. Writing the movie was really different - we wanted it to be bigger, more epic in scope. A series of cliffhangers doesnít work in a film - it feels too choppy.
One of the wonderful things about the first Star Wars film is how tight the script is. Iím not talking about the dialogue, which has received its fair share of criticism, but the structure. For most of the film, the characters narrowly escape from danger only to be plunged into another perilous scenario and then another, and maybe they have a quick moment to breathe before theyíre back in the thick of it again, and so on. A lot of people donít talk about this aspect of the film, but we find it very inspirational. It keeps the story moving and the excitement level high, because as an audience you never feel like itís safe to relax for too long. Itís so simple, but we strongly believe that thereís a lot of power in writing simply.
What can you tell us about your co-writer and producer Greg Ansin, and what was your collaboration like?
Greg and I have worked together for the past ten years on all sorts of projects: documentary films, horror, music videos, TV - you name it. Before Infinite Santa 8000 we had taken on three big films together: Growing Old (2006), a documentary about aging, Laban (2007), a documentary about the 1986 revolution in the Philippines, and Drive-In Horrorshow. So even though we had never done an animated project like Infinite Santa 8000, we had so much experience together that we were confident that we could collaborate effectively even though we were in a new medium. We approach films and filmmaking in the same way, so collaborating is very natural.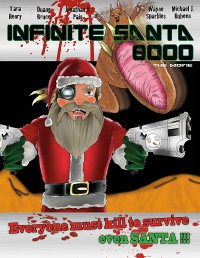 Although we work together on the storytelling, animation, and production, and we have many of the same skills, we each come from different backgrounds. Greg has a lot of experience in audio recording, and I have a lot in cinematography, so thereís a natural division of labor on certain parts of the process. And itís always nice to learn from each other, too.
As far as I know, Infinite Santa 8000 started out as a webseries - so how did it get "promoted" to a feature film eventually?
When we put out the web series, we were very flattered at the incredibly positive response that we got. Iím not trying to sound pompous, but we had a lot of fervent fans demanding more content. The web series was season one of a three-season story arc, and we had mapped out seasons two and three (and written most of it). But it occurred to us that we could put the story on hold and tell a brand-new story in a feature film, which could expand the universe and appeal to a wider audience. As popular as YouTube is, there are a ton of people that want to watch a feature-length movie and not a web series. By doing a separate story, we didnít have to rely on people watching the web series in order to know what was going on. That said, if youíve already watched the web series, you will get more from the film because you already know the characters and world.
In terms of content, Infinite Santa 8000 is very much over-the-top and extreme whichever way you want to look at it. So was there ever any line in the movie you refused to cross?
We try to keep our world to the realm of Hallmark Holidays - Christmas and Easter, in this case, although weíre not opposed to any others. Yes, there is an Easter Bunny in the movie, in case you were wondering. We donít want to get involved in the religious aspects of Christmas, which is why you wonít see Jesus or any other holy figure in the Infinite Santa 8000 world. Infinite Santa, the character, is the good, jolly old elf that we see on Christmas Cards, store displays, Coke commercials, etc.
How would you describe Infinite Santa 8000's very own humour?
The concept of our film is pretty ridiculous, so we felt like we were missing out if we didnít inject some humor into it. That said, we didnít want the whole thing to be comedic, so we kept the comedy to the battle and action scenes in the form of one-liners: ďIíll trim the tree with your brains!Ē, ďYou want a piece of Santa? Come get some!Ē, stuff like that. We didnít have much humor in the web series, which we played a little straighter. This is fine because the episodes are so short, but it was needed in the film for a change of pace. Also, there is so much fighting and action that at a certain point all youíd hear is grunts and fighting sounds, which gets old quickly.
What can you tell us about the visual style you went for in Infinite Santa 8000?
This happened completely organically. When we started on the web series, we needed to make sure that we had talented artists on board or we couldnít do the project. Greg and I animate, but we take images that are hand-drawn and colored first, because we canít draw like that! We knew Nick Flanagan and Jeff OíBrien from Drive-In Horrorshow (they were make-up artists) and we thought they would be great choices for the material. Nick did all of the line drawing and came up with the character designs with Greg and I, and Jeff did the coloring. So the characters evolved that way. Nick and Jeff are tattoo artists, among their many talents, and I think thereís a lot of tattoo influence on the material.
Once we got the art into Adobe After Effects, our animation software, Greg and I had to figure out what to do with it. I had some animation experience in college (I graduated from Vassar in 1999) and as an intern at an animation company in 2000, but nothing like this. Neither of us knew After Effects well at all, so we just started playing with things to see what worked. As I mentioned, I come from a cinematography background, so I laid things out in layers as though we were shooting with a real camera, and used digital lights to light each shot because thatís what I was familiar with. The style just grew from there, mostly out of necessity and experimentation.
Do talk about the animation process for a bit if you can!
Once each character is designed, we break it up into pieces: head, chest, upper arm, lower arm, hand, etc. Then we put it together in the computer and move it like a marionette. For example, if a character is going to wave, weíll move the upper arm and lower arm together and we wonít move the rest of the body at all. After Effects helps our process immensely, because we can tell it where to start the movement and where to end it, and the program draws the rest. This saves us tons of time - thereís no way we could have animated the film, or the web series, without it.
What can you tell us about critical and audience reception of Infinite Santa 8000 so far?
Weíve been very lucky. As I mentioned earlier, the response to the web series was so positive that it inspired us to do the film. We had hardcore fans leaving us comments on our YouTube videos asking when more were coming out. So far, the response to the film has been overwhelmingly positive, Iím relieved to say. When you make a film, you try your best but you never really know if youíve done it right until people see it.
With Santa Claus such a beloved character, will there be a sequel to Infinite Santa 8000? And any (other) future projects you'd like to share?
We would love to keep going in the Infinite Infinite Santa 8000 world. As I mentioned, we have seasons two and three of the web series that weíd love to do, and weíre always open to a sequel. Greg and I have written 6000 years of backstory for the Infinite Santa 8000 universe (from the year 2000 to 8000) and there are so many tales in that time span that we would love to tell: where Santa came from, how the world got to the run-down state itís in, the origin of Dr. Shackleton, etc. There are a lot of side stories weíd love to jump into that donít even involve Santa at all, about Martha, the Easter Bunny, and a bunch of other characters that we are keeping secret until we have a chance to reveal them in future projects.

Feeling lucky ?
Want to
search
any of my partnershops yourself
for more, better results ?

The links below
will take you
just there!!!

Find Michael Neel
at the amazons ...

amazon.com

amazon.co.uk

amazon.de
Looking for imports ?
Find Michael Neel here ...
Something naughty ?
(Must be over 18 to go there !)

We have some other things in the works right now but nothing I can talk about publicly. Fun stuff, though.
Your/your movie's website, Facebook, whatever else?
Everything about Infinite Santa 8000 can be found at http://www.infinitesanta.com. The film is available for rent and purchase at iTunes, amazon, Google Play, Xbox, VuDu, and Cable On Demand. The website has links to all of these vendors, as well as trailers, exclusive clips of the film, the web series, our Twitter and Facebook pages, and much more.
Anything else you are dying to mention and I have merely forgotten to ask?
Nope, youíve been very thorough!
Thanks for the interview!
Thank you! Youíre on the nice list. Ho ho ho!