You've only recently published two novels, A Distance from Avalon and Fight or Play Basketball - so could you tell us what each of them is about?
A Distance from Avalon: When the Dying and the Dead Reunite follows Joe Humble, a middle school teacher, who's going through a tough divorce. His co-worker, a music teacher named Shadow, invites Joe to "hang out" on Halloween night. The two of them arrive at a castle called Avalon where they meet their hosts, the alluring Heartbreak and, moments later, the enigmatic Jean La Croix Distance.
As the night evolves, it becomes apparent that there is more to the hosts that meets the eye. Eventually, Jean and Heartbreak offer a "partner exchange" for the remainder of the evening. An interesting mix of philosophic and seductive scenes comes next. Eventually, chaos ensues. Joe must ask himself if he is to stay in the castle, possibly forever, or to run a distance from Avalon.
"And now for something completely different!"
Fight or Play Basketball: Every Shot Counts is the story of Jack, a very dedicated high school basketball star, who is being raised by his strong single mother Janet. Their lives are disrupted when a thief breaks into Janet's car and "Sweet" Sugar Brown and Paveli "Punch" Pangora, two big men who are just then coming out of Sweet's Sweat Box Gym, subsequently rescue her. Punch has been seeking Sweet's mentorship as a boxer.
As Janet becomes friends with Sweet and Punch, Jack decides to check out the boxing gym himself. As Sweet and Punch watch on, Jack discovers that he has a natural ability for boxing. Despite the wishes of his mom and coach, Jack adds a boxing tournament to his busy schedule, which eventually conflicts with a big basketball game. Jack must decide whether to fight or play basketball.
Let's start with A Distance from Avalon - what were your sources of inspiration when writing that one?
A Distance from Avalon rose from the ashes that were chronicled in my award-winning Disregard the Vampire – A Mike Messier Documentary, which can be enjoyed on Subscribe to Mike Messier YouTube Channel.
When I decided to reboot and revamp the story as a narrative, I added the "Avalon" element. "Avalonia" is a piece of land that broke off of southern New England, USA many thousands of years ago and eventually sank forever. Jean La Croix Distance tells us he hopes to "create a little bit of that old Avalonia magic" at his castle of Avalon.
Of your two protagonists, Jean La Croix Distance and Joe Humble, whom could you actually identify with more, and why?
Wow, that's a good question! I think Joe is more of who I am now and Jean is more of who I'd rather be. Something like that.
A Distance from Avalon feels like it's part of a more extensive mythology - am I at all correct in this, and if so, would you care to elaborate?
Yes, I will be publishing more installments in the months and years to come. A Distance from Avalon: Strange Beast will be the next novel and I've already started writing it. The cover art, once again by Nazar Germanov, is already created.
Fight or Play Basketball - again, your sources of inspiration?
The Rocky series of movies is probably the biggest inspiration but there are also some sports stories such as Breaking Away, a 1979 film with a tandem bicycle race as its climax. As I describe in the "About the Author" section of the novel, there is the 1996 story of Roy Jones jr who played a minor league basketball game during the day and defended his boxing title later that same night. "Sweet" Sugar Brown I see as "Big" George Foreman in a bad mood.
Fight or Play Basketball is very testerone-fuelled in its approach, to the point where it actually feels a tad retro - so to what extent does that reflect your personal attitude towards sports?
Competitive sports always seem to bring out those traditional emotions of passion, jealousy, rage, need for approval and acceptance, etc. "Sweet" Sugar Brown and "Punch" Pangora and the backdrop of Sweet's Sweat Box Gym provide an element of athletics that Jack didn't know even existed until he takes his first trip to the gym.
In one of my first "off-campus apartments" – which was actually a three-family house – while in college in Providence, I remember going into the basement to discover a heavy bag holding on by a thread to the basement ceiling, a well-worn bench press, and an assortment of various dumbbells. Also scattered about were a small boom box and a collection of audiotapes, such as the Rocky IV soundtrack. The two brothers that lived on the second floor of the house I lived in put this dank little basement gym together, and they allowed me to use it.
Reflecting on the novel now, I see how much the textures and nuances of the city of Providence and the state of Rhode Island are prominent in the story. I think it's fair to say that the state of Rhode Island and Providence Plantations is kind of perpetually retro, in ways that are both frustrating and charming.
If you had to choose between fighting and playing basketball, what would you pick, and why?
As far as my own activity, I'd rather play basketball, simply out of not wanting to be punched in the face. As a spectator, I do enjoy the NBA playoffs and finals (go Celtics!) but if there's a choice between watching a big basketball game against a big mixed martial arts fight, I'm more likely to watch MMA.
Do describe a writing session of yours, and do you have any writing rituals or the like?
Once I get into a creative flow, I can write for several hours, several days in a row. The hardest part of writing for me is just to settle down and do it. Once I get started, I enjoy the process. I know many writers who don't actually like writing, or re-writing, and I can understand their pain, but for myself I actually enjoy the creative writing process.
No real rituals, except that I prefer typing to free hand.
From what I know, after spending many years as a filmmaker, A Distance from Avalon and Fight or Play Basketball are the first two actual novels you've written - so what inspired this change of medium?
The "worldwide situation" as I like to call it came just a few months after I moved from Rhode Island to Florida. With the emphasis on social distancing, it became hard if not impossible to meet many if any new collaborators for filmmaking.
So I realized that writing novels is something that I can do on my own. Most of the public, or even those in a position of power in the film industry, are not going to spend the time to actually read a screenplay, no matter how good it is or how many awards it has won. However, the novel format seems to be more approachable for many. The goal is that these novels eventually lead somehow for the films to be made and if any opportunities arise, well, the screenplay versions are already written.
What I notided reading your novels was that they were full of description and dialogue, but there was very little in terms of introspection of your characters - so what can you tell us about this stylistic choice of yours, and your writing style in general?
I think that goes to the "show don't tell" belief. If the actions characters take and the words they speak to each other push the narrative effectively, I suppose there's less of a need to write from inside the character's mind.
As far as my writing style, my goal is for the reader to see, feel, and hear a story in their mind's eye while using the most efficient amount of words possible.
In A Distance from Avalon in particular, there are some long expressions of dialogue, but this is mostly as the hosts seduce their guests, so I think it works. I hope that the subtext or true motivations of the characters reveal at some point to attuned readers.
In your opinion, what are the main differences between writing prose and writing a screenplay?
There's more freedom in writing prose and less of an emphasis on hitting certain bullet points in structure that screenplays are usually expected to have. In addition, it's a bit challenging to write prose knowing that the results are required to fully satisfy the reader. There's no director, producer, actor or editor "to help" a novel's vision as a screenplay might have as an advantage.
On a personal note, I've been frustrated for years that some of my better screenplays, such as Wrestling with Sanity, God is my Best Friend, Chris and the Coffee Girl, American Luchador and Also Ran, have not been fully financed and produced by now. Therefore, writing novels is liberating in that I don't have the burden of "seeking financing" and "collaborators" to bring my visions to life.
After your experiences with writing A Distance from Avalon and Fight or Play Basketball, could you ever be persuaded to write another novel, and maybe even one that's not based on a screenplay of yours? And any other future projects you'd like to share?
I've been working on Bad Girls with Good Tattoos which is now available as an Amazon Kindle Vella story, although yes, that one was also a screenplay first. I'll be adapting Bad Girls with Good Tattoos into the traditional novel platforms (hardcover, paperback, kindle) soon.
I started the second installment A Distance from Avalon: Strange Beast months ago but I put it on pause in order to write Fight or Play Basketball. So I will have to get back to Avalon soon.
I just released the short graphic novel of Wrestling with Sanity on Amazon this week so it can be read now. Also on Amazon, I just revised and rereleased my Art and War of Directing Student, Low & No Budget Movies: A Primer for Creating and Participating in Independent Films, Television & Webseries, which is non-fiction with the exception of my original monologues for actors section that is included.
Novelists who inspire you?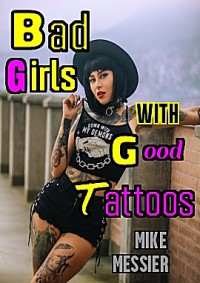 Feeling lucky ?
Want to search for books by
Mike Messier
yourself ?
The links below
will take you
just there !!!


Dan Millman wrote Way of the Peaceful Warrior, which I'm overdue to read again. I listened to and enjoyed the audio version of Matthew McConaughey's Greenlights, which is more of a memoir, but it reads like a fun and crazy novel.
Your favourite novels?
Muscle: Confessions of an Unlikely Bodybuilder by Samuel Wilson Fussell is probably my favorite novel. It has had a few false starts to being a TV series or feature film. It's a great read.
... and of course, novels you really deplore?
I can't say I really have any novels that I deplore, Michael, simply because if I start to read something and it doesn't connect with me after ten or twenty pages, I tend to just move on. Art is subjective. I don't expect to enjoy everything that's out there nor do I expect everyone to like my stuff either. Although that would be nice.
Your/your books' website, social media, whatever else?
The easiest thing to connect to me is to visit www.mikemessier.com and scroll to the bottom of the splash page where all of my social media links are conveniently provided. Subscribe to Mike Messier YouTube Channel (yes, that's the name of the channel) has a lot of my stuff such as Mike's Instant Movie Reviews, my pro wrestling rants, and my celebrity interviews and own original short films.
Anything else you're dying to mention and I have merely forgotten to ask?
I currently have six titles up on Amazon, including the books we've discussed today, and most of them are available on Amazon Kindle Unlimited, meaning that subscribers to that platform can actually check out my books as part of their membership at no additional charge. Of course, even better is if people are inclined to buy one of my paperbacks or hardcovers.
Thanks for your continued support of me and other independent creators, Michael.
Thanks for the interview!
Thanks, Michael, I appreciate it.