Your new movie Musings of a Sinner - in a few words, what is it about?
A nice Catholic girl gets cursed by a stranger and has weird hallucinations which lead to madness.
What were your sources of inspiration when dreaming up Musings of a Sinner?
It was actually made for a 72 hour film competition. We got our needed film elements, one was obviously sex related, and right after that we had 72 hours to write, shoot, edit and upload in that time frame.
You've written Musings of a Sinner together with Becca Kozak - so what can you tell us about her, and what was your collaboration like?
Becca is an upcoming star! She made a feature film documentary on women who make horror called Girls with Guts. She contacted me and interviewed me and I was stoked to be part of her feature. Our collaboration was fun, she was very easy to work with. She has a few awesome short films as well.
At least to me, Musings of a Sinner felt darkly and wickedly funny - would you at all agree, and if so, do talk about your movie's brand of humour?
That is exactly what I was going for. While I do love straight horror I love adding comedy, too. That comes from my love of cheesy 8s horror.
Musings of a Sinner doesn't exactly hold back when it comes to (to many) offensive imagery - so could you elaborate on that, and was there ever a red line you refused to cross? And while we're at it, where did you get all the dildos from? ;)
Nope, no red lines here! I actually always wanted to make a film with 'blasphemous' content regarding the Catholic church. The Virgin Mary statue scene is by far my favorite scene. Ah yes, the dicks! They all belong to, and were made by, my SPFX artist Deb Graf. She has done all the FX in all my films, she's awesome!
What can you tell us about your overall directorial approach to your story at hand?
I work quite organically with the actors and crew, open to ideas and generally have a fun relaxed set to work on.
Do talk about Musings of a Sinner's cast, and why exactly these people?
The cast are actually my (our) cooking show Chaos in The Kitchen crew and host. The priest played by Trevor 'Spud' Hagen is the cameraman on the show, and Davinity played by Arlene Vandenhammer is our host who always wanted to be in one of my films. The old punk guy Murray Acton happened to be invited on set because him and Spud were in a band called Dayglo Abortions, and Becca is a HUGE fan. So he popped by and signed some stuff for her. The dark stranger is Pete Vizvari from local band Awkward AC. So um, basically all friends who were available and willing to do this.
What can you tell us about the shoot as such, and the on-set atmosphere?
Well since we all have worked together, except Becca, it's pretty laid back and not stressful. Of course booze was involved, but in the end we got all our shit done. The set itself was a cabin I rented for 3 days and we all stayed there. So it kind of was like a little vacation involving hilarious fun
The $64-question of course, where can Musings of a Sinner be seen?
I've sent it to a handful of festivals and submitted it to Troma Now. It will be screening at Nasty Frames Film Festival and Vancouver Badass Film Festival in October. Next year I will make it public.
Anything you can tell us about audience and critical reception of Musings of a Sinner?
When it was available after the film race was over, I got awesome feedback from people. Most thought it was hilarious, which it is. I didn't get any bad feedback yet but even if I do, it doesn't bother me at all.
Any future projects you'd like to share?
I have a comedy horror short in the works right now.
What got you into filmmaking in the first place, and did you receive any formal training on the subject?
Actually a local filmmaking contest got me into it. No, no formal training in anything. I just decided to make my own damn movie's. HAHAHA! Still constantly learning too.
Based on its ingenious title, you just have to talk about your short Granny Fuckers for a bit, and what was the idea behind it?
That in fact was for a body horror film contest! Yes another contest. So I was with Spud (Trevor Hagen) getting off a Ferry from Vancouver Island to Vancouver. We were drunk on Fireball we had on the Ferry. We were waiting for the bus to downtown and we just started brainstorming, and then him being a Granny and sex diseases kinda of worked their way in. So we had the base idea of a Granny getting sick, fucking people and spreading a disease. Then we just had to fill in the rest of the story. The basics, we got drunk and came up with the plot on a 30 minute city bus ride to my place. The best part of this film is the actual adult film Star Samantha Mack is the only one without a sex scene.
Going through your filmography, you never seem to stray too far from horror - is that at all a favourite genre of yours, and why (not)?
Yes it is! I was first introduced to horror by having my uncle sneak me into Creepshow, and I was in awe that movies existed like that, imprinted on that genre early.
How would you describe yourself as a director?
Pretty laid back actually, but in the end everything gets done on the deadline. I'm very open to how people are feeling and personal suggestions too.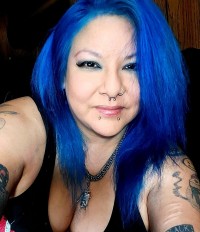 Feeling lucky ?
Want to
search
any of my partnershops yourself
for more, better results ?

The links below
will take you
just there!!!


Filmmakers who inspire you?
Sam Raimi of course, Lloyd Kaufman for obvious reasons.
Your favourite movies?
The Evil Dead series, Creepshow, Hellraiser, 80's slasher flicks, A Clockwork Orange... too many to list really.
... and of course, films you really deplore?
Movies that depict women as weak and cliché.
Your/your movie's website, social media, whatever else?
No website but my other social media is ...
Instagram: @xbluegirlx
Twitter: @BlueLEsperance
Anything else you're dying to mention and I have merely forgotten to ask?
I just want to say thanks to my parents for encouraging my filmmaking. I also want to say thanks to everyone who has worked with me past/present. YOU ALL ROCK! and will always be my family. XOXO
Thanks for the interview!