Your new movie When Darkness Falls - in a few words, what is it about?
Essentially the film is about two American friends, Jess and Andrea, who reconnected after high school and they have taken a walking holiday to the Scottish Highlands. They happen upon two opportunistic men in a local pub and after a disagreement about staying with them, Jess goes off on her own, arranging to meet Andrea later in the day. However she doesnít show at the hilltop meeting point. What happened to her? Did it have something to do with the two guys in the pub or is there a more sinister agenda at play in the sleepy Scottish countryside?
What were your sources of inspiration when dreaming up the story for When Darkness Falls?
It was actually heavily inspired by 1970ís British thriller And Soon the Darkness, which featured two British tourists going on a cycling holiday in rural France and one of them goes missing. Thereís also a 2010 remake with Karl Urban and she who shall not currently be named (Amber Heard), which I have not seen. Our story flips it to two American tourists in Scotland, we thought this would have more international appeal. Beyond that, it doesnít really follow the original, which was a little simplistic in its narrative and execution Ė ours gets a little bit wild towards the end with the twists.
What can you tell us about When Darkness Falls' screenwriter Tom Jolliffe [Tom Jolliffe interview - click here], and what was your collaboration like?
Tom is the sort of person that sends WhatsApp voice notes you can only open in private, for fear of arrest and incarceration. Other than that heís a great guy Ė we met a few years ago on an action fan forum, we love the same kinds of movies, have the same outlook on modern and classic cinema, and collaborating with him is great because weíre always on the same page. He wants to make something creative, put his own stamp on it and harken back to old school thrillers but without having to sell our soul in terms of making something overly commercial and in return sacrificing trying to make a genuinely good movie. Weíre already planning our next project!
Do talk about your movie's approach to the thriller genre!
The thriller genre is one that has seen a bit of a renaissance recently I think, especially with the advent of Netflix and other streaming platforms. They seem to travel well and if the concept is interesting enough they usually get hyped up on social media and through word of mouth. In terms of our approach, we wanted to go a little old school, hence the 1970s inspiration. Everything from the old fashioned credits and freeze frame opening is straight out of the 70s. We wanted a little bit of an Alfred Hitchcock vibe to it, but hopefully punctuated with enough twists and gore to satisfy genre fans.
A few words about your overall directorial approach to your story at hand?
I think directorial wise, I wanted to make the performances as realistic as possible. Tom did a great job in writing some convincing dialogue, and the actors were great at delivering that. Style-wise I didnít want to go handheld. Nice sweeping shots, picturesque wides and nicely framed close ups I felt would highlight the scenery, which is one of the filmís strong points I believe. Obviously that approach canít be realised without a shrewd and imaginative DOP too, and Andy Crane did a great job in hitting all those beauty shots bullseyes.
You also appear in front of the camera in When Darkness Falls - so what can you tell us about your character, what did you draw upon to bring him to life, and have you intended to play Nate from the get-go?
The agreement with Tom was that although the film would be female-led, to appeal to modern audiences and avoid too many cliches, I would get some kind of role. That happened to be Nate. Nateís quite an interesting character and certainly one with more depth than the usual roles I end up in. Heís pretty nonchalant, bit of a pleasure seeker, probably charming but bordering on unsettling to those that see through the thin veneer of laddish banter. So underneath heís quite dangerous, calculated and heís only really after sex and money, and heíll try to get those two things any way he can. I wonít say too much else but he does see a bit of an arc and reveal a bit of depth as the film progresses. In terms of bringing Nate to life, I think Michaela Longden (who plays Jess) [Michaela Longden interview - click here] was instrumental in getting me to see motive jump from the page in terms of character, and really once youíve got the motive down it becomes easier to deliver the lines and craft the character. Tom wrote the part very well too.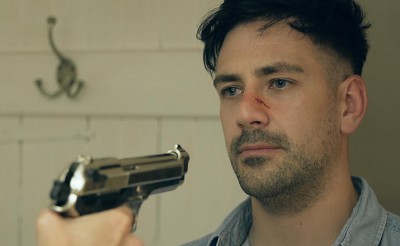 Do talk about the rest of your cast, and why exactly these people?
The cast in this one was excellent I felt. Everyone truly hit the nail on the head and brought their characters to life. Everyday I was observing performances thinking thatís so much like Tom and I had envisioned it. Everyone just seemed to get their character and put their own slant on it, and I feel the performances (until the film gets a little crazy) were all grounded in reality, which I think really helps sell the tension in the film. Acting-wise, I think these are the best performances in any film Iíve made. It was a largely new cast; Michaela Longden, Emma O'Hara, Ben Brinicombe, and Niamh O'Donnell we found via casting calls online. Craig McEwan I had worked with before and Tony Macdonald I knew of and was just waiting for the right role for him. Because this is a little bit of a different film, I had to look out with my usual network for new talent.
How did you find all your impressive outdoors locations, and what was filming in the Scottish Highlands actually like?
Well actually, Iím a bit of a mismarketer here! The film is set in the Scottish Highlands but almost ironically we filmed in Southern Scotland as it was easier to access and visually it is a pretty close comparison to the North. This was to aid with travel etc. But again, almost ironically, the South is actually home to Scotlandís highest village (not the Highlands), called Wanlockhead. We shot across Wanlockhead and Leadhills, which have a very interesting history of lead mining and gold panning! They are very sleepy, you could probably drive through either of them at any point and not see a single soul, which was perfect for the film. It was September but it ended up being uncharacteristically warm. Other than the night shoots, those were f*cking freezing!
A few words about the shoot as such, and the on-set atmosphere?
We shot back to back for 12 days straight (which was eleviated somewhat by shooting almost backshift most days, giving us a bit of chill time on set). We stayed on location, across two cottages, and I think that really helped bring the small cast and crew closer together. We got to know each other, and hopefully the intimacy of the shoot shows through in how natural the performances are on screen. All great people and we had a great laugh over an intense 12 days! There did have to be frequent spider removal missions from bedrooms though (mostly mine).
Anything you can tell us about audience and critical reception of When Darkness Falls?
Well, the film isnít out just yet (it drops on 21st June on DVD and digital in the United States) but I hope that audiences and critics see it as a well crafted and neat little thriller with all the desired aspects to keep the viewerís attention and hopefully surprise them with the twists and turns. I hope people are forgiving of the low budget and that it doesnít show Ė really the strong points are the photography of the beautiful locations and the performances of the actors who really grabbed and ran with a tightly woven yet slow burn script.
Any future projects you'd like to share?
Weíre actually right in the middle of shooting a sequel to our first feature, Holiday Monday Ė which is an action thriller set on Bank Holiday Monday. I felt it had sequel potential so we went out and did it! Logistically and physically it was probably the most challenging film Iíve ever done. Next in the pipeline (without tempting fate hopefully!) is a really dark crime thriller and a gothic horror. Iím really excited for those.
What got you into the filmworld in the first place, and did you receive any formal training on the subject?
I used to make shorts for YouTube, just starring myself in an almost Mike Myers playing every role-type thing. I ended up involving others and putting together a proper crew, and I guess things just spiralled from there Ė and here we are; 7 shorts and 3 features later.
I actually studied business and marketing at university and have a business degree, so no formal film training. But learning on the job has always been utterly invaluable to me Ė every film is a huge learning curve and I hope my business experience actually helps in terms of crafting something commercial, marketing it properly and dealing with the production/project management side of things more efficiently.
You seem to feel as comfortable in front of the camera as behind it - so which side of the camera do you actually prefer, and why?
Honestly, I only transitioned to behind the camera because I felt it was a better way to have more creative control and see my vision through. I think if you write something or have an involvement in the script, thereís a natural want to take that from page to screen. I enjoy directing, but along with producing, writing and acting it can get a bit much. Iíll likely take a step back next time and put my trust in someone else.
I do enjoy acting though, itís fun. Itís an adult dressing up and playing pretend - whatís not to like?
Do talk about your filmwork prior to When Darkness Falls, in whatever position?
Prior to When Darkness Falls I did 7 shorts, a mixture of action, crime, horror and thriller. 5 at around 25 minutes and 2 at 40, before I realised I probably had a feature in me. The goal was always to do a Hollywood style plot and cover it in 20 mins, and now hopefully Iím taking that commercial outlook to features, whilst trying not to sacrifice creativity and artistic merit. I acted in all of them to some degree, directed most, wrote them all. Iíve always been a master of all trades and probably jack of noneÖ
How would you describe yourself as an actor, and how as a director?
Acting-wise, I tend to try to deliver things as naturally as possible. I usually imagine them as a conversation in real life and how Iíd say them to someone. To be honest though, I do try to put a bit of an American slant/cinematic angle on my acting. I donít know if that comes across but I always think it makes it more internationally appealing. Just a pity about the accent broader than the Nile!
Directing-wise Iíll most of the time stand back and let actors do their thing and make sure to listen to the ideas and advice of the DOP. I was asked why I wasnít giving direction or intervening on a performance, but that was because I didnít have to. I was standing behind the camera thinking thatís pretty good. So why try to fix something that ainít broke? I think you have to put some trust in your actors, and at the end of the day they are usually better than me!
Actors, filmmakers, whoever else who inspire you?
I think Iím probably more inspired by individual films rather than one specific actor or filmmaker. Whether that be the tone, the lighting, the plot or the way the film works narratively.
Your favourite movies?
Iím a huge action movie fan, so everything from Rambo and Terminator to John Woo, Bruce Lee movies, all the 80s and 90s action heroes, of which there are too many to name and that are basically a dying breed. I kind of hate the modern cookie cutter action movies where they have these interchangeable soft faced leads that are either a Hollywood Chris or Ryan. I kind of prefer the grizzled older action stars like Liam Neeson, Stallone, Mel Gibson or Denzel.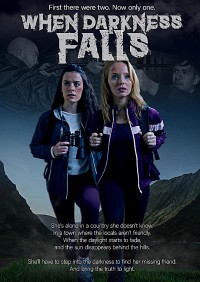 Feeling lucky ?
Want to
search
any of my partnershops yourself
for more, better results ?

The links below
will take you
just there!!!


Other than that, some of my favourite films are Shutter Island, The Departed, Gran Torino, Cape Fear, The Changeling, Rosemaryís Baby. I love taut, imaginative thrillers. But Iíll pretty much watch anything if the concept is good. I also love the erotic thriller that has kinda died out as well (although seems to be edging towards a slight comeback) Ė stuff like Body Heat, Fatal Attraction, Final Analysis.
... and of course, films you really deplore?
I wouldnít say I quite deplore them, but I think the superhero stuff has run its course. I know people love Marvel and the like, but all the films are impossible to differentiate between. I know a few old school directors like Scorsese have voiced their disapproval of them for essentially being akin to video games rather than actual narrative features. I thought the superhero wave would have died out now but it seems to have incredible legs and almost become a genre on its own. They also utilise great actors and give them very little to do. Watch Robert Downey jr in The Judge, for example, and youíll see how wasted he is as Iron Man, although I know his performances as Iron Man are pretty much iconic now amongst the fanbase. I do love the Nolan Batman trilogy, but thatís probably because Batman doesnít have superpowers so it is devoid of overuse of CGI.
Your/your movie's website, social media, whatever else?
www.facebook.com/ShepkaProductions
Anything else you're dying to mention and I have merely forgotten to ask?
I think Iíve rambled enough!
Thanks for the interview!