Your new movie Relationship Killers - in a few words, what is it about?
Relationship Killers is an actual mental health term that is used by relationship specialists and they identify behaviors as well as speech patterns that are on a personal level so severe or triggering to a lover that it would cause them to want to end the relationship with their partner.
Is any of your movie based on personal experience with couple's counseling or relationships in general?
I have struggled with mental illness issues almost my entire life and I have a great deal of empathy for individuals who struggle with mental illness ,and some of my most favorite storytelling are scenes of debate or argument where both parties are correct in one way or another. In this film I wanted to show cognitive dissonance inside of two individuals who struggle with mental illness issues so severe that the only more powerful, more severe than their mental illness issues is their love for one another and the desire to continue to be together.
(Other) sources of inspiration when writing Relationship Killers?
I have lived with all the lethal ladies in my dark and broken psyche of an imagination for so long to the point where for prose and plot on this film I literally just had them tell me what the story was. Instead of letting my characters serve as plot points, I just let the characters meander with nothing but their desires and struggles to guide the story.
A few words about Relationship Killers' brand of comedy?
This is definitely a piece of black comedy set in a psychological neo noir thriller. Honestly the tone was quite difficult to get correct. In fact what youíre not seeing in the final cut of the film or a great deal of jokes that landed unfortunately on the cutting room floor because they were causing the film to run a little too long, as well as pushing the pendulum up towards punchy situational comedy, and I didnít want it to be punchy whatsoever. I just wanted the comedy to be as honest and real as possible, just like the tension and the steady crescendo of stakes.
What can you tell us about your overall directorial approach to your story at hand?
I wholeheartedly believe that films are made in prep. One of the most disheartening things I have experienced over a career as a line producer is the myriad of filmmakers who struggle viciously on set because they did not put the work in and prep. Now admittedly I prepare to the neurotic extreme. I prep possibly beyond the point of reasonability or necessity. But it is extremely important that not only my keys and department heads but also everyone that is a part of the cast and crew for my film, know exactly what I want and know that weíre going to create a familial and collaborative environment to achieve that but we are going for my vision. So my approach to direction is prep to the max and treat my cast and crew like the gods of creation they are.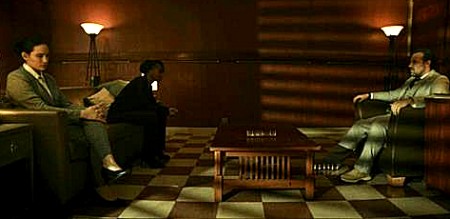 Ask any filmmaker, Murphyís Law is nowhere more apparent and present than on a filmset, and when you have prepped and when you know what plan alpha through plan zulu is and what the standard operating procedure is for when things go wrong, itís much easier to sidestep and adjust fire on set instead of constantly trying to chase our tail to catch up or make a better time to make your day. I treat every department and every person as if they are doing me the world's biggest favor, because in my heart I truly believe they are.
Do talk about Relationship Killers' cast, and why exactly these people?
My cast is an arrangement of the world's most beautiful, brilliant badasses I have ever met. Filmmaking is the world's most difficult, intense, and collaborative team sport so I hired a cast and crew that would take up all of my deficiencies as a human. So together we could do justice to and for these beautifully flawed characters I love so much. Anything and everything that could go wrong went wrong on this production and it was never in a way that would be easy to roll with the punches. However, my entire cast and crew did exactly that and we got it done and I am incredibly proud of every aspect of this truncated motion picture.
A few words about the shoot as such, and the on-set atmosphere?
I have an addiction to making sure that everyone around me is safe, secure, and having a good time. I work incredibly hard to make sure that we put in the prep so the environment on set is one of familial collaboration and a constant celebration that we are getting paid to tell stories. I need my cast to trust me beyond belief and I need them to feel comfortable and safe to make big bold choices that weíve already prepared for in advance in extensive rehearsal and character building exercises. With my crew we do extensive drills and talk through every possible scenario that might happen on set when the fecal matter does hit the air oscillating device everyone knows what they need to do. But most importantly not only are we there to work hard with our passion and dedication, but on my sets we are also there to have a good time so we are going to abide by my standard operating procedure which is every time we change a magazine of film or if weíre shooting digitally every time we change out a memory card everyone stops we turn on some music, we drink water, and we dance like thereís no tomorrow.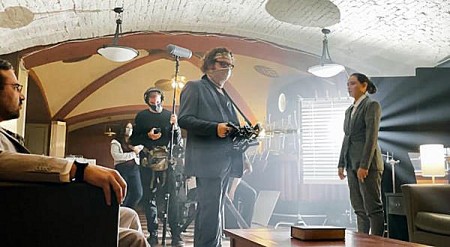 The $64-question of course, where can Relationship Killers be seen?
We are getting accepted into more and more festivals almost every day so be on the lookout for updates of it coming to your city as I will also be doing a new stand-up comedy tour along with the film festival screenings!
Anything you can tell us about audience and critical reception of Relationship Killers?
An immensely selected few have seen the film. I am incredibly neurotic when it comes to keeping plot and story secret and safe until people have had the opportunity to view it in the proper format. A lot of my story telling deals with mysterious twists and turns, and while I don't want that to be a crutch. It's immensely important to me that you donít have the plot spoiled for you before youíre able to view it in the proper fashion. So far I have been blown away by the positive reviews from both critics and audience members who have had the opportunity to see the film. We also just had our world premiere in Hollywood to a packed Chinese Theater. The response was overwhelmingly positive from both audience members and fellow filmmakers.
In your film's credits, you tease the Lethal Ladies cinematic universe - so do talk about that, and what's there for us to expect next?
Lethal Ladies is a cinematic multiverse that Iíve been working on for quite a while, since I was a kid. Iím finally putting things into action to solidify it as a viable and sought after world of IP that exists in every form of media including the Metaverse and crypto/blockchain. There are a variety of characters that all exist in the same multi-verse and they pop in and out of each other's stories, and we are planning on executing the alpha slate which is the first nine feature films in the universe. They are also accompanied by a variety of other multimedia installments in between each feature (including but not limited to sizzle reel, short films, graphic novels, motion novels, non fungible tokens, artwork, novels, podcast, episodic storytelling, and much more).
(Other) future projects you'd like to share?
I have recently started #MIA, which is a combination nonprofit foundation as well as a documentary series all about mental illness advocacy. Part of it is a new hour of stand-up comedy I am building around mental illness and tearing down the stigma around needing help, asking for help, and getting that help.
What got you into filmmaking in the first place, and did you receive any formal training on the subject?
I donít know if formal training is what I would call anything. I started filmmaking because I was in love with storytelling as a kid, and I thought as a kid that I would never be able to get into film school or probably even make anything of myself in the world of filmmaking. I realized that as a kid if I was telling stories and I was using personal memories or personal experiences, it was higher quality storytelling because the characters were more thorough and the stakes meant more because they were more developed and rooted in my memories and experiences which were very very vivid to me. Therefore I can make it very vivid to others. Without sounding too egoistic, as a kid I sat out to live a life that would give me as many intense experiences and memories as possible to gather together like painting on a memory pallet to paint my stories with.
Along with combat and stand-up comedy, storytelling is one of the greatest cathartic and therapeutic things I can do for my mental illness issues. For me filmmaking is not only a passion but also a sincere form of mental health care.
What can you tell us about your filmwork prior to Relationship Killers?
Well, I started as an annoying production assistant who would sneak onto sets and volunteer and eventually I just worked my way up to line producer, but I have always had a heart for screenwriting and film direction. Unfortunately, I got extremely good at line producing and now thatís what most people know me as besides a stand-up comedian.
Besides making movies, you're also a stand-up comedian, playwright, musician, novelist and whatnot - so what can you tell us about all these creative endeavours of yours, and how do they inform you as a filmmaker?
Character-driven storytelling for me is everything regardless of the medium I am using - I always come back to character-driven storytelling and as such every choice I make whether it be creative or logistical I always come back to how this serves the charactersí needs. Sometimes I do it on stage in front of an audience where I am the character, sometimes I do it in a literary medium, and sometimes I do it just by talking about the character with my cast.
How would you describe yourself as a director?
A trustworthy collaborator in character work with my actors, a prepared and never feared leader, and most importantly a protector of my family (cast and crew)ís sanity and safety.
Filmmakers who inspire you?
All of them! This question makes me so anxious because there are so many. But just to name a few: Emily Skye, Read Morano, Rachel Morrison, Quentin Tarantino, Patty Jenkins, Sergio Leone, Robert Rodriguez, Jon Favreau, Sofia Coppola, Celine Sciamma, Evette Vargas, Guillermo Del Toro, Akira Kurosawa, Jane Campion, Steven Bernstein, Jeremy Saulnier, Martin Scorsese, Lulu Wang, Regina King, David Fincher, Kathryn Bigelow, Catherine Hardwick, Julia Ducournau, Greta Gerwig, Debra Granik, and many moreÖ
Your favourite movies?
Again so incredibly difficult. Iím a huge Disney nerd. I love all the Disney movies. Like my own films, I love films with characters who are struggling deeply with cognitive dissonance. I love all the fandoms. I'm a major Harry Potter head, I love Star Wars, Indiana Jones, and the Twilight franchise. The film that inspired me to honestly want to be a filmmaker was Martin Scorseseís Taxi Driver. I love westerns and film noirs. I love films that focus on subcultures using sub genres at something I try and do myself a great deal.
... and of course, films you really deplore?

Feeling lucky ?
Want to
search
any of my partnershops yourself
for more, better results ?

The links below
will take you
just there!!!


I donít know that I necessarily deplore any film. I think all films are a creative endeavor that should be respected, but I am not a fan of the taller film ratio films. I think the most narrow you should ever go where the film is 2.39-1. I also donít like films when they are preachy or clearly trying to be about a specific social issue or a specific subculture instead of being a great film that just happens to have those elements in it. Last but not least, everyone who has heard me speak about storytelling, specifically feature films, knows that I utterly deplore, despise, and loathe high concept storytelling. It is without a doubt the most formulaic and disgusting form of storytelling, and itís so unfortunate how lucrative it is especially in the studio system. It is still taught to this day in most screenwriting education and it makes me sick to my stomach.
Thanks for the interview!