Your new movie Double Zero - in a few words, what is it about?
Simple answerÖ A woman who takes over as the crime boss of New York showing everyone that she is not to be fucked with.
What were your sources of inspiration when writing Double Zero?
Double Zero is actually a proof-of-concept short film based on a TV series Iíve written, so it draws from that. The series itself is loosely based on rumors from back in the 70s/80s and early 90s about NYC Group Homes being mob & drug crew funded. With each group picking kids out as early as 10 to work for them. In the show, Alvara would be one of those children who rise through the ranks over the years, eventually, and violently becoming the head while juggling a suburban life with kids.
To what extent could you actually identify with Olivia and Diana in Double Zero and the situation they've gotten themselves into? And to what extent with Alvara for that matter?
A few personality traits between Alvara, Olivia, and Diana but nothing really about their situation that I would care to go into detail about.
Do talk about Double Zero's approach to the thriller genre!
I knew I wanted to give this film an action/thriller feel but didnít have action/thriller money. I ultimately decided to go with a more tense, reactionary, edge-of-your-seat type of feel instead. Unfortunately, I tend to get pigeonholed into creating/writing dramas so I wanted to step a little outside the box. The show itself is more of a drama with some action and thriller elements scattered throughout, so I wanted to give the proof of concept a feel of those elements while simultaneously showing my range as a filmmaker.
A few words about your directorial approach to your story at hand?
I tried to keep a more hands-off pre-production approach this time. The characters in the story were more personalities than anything else and I didnít want to hinder the actor's development of them. I went over the characters, what I was looking for, their traits, the color theory behind their wardrobe, etc with everyone, and let them craft it as they see fit. We did a Zoom run-through in character, made a few adjustments and that was it.
With the crew, we came up with a specific style that we were comfortable with, and went with that. It took a 180 during the actual shoot and had to adjust on the fly but everyone did a hell of a job adjusting.
It was also a little harder on everyone than usual because of Covid restrictions. We had to rehearse over Zoom and pretty much go over everything via email, text, and phone calls, instead of sitting and hashing everything out. The only person I was able to sit with was the cinematographer ... and our plan went out the window rather quickly.
What can you tell us about Double Zero's cast, and why exactly these people?
What can I tell you about the castÖ well, I can tell you that the acting in the film has been criminally underappreciated, and Iíll leave it at that.
Why them? Thatís tough to answer because of the timing. The original short had other characters, locations, and a different feel to it. We were going to shoot in 2020 but Covid had other plans for that, running through the different castmembers and having to push it back. It was originally a much smaller scoped film, all outdoors, with an all-male cast. While it was being pushed back, I got the time to sit and think about it, looking over my series bible I realized that Albert (the main character) would work better and allow me to explore more as an Allison. So after re-working the entire bible, pilot script, and short film script I had a completely different beast on my hands.
I immediately knew that I wanted Jamie Ragusa to play Alvara and Casey Sullivan to play Ray. Iíve worked with them before and knew they were talented and could bring exactly what I wanted to the roles. Justin & the Hitwoman (Jason Alan & Brette Spiekerman) were both last-minute replacements for no-shows. The actor I originally cast as Justin texted me the night before saying he couldn't make it, so I posted an ad on a local Facebook acting group. Jason was the first to reply with a reel and was close to the area. With the Hitwoman role, she just never showed up, never replied to a text, and never answered a call. Brette, who was one of the makeup artists on Double Zero filled in.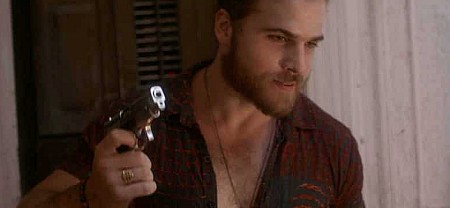 Now to the hard choicesÖ Olivia and Diana were cast about 7 different times. Due to some catching Covid, insurance requirements at the time, as well as safety precaution rules that some refused to abide by, the initial casting choices fell through. I figured the responses from that casting call were cursed and/or bad luck, so I deleted the casting call and made another ad on Backstage, in which Caroline Anderson and Vivian Belosky were our first 2 choices from there. Thankfully they were ok with everything needed because they both did a great job and going back, I couldnít picture the film with the original cast.
Do talk about the shoot as such, and the on-set atmosphere!
For me, the shoot went smoothly aside from the two small cast hiccups and having to fire one crew member 30 minutes before the cameras rolled. Other than that, everything on my end seemed fine - but as a director and a lower-budget filmmaker who canít stand still and is always moving I would be the worst person to judge it.
Since I fund my own projects, I make sure that I am doing the most work in pre, on-set, and in post, so itís tough for me to really pay attention to the vibe on set. Iím sure I would benefit greatly from an AD, but the budget tier Iím operating in doesnít usually allow for it. Obviously, I canít speak for the other cast and crew but I usually try and keep a light, open and fun set if possible.
The $64-question of course, where can Double Zero be seen?
Everyone will be able to check out Double Zero sometime in AprilÖ and at the absolute latest, early May on Amazon. Itíll be free with a Prime subscription. Please check my social media or website for exact dates in the coming weeks.
Anything you can tell us about audience and critical reception of Double Zero?
The feedback from both the audience and critics has been overwhelmingly positive, which is a stark change from my feature Into the Valli where it was very, very love-it-or-hate-it. Itís won a lot of awards and has gotten me in the door to pitch the show version of Double Zero a few times, so it definitely exceeded at its job. It even made it into a book about the Top200 creative short films from IndieMag which you can get on Amazon.
I did have one bad showing of Double Zero at a festival which was a really surreal experience. Iím someone that doesnít mind negative feedback as long as itís something thatís constructive. It kind of felt like everyone there was in on a prank to give me the cold shoulder. I think it was more of a programming issue, (which tends to be a bigger issue than people want to talk about) than a movie issue but it still got a lot ofÖ ďwhat the fuck was thatĒ stares with zero audience questions at the end, not one person came up to me after, nothing. It was the last film in a 6 short block that was full of sad, heavy dramas and light romantic movies, and thenÖ on comes Double Zero with its loud music, foul language, and women using guns. I think it took the audience out of the zone they were in from the other, softer films. This type of programming actually happened more than once but the blank reaction was only once.
Any future projects you'd like to share?
Sure. I actually have quite a few personal projects this year.
I have a passion project that Iím very excited about. Itís webseries called The Eight - itís a PRE-post-apocalyptic show about 8 survivors and the day they had leading up to the event of a chemical attack on New York City. Itíll be about ten 8-13 minute episodes. I have the first five episodes written and the first 8 outlined. I plan on shooting the first episode in the next few weeks and continue shooting episodes in my downtime throughout the year. Itís a fully collaborative effort with some actors and filmmakers that Iíve enjoyed working with in the past. Everyone wanted to come on and weíre all crafting characters, storylines, the look for each episode etc. as a team so every episode will look and feel different yet cohesive.
The toughest project I have is Exit 17, which will be my second feature. Itís a psychological thriller/horror set in 1980s New York and stars Casey Sullivan from Double Zero. We begin principal photography on October 14th going through the 22nd and hope to find a distributor for an early winter 2025 release.
The next film of mine that people will be able to see is Star Crossed, which is an emotional familial drama about a woman who loses her family to illness but then wins the mega millions in the same year. The trailer for that is currently on my website. I just submitted it to its first round of festivals, so hopefully that has as much success as Double Zero. I have two more films currently in post-production. A dark comedy entitled Method Man about a typecast actor trying to break free and A Single Strand, which is my dark take on The Gift of the Magi by O. Henry.
I also have a few for-hire directorial projects coming this year. The first begins filming in a few weeks which is The Black Garden, a romantic thriller. Itís my second time directing for this actress-writer-producer, and her first film which I directed is in the romance genre and has been well received at the festivals she submitted to, winning almost 15 awards so far. Because of that, she allowed me a little leeway in adjusting a few things script-wise to give it a darker, more psychological feel; which is always a good time for me. The others are a little later in the year and might be pushed back, so Iíd rather not mention them.
What got you into filmmaking in the first place, and did you receive any formal education on the subject?
I started writing and producing music back in 1994 with different groups of friends that were into rap, metal, and r&b. I was always good with the written word, as I loved writing short stories in school or while traveling with my mom. So the group of us would sit in a basement and just create songs, teaching ourselves how to structure music by listening to it. I met someone who pushed me towards writing video concepts for his artists which is where I learned story structure, which immediately led me to Screenplay by Syd Field.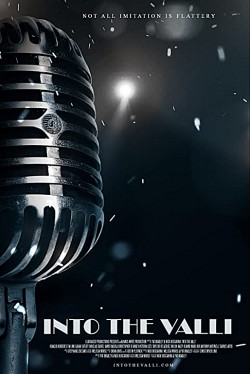 Writing videos eventually turned into writing AND shooting music videos for artists, which turned into writing short films, commercial ads and more songs for artists while now adding companies to the mix; which eventually turned into writing feature films for others. Seeing my film in a theater and not being allowed to tell anyone ďhey, I wrote that!Ē had me more enraged than proud. The next week, I started planning my first short (for practice). During the filming of my first short Addicts Abuse I fell in love with the freedom filmmaking allows you. After that first short, I dove right into making the first feature Into the Valli (which you can watch for free on YouTube).
No formal education at all. I am completely self-taught, unless you count a book or two, or actually reading the manual for the equipment. I always had a love/hate - well more hate than love - type of relationship with school. Honestly, thereís a high probability that I would have given up if I had to attend classes for film. To me, it sucks the creativity out of people.
What can you tell us about your filmwork prior to Double Zero?
Prior to Double Zero, most of my work was as a writer and music video DP/director. Music videos aside, I wrote, directed and shot a short film called Addicts Abuse, which came out soooooooo bad itíll never see the light of day, unless someone breaks into my safety deposit box, steals the hard drive, and watches the shit show projects that are on it. After that, I helped write/direct and shoot a short called Weight of the Pen, which is also on that hard drive. From those two terrible shorts, why not dive into a feature AND put up your own money to fund it!!! Realizing how badly we fucked up the other two projects, my film partner at the time, Nick Buscarino, and myself decided to just hire out the crew and hope for the best. Although it got mixed reactions, mostly due to the ending not being your typical ending, I am very proud of what Into the Valli turned out to be. Aside from Into the Valli, every project between that and Double Zero failed to get off the ground or see the light of day for one reason or another.
How would you describe yourself as a director?
Collaborative. Yes, I do know what I want and will get what I want, but everything is shot on digital nowadays, so as long as something wonít take hours to set up Iím always ok with changing things on the fly, it may or may not work but itís worth the shot. Quick example, for Double Zero the interior scene I wanted to be shot a certain way. Since I originally planned on editing the film, I knew exactly what I wanted to get for it. After a few takes one way, Jamie wanted to go through the whole scene in one shot, instead of piecing it together, as it would be easier for her to stay in certain mindsets. My vision for the scene was grittier and closer which didnít align with the logistics of how the one-shot would work. So with only time to lose we shot the one take, and after watching the playback I liked the cleaner, more detailed look to it. So we shot it one take from a few other angles and kept it.
Filmmakers who inspire you?
I know itís not the sexy response, but I tend not to use other filmmakers, or even people for that matter, as inspiration. I have my own plan, my own vision of where I want to take my filmmaking career,as well as where I want to take each story I have, so what someone else does never really enters that inspiring atmosphere to me, I can like other filmmakers without being inspired by their work. If I ever do get inspired by other filmmakers, it would be the ones that Iíve worked with in the past, whether it be the actors, the writers, the directors, or the crew, achieving success in their fields.
Your favourite movies?
There are hundreds that I love, picking a few favorites would be tough. Each with their own reasoning but a personal top 5 would beÖ A Street Car Named Desire, Godfather 2, Man on Fire (the Denzel version), The Sandlot and either Die Hard or Roger Rabbit depending on my mood or time of year. Obviously, if I was to name the BEST 5 it would look a lot different, but those are the 5 I would consider my favorite.
... and of course, films you really deplore?
I used to have a long list of films that I hated BEFORE I actually made a feature-length. I know how insanely difficult it is to make even a bad film, so I donít like to shit on anyone actually making them, especially the crew. Writers on the other handÖ
Realistically, there are a ton of shitty pointless movies that fail to do the bare minimum to entertain someone out there, so itís hard to answer that. At the end of the day, a film's main purpose is to entertain first, not push your message, agenda, or point of view; if you can add that in there while still making an entertaining film, good for you. If not, it most likely will fall into that deplore category.
Your/your movie's website, social media, whatever else?
My website is www.AlwaysWritePat.com - on there you can sign up for a newsletter to be updated on which festivals my films will be showing at, and release dates, you can watch some trailers of mine, as well as contact me in regards to any for-hire writer/director/DP work.
All my social media accounts are @AlwaysWritePat across all social networks except for Tiktok because I donít like to dance.

Feeling lucky ?
Want to
search
any of my partnershops yourself
for more, better results ?

The links below
will take you
just there!!!


Anything else you're dying to mention and I have merely forgotten to ask?
I know this is where you plug social media etc, but Iím not very active on it. You guys can follow me if you want but donít expect anything than pictures of my dog or the occasional film updates.
Iíll just say thanks for having me here for the interview, I appreciate it.
Thanks for the interview!