Your upcoming movie The Pact - in a few words, what is it about?
Three high school friends meet in adulthood and decide to change the terrible fate life has in store for them - with a dramatic pact.........
What were your sources of inspiration when writing The Pact, and is any of it based on personal experiences, actually?
First and foremost, before acting or directing, I'm a film fan. When I decided I wanted to write a film I wanted a film I'd pay to see, and I wanted to write somethiing with strong female characters. And I hate hate HATE the films where an ordinary woman is placed in a situation where 30 minutes in she's making headshots at half a mile or is a kung fu expert - for me the story had to be ordinary women pushed out of their comfort zones but in a very believable in organic way. I took a lot from the author Dean R. Koontz, whose characters are generally all guy or girl next door types who end up doing the most unbelievable things but make you wonder: 'yeah but that could totallhy happen how WOULD you deal with something like that?' So yes, I took inspiration from that type of book but then for the antagonists I took my personal hates in people and turned them into characters for my leads to bounce off!
As far as I know, The Pact is your first film as writer and director - so what made you want to step behind the camera in the first place? And how would you describe yourself as a writer and as a director?
Truthfully I only started writing when my wife fell pregant with my first (and her third) child. I was 41 and knew this was my only time being 'dad' from birth (as well as being an awesome stepdad of course!) so I completelhy stopped acting. Literally from out every week to nothing - I went cold turkey! But man, I needed a new addiction, and apart from the occasional rum I'm pretty straight edge so I started writing. I wrote a full length film in about 3 months and it was pants, very 'on the nose' and lacking in subtely. So I wondered if I could condense it into a short that would tell the same story, but that was a non starter - so yeah that's when I decided to write what initially was a one woman thriller that I then saw as 3 women with 3 different stories that intertwined, and thus The Pact was born! I'm a sucker for a good thriller and there are enough twists and turns that made me excited to see it brought to life.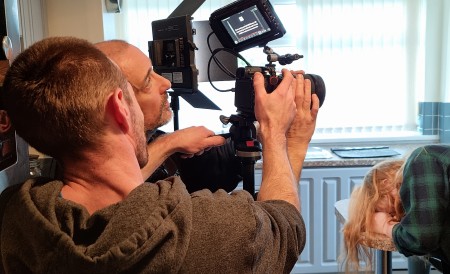 Directing-wise I never wanted or intended to direct. It's not something I've done and my stance was there were much better qualified people to do it and I could just be there for backstory info and maybe relax a bit more! But I kept telling Chris (Chris Dudley [Chris Dudley interview - click here], producer of The Pact and 'Vic' in the film) I could see every frame, every camera angle in my head so he kept pushing for me to direct and I gave in.
What can you tell us about The Pact's approach to the thriller genre?
Like I said above about unrealistic characters, I didn't want the women in The Pact to be the sidekick, the dutiful wife or the secret superhero. I wanted to play 'what if' with (what I think are truly horrible) real life situations. I wanted to see what happened in my head if these women were maybe pushed a little too far and decided 'we ain't taking this crap anymore'. I hope people don't COPY the film for sure but I want people to see the mice roar and have some power for once in a film without them completely losing who they are as people. We'll see!
Do talk about your directorial approach to your story at hand!
I'm blessed to have a cast that have read the script and asked a lot of very smart questions about the characters and their motivations, so when the camera started rolling I've already given a brief of what I'm looking for and they deliver. I've very rarely so far had to make tweaks or ask for something different because they just 'get' it and I'd also say we have a very relaxed and friendly set. No drama unless it's in front of the camera please!
You also appear in front of the camera in The Pact - so what can you tell us about your character, what did you draw upon to bring him to life, and did you write him with yourself in mind from the get-go?
Pete isn't a nice bloke, and I've played this type of chafacter before. He's a bully who thinks he's God's gift to women and they should be happy he even looks at them - completely unlike me who's married and generally considered to be the softest, nicest guy ever! I didn't start out planning for me to play him but when I wrote a scene where he punches someone in the face I kinda had to make it me because I have a qualification in unarmed combat for stage and screen (plus a judo and karate background) and I couldn't get past the idea that I wanted this to be the safest punch in the world, so in my head it could only be me throwing it, and so I ended up as Pete.
What can you tell us about the rest of your cast, and why exactly these people?
Oh wow, where do I start? Better go with the three stars of The Pact, eh? Lucy Oke has been a friend and colleague of mine for over 12 years and basically schooled me in the art of scaring people in live action attractions. When I was casting for Evie, I was talking to Lucy and Chris about another project and mentioned the character and ruing that I was finding it hard to find a suitable person. Lucy was almost waving her arms at me going 'duh, hello!' and I kinda had the lightbulb 'ohhhh yeeeeeeahh!' moment and cursed myself for not thinking about it before - Lucy has worked with Chris before (they play husband and wife), and the chemistry is great so that worked well, she's amazing. Danni Shepherd (Jenny) I'd not worked with before but I've seen her in other films and was incredibly impressed, so when Chris said he'd just filmed with her and asked if I wanted to approach her my first worry was would she even work with us as a debuting filmmaking team? Danni is so versatile - she could make a career playing a certain type but she pushes herself into different roles and out of her comfort zone - and she accepted and is enjoying playing yet another very layered, deep character. Ellen Carnazza is the Yin to my Yang in the murder mystery world - we've played husband and wife, niece and uncle, we've killed each other SO many times, but Ellen is also a very accomplished film and stage actress, and again I just prayed she'd like the script and take part - fortunately she loved it and is making the role of Emma entirely her own. Chris (Vic) I've also known for many years and he's the beating heart of getting this film made, he recruited our cinematographer (Andy Wright) and pulled together the locations plus got us Dale Hooley - a wonderful actor friend of Chris' who is stepping into the role of out third 'bad 'un' Lloyd.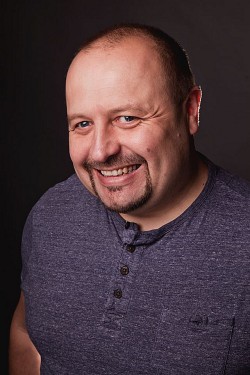 A few words about the shoot as such, and the on-set atmosphere?
Oh God, it's a laugh a minute, I've got some real live wires on my hands but it's a great mix of laugh while we're setting up, then when the red light hits they are SO damned good at what they do. We shot the first scene with all 3 ladies and I was so immersed in the story they were telling I completely forgot I wrote it and honestly I could have watched those 3 characters chat all day (and the beauty is they could have ad-libbed it too). If it's a traumatic scene there are hugs afterwards and we all get on so well - people are going to think these ladies really have known each other for years but the truth is this is the first time they've ever met and a real testament to their talent.
From what I know, The Pact only just wrapped - so what's the schedule ahead, and any idea when the movie might be out yet?
We're not QUITE wrapped, we had an illness and had to peg some scenes back, but late January we're already booked for the last scenes, then it'll be a Leeds-based cast and crew (and press!) premiere followed by as many festivals as I can shoehorn it into.
Any future projects beyond The Pact?
Lucy, Chris and I have a short horror in the pre-writing stage, and after this I want to go back to the full length film with Chris to re-write it and get that filmed. The concept and story are good but it needs better execution - so yeah next is a full length thriller tentatively called Choices and a short horror - our very own Cornetto Trilogy.
Your/your movie's website, social media, whatever else?

Feeling lucky ?
Want to
search
any of my partnershops yourself
for more, better results ?

The links below
will take you
just there!!!


Twitter and Instagram @PactMovie2023, Facebook is Pact Movie 2022 (we started pre-production last year, don't even get me started!). Most of the cast are on Facebook with acting pages, but curiously I seem to be the only one with Twitter (@realpaulsutton), so please give the pages a follow for updates!
Anything else you're dying to mention and I have merely forgotten to ask?
Only as always a huge thank you for reaching out and to my wonderful cast and crew for taking an idea 7 years in my head and slowly drawing it out!
Thanks for the interview!