Your new movies The Bottom Dweller and The Golden Boys - in a few words, what are they about?
The Bottom Dweller is about a married couple who receive half a million Dollars from the IRS, completely by accident, in their tax refund. They cash the check and decide what to do with the money, with some sense of paranoia as to whether or not the IRS might be after them.
The Golden Boys is about two lifelong friends, one of which talks the other into helping track down a serial bank robber for a reward. They enlist the help of some colorful characters, all of which are conspiracy theorists and fans of the TV show The Golden Girls.
You play a lead role in both The Bottom Dweller and The Golden Boys - so what can you tell us about your characters, how do they compare, and have you written them with yourself in mind from the get-go? And do you see yourself more as a director who also acts or as an actor who also directs, out of necessity or for whatever other reason?
In The Bottom Dweller, I saw Cameron as sort of an impulsive weakling. Someone with very little capability, but also very little fear. And not so much out of ignorance. Just, not able to help himself haha. I thought that'd be balanced out pretty nicely with Patricia, the wife, being more level-headed. He's also very much in love with Patricia, and sees them as a team that's meant to work together. If he does something she doesn't want, it's just because he acts before he thinks. It's never to purposefully go against her wishes.
In The Golden Boys, Antho is much less impulsive. Always has a plan, always sure of himself, always knows... or at least thinks he knows exactly what's going to happen. He's assertive, analytical. Sort of a big fish in a small pond. Also, a very devoted friend. He likes to give Hans crap, but as with most lifelong friendships, that comes from a place of love.
The characters are similar in that they both have trouble sitting still for too long, haha. They're good people. They have a lot of energy. They're outgoing. That's not like me. I'm generally more introverted. But I played Antho as someone who is sure of himself. Confident. I leaned toward people as I spoke to them, always tried to keep an expression like I was thinking things through, or planning my next move. With Cameron, I tried to play him a little more like he was making things up as he went along, or didn't know what the heck was going on. And for some scenes I'd pull my elbows in a little bit to try and appear thinner or weaker. I didn't want to give the impression that Cameron was overly capable, haha.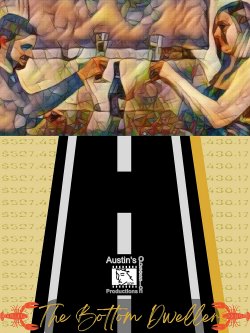 I wrote The Bottom Dweller with myself and my wife in mind. I thought we'd work well with each other and would have good on-screen chemistry. and I trusted our comedic timing. The more emotional scenes, I thought we'd be able to do with some genuine feeling, since we were doing them together. But with The Golden Boys, we wrote it with my brother Anthony in mind. That high-energy behavior, and the dynamic between Hans and Antho in the movie, is actually a lot more similar to Anthony's real-life personality and relationship with Hans. Unfortunately, he didn't have the availability to act as one of the leads, so I stepped in. But I kept the name, Antho, haha.
I'm definitely more of a director who also acts. I started as a director, always and only stepping into a role out of necessity. But after years of acting, and eventually doing a film called Confined, I found that I wanted to really put more of myself into my performances and take acting more seriously. I've been studying and honing my skills as an actor a lot more ever since, and now I do consider myself an actor as well as a director. But directing is my passion. My first love, haha.
Let's talk about The Bottom Dweller first: What were your inspirations when writing this, and is any of it based on personal experiences?
So, The Bottom Dweller was meant to be a small-scale, simple thing that we could just film. I wanted to write something I could shoot with my wife, so we wouldn't have to worry about scheduling a large cast or crew. We were at this point where we just wanted to film something. I've been writing for a long time, and it's not uncommon to take on an exercise of writing a story with limitations. X amount of locations, or X amount of actors. So that was the basis, was to write something that had, more or less, just me and my wife in it, and it built from there. We could be alone for most of it if we were on-the-run, or moving from place to place. It would have to be dialogue-heavy. So, I set the rules first, then started writing. This is something you have to do when you don't have the money to write 12 locations and 20 actors haha.
I worked at a tax firm for a little over 2 years. I got my IRS Enrolled Agent's license and everything. So, I knew quite a bit about the IRS at this time, which helped spur on the idea of just happening into money from a tax refund, instead of something typical happening, like stealing money, or embezzling, or winning the lottery or whatever. Plus, for most people, the IRS is a scary, kind of mysterious entity, so I felt like it would work well for these people to have this looming, but vague paranoia from an organization that they knew very little about. And, knowing a bit about the IRS myself, I felt comfortable writing about a couple who were in the dark about what to expect.
What can you tell us about the film's look and feel?
Well, The Bottom Dweller was meant to feel simplistic in style. The story wasn't flashy, not really. It's about this couple, and how they deal with adversity together, and how they work as a team, and how they feel about each other. It's about the people, and their eventual potential surprise when they're talking to each other in the tent, haha. Having money land in your lap and this other lifechanging thing are meant to be a symbolic parallel. The film is a peek into, maybe, how they might be as parents. Kind of a not-so-hidden theme. But because of that theme, I opted for long, unbroken cuts, focusing on the dialogue. The communication. It was important to me to have the conversation in the tent be one take, for instance. It needed to feel intimate in that way.
A few words about the shoot as such, and the on-set atmosphere?
The shoot itself was kind of a funny story. Me and my wife had a couple of trips planned. And shortly after those trips, we were going to be moving to another state. So here I was with this script, and very little time to shoot it. The hotel is one that we stayed at for our anniversary, and my wife was gracious enough to set aside time for filming during our anniversary trip. The teepee was a camping trip we were going on with family. Again, we set aside some time for filming. And anything in our house, we had to shoot relatively tight shots, because we were moving. So, as we filmed, more and more of our stuff was being packed up. This made it a little stressful to film, because it felt like we were under a constant time constraint. But also, since we were filming on the go, we did not have the opportunity for any reshoots. We did not have access to return to any of the locations where we shot, including our house. What we had was what we had. That being said, we had a lot of fun filming, and we're both pretty good at becoming professional once the camera is on.
Same for The Golden Boys - what were your sources of inspiration?
I had a very small budget for The Golden Boys. Around $700. Because of the small budget, I knew it was gonna look indie. So I leaned into it. I wanted it to feel like a 1990's indie comedy. I would've loved for it to feel more like Tommy Boy, which was definitely an inspiration. Because of the budget, I knew it would feel a little more like Swingers or Clerks, which also offered some inspiration. I wanted the dynamic and relationship between the main characters, as well as the absurdity of the side-characters to feel like Tommy Boy, but it was gonna have to be dialogue heavy and rely on the jokes and the conversation being funny, like Clerks and Swingers. Hans Sardo, the star, also happens to be a hilarious stand-up comedian. It helps to work with someone that funny. They can sometimes offer themselves as a source of inspiration haha.
Having written The Golden Boys together with Anthony Algiers (any relation I wonder), what was the writing process like?
I was still editing my film Confined at the time. I was all amped up and wanted to write the next project once I was done editing. So I was having dinner with my brother Anthony. Anthony is a brilliant writer. I'd argue even better than me. I told him that I wanted to do a road-trip style buddy comedy, because that would allow for us to introduce each character individually. That way, we wouldn't need more than 4 actors on set at any given time. On a whim, I said the premise of the film, just as an example. Two guys track a serial bankrobber for the reward, and they meet interesting people along the way. Anthony liked the basic idea and said we should pursue it, so we started mapping out the story. We bounced ideas off of each other and got through the entire plot of the film very quickly. We even worked out several details in the movie. Names of characters, little events that happened. From conception to a complete workup of the story structure it took maybe an hour. This is very unusual for it to happen this quickly. Now, to be clear, Anthony has a strong foundation as a writer, starting first as a short-story writer before writing several novels and then studying screenwriting. I've been writing since I was in high school, and have been studying screenwriting ever since. We are pretty skilled writers. I say this to point out that the speed in which this story came together was a bit of an anomaly, haha. Me and Anthony have worked on other projects with each other. Often in the same room, working out the details, problem-solving. It can take a long time. But this script just came together. We fleshed it out, got all of the details, backgrounds on the characters that would explain why things pan out the way they do. It was very weird, haha. Because we were able to put this together so quickly, and since I was still editing my last film, Anthony took the reins, writing the first draft, then giving it to me to finalize a 2nd draft. It was probably the smoothest that any of our writing projects have ever gone.
Do talk about your directorial approach to your story at hand!
I love Stanley Kubrick and Alfred Hitchcock, and I like to think of them as the standard for some of the best directing you'll ever see, but with complete opposite styles and approaches. Kubrick loved to lean heavily into symbolism, which I often like to do in my scripts. Hitchcock wasn't a fan of symbolism, and generally had a practical reason for why he shot the way he shot. I took the more Hitchcockian approach with The Golden Boys. It's supposed to be funny. It's supposed to be entertaining. I approached shot-choice with what best served the storytelling, and the comedy of the situation. I believe that getting fancy and symbolic would've taken away from the film, as opposed to The Bottom Dweller, which obviously had more symbolism in it. The Bottom Dweller, I focused a lot more on showcasing the dialogue to make it feel intimate, since it was largely about this couple and how much they mean to each other.
Again, to talk about the shoot as such!
The shoot was an absolute blast. Shooting a comedy is always fun, and you spend a lot of time cracking up. But on top of that, working with such a funny cast was so amazing. Hans Sardo, Daniel Mills, and Robert Dunne are all particularly skilled at improvisation, so they often had us cracking up, and even came up with lines that ultimately made it into the final script. To be clear, the film wasn't very improv heavy. I'd go so far as to say that 96% of what's in the final film was scripted. I'm just pointing out that these guys were so good at it, that they managed to improvise something good enough to make it into the final product, haha. Really great guys, all of them. The main struggle in the filmmaking process was, we didn't have a crew, really. We had approached cinematographers and sound engineers to help us get a more professional look, but they ultimately dropped out, leaving us to do it ourselves, which was definitely a struggle. It was a ton of work. But as professional and hardworking as everyone was, you'd never know it.
With both films being sort-of thrillers, what can you tell us about your rather unique approach to the genre?
These comedies are sort of thrillers, yes, at least in premise. That probably has more to do with my approach to fiction than anything else. I believe that if you're going to do fiction, you should jump in with both feet. You can have a funny film about two guys trying to make it to the post office before they close. But why? Who cares? Let's have the same funny film, but with the two guys trying to make it to a bomb under the opera house before it explodes. You can have a beautiful character piece about a father and son in an apartment. Or you could have that same character piece in space. Cops and robbers is just the setting. Execution of the script is what's most important. So, if I had Cameron and Patricia have all of the same conversations, but without the IRS stuff, or if I had Hans and Antho say all the same jokes, but without the Billy Goat Bandit - well, chances are the films would be okay. But now they're just movies about relationships or friendship, about life. Instead of a movie about a couple on the run from the IRS and also about relationships. Or a movie about a serial bank robber, and also friendship. Anything I ever want to say about life, death, relationships, loss, depression, etc. I always approach it with the idea that there should be a backdrop on which I get to express my thoughts on these subjects. I tend to believe that it's a heck of a lot more difficult to entertain an audience than it is to write some long, introspective, philosophical, pretentious film, haha. I've seen some brilliant, deep indie films that went nowhere because they were boring. But how often do you see an indie film that actually makes you laugh? I think a film rooted in reality, you can make all the same statements as you can in a hardcore fiction. So, when I write a comedy, I have to give it a little more than just being funny.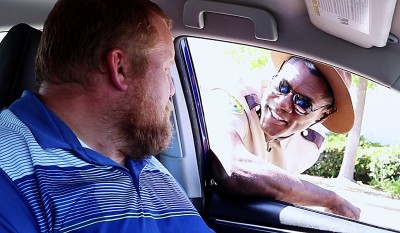 Also, do talk about your movies' brand of comedy?
Honestly, I'd say it's a little difficult to pin down what I'd call my brand of comedy. But it's fair to say that I prefer wit over sarcasm. Aside from that, I pull from a lot of different sources for inspiration. If I had the resources, I'd probably try and do a lot more physical comedy, slapstick, Buster Keaton type of stuff [Buster Keaton bio - click here]. Since I had to rely more on dialogue for these films, I thought more of Abbott and Costello, or standup monologues, or even the classic misunderstanding in any of the best sitcoms. I'm sure some professor will hear that and say it's peasant humor, but I maintain the belief that it's difficult to entertain an audience. It's an art in and of itself. So, I suppose my brand of comedy is an amalgamation of any source that I appreciate. And I do try and find a flow in which the dialogue will work. It sounds funny, but it's almost like music. Specific words and the order or rhythm in which they're spoken are funnier than others. I do pay attention to the rhythm and word-choice of my comedic dialogue. Needless to say, I find dialogue very important, haha. They say show, don't tell, but great dialogue can make a film. And bad dialogue can ruin an otherwise great film. I place a lot of importance on the dialogue, especially in comedies.
The Bottom Dweller and The Golden Boys feature more or less the same cast - so why these people, and what made you come back to them?
My wife has often had to step in for films of mine where the actress I had on board had to drop out last minute. Because of this, she's actually gotten a decent amount of acting experience. I always had her in mind for the part of Patricia in The Bottom Dweller. But The Golden Boys was another case of there being an actress who was interested, but unavailable. So Bri had to step in. What's funny is we had Bri in mind when we wrote the part of Cat-Thrine in The Golden Boys, but more so as inspiration. We tried to get a different actress to play her, but ended up using Bri after all. Hans Sardo happens to be my cousin. But he's also a hilarious stand-up comedian, and a classically trained actor. He's an absolute natural in front of the camera. I love working with him, and hope to work with him again in the near future. Anthony Algiers is my brother, co-writer of The Golden Boys. I had him in mind for Stanley in The Bottom Dweller, but again, we actually had someone else in mind for the part of _thor_, but that actor ended up not being available, and Anthony had to step in last minute. So, both Anthony and my wife Bri were in The Golden Boys more or less, by accident. Robert Dunne and Daniel Mills were both in The Golden Boys. I'd worked with them before on a short film, and they were both so good and so professional. I was very lucky that they wanted to work with me again on this film, and I'd love to work with them again on future projects.
The $64 question of course, where can The Bottom Dweller and The Golden Boys be seen?
https://tubitv.com/movies/680810/the-bottom-dweller
https://watch.plex.tv/movie/the-bottom-dweller-2022
https://tubitv.com/movies/705185/the-golden-boys
https://watch.plex.tv/movie/the-golden-boys-4
Anything you can tell us about audience and critical reception of your movies?
Since they're streaming online on Tubi and Plex, I haven't had a chance to see audience reception when it comes to the majority of viewers for these films. I had a number of private screenings for The Golden Boys, and was very pleased with the reactions. People liked it, they thought it was funny. I didn't get to do that with The Bottom Dweller, unfortunately. But it was well received. The Bottom Dweller was a semi-finalist in a film festival, while becoming a finalist in another. The vast majority of people who have approached me about the films, whether online or not, really only had positive things to say. And the vast majority of critics have been giving both films positive reviews. There was one critic who gave The Golden Boys a less than favorable review, but to be honest, it was hard to take that review seriously. It read like he wrote the review before he even started watching it, haha. Or like he didn't pay attention, just having it on in the background while doing other things. At one point they said it was obvious that we relied heavily on improvisation. I told you before, easily 96% of the film was right off the page. It was written to feel natural, like a conversation between friends. It was written to feel like banter. The poor critic didn't realize he accidentally complimented me, haha.
Any future projects you'd like to share?
I always have a "next" project. Between me and my brother Anthony, we have 8 or 9 completed feature-length scripts, just waiting to be filmed. Some of them were shelved for one reason or another. We don't have the budget to shoot it ourselves, so we're shopping them around some producers who might be interested. Or we need to build up the funds ourselves before shooting a particular project. And we're always working on new scripts. Aside from those completed projects, I'm about a third of the way through another feature-length script. We are not short on ideas, haha.
As for filming, I'm currently working on another comedy with my wife. A bottle script. It takes place in one location, in one night. In fact, we're supposed to start filming in about a week or so. The few that have read the script have all come back saying they think it's hilarious and they want to be a part of it. We also have a horror film that we have on the backburner. We really want to shoot that horror film once we're done with this comedy, but it will require a bit more of a budget. So, we'll need to build up those funds so we can get that movie made as well. It's part of the reason for why I started a Patreon. I need patrons in order to fund movies like that horror film, haha.
What got you into the filmworld in the first place, and did you receive any formal training on the subject?
My dad introduced me to classic films at a young age. When I was around 10 or 11, we started going through the American Film Institute's top 100 lists. We started with the 100 Thrills list, watching whatever I was old enough to watch. So I was 11 or 12, saying that my favorite films were Cool Hand Luke, The General and Bonnie and Clyde. In fact, I'd say that Butch Cassidy and the Sundance Kid was the first movie I saw that made me realize that there were incredible films out there that I hadn't even heard of. It made me want to watch them all.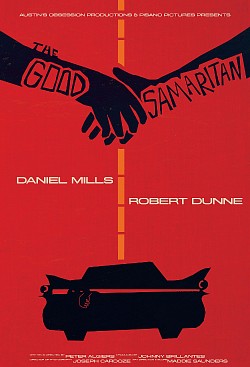 By the time I was 15 or 16, I knew so much about American films and their history that I could've been considered a film historian. I'd seen so many of them. I wanted to start making my own, so I got into writing. Shortly after I started writing, I got into photography and editing, and I taught myself piano. Learning all of the peripheral arts, to me, was always going to lead to making me a better filmmaker. Or at least, taking all things into account when I finally started filming.
I never went to school for film production, so I wasn't taught how to do sound or cinematography, but I had been taught editing and having taken photography, I understood light theory, composition, all that stuff. Unfortunately, it doesn't all translate when you step into the role of cinematographer, haha. I'm not as good at cinematography as I'd like to be. I'm studying more about it now. That's always been my way. If I don't know something, I study it until I become well-versed in it. I'm always teaching myself how to get better and better at all the things that are necessary to make a great film. Of course what would be more ideal is to hire someone who's already an expert in it, haha, but you can't always afford to do that, so you gotta make it work yourself.
What can you tell us about your filmwork prior to The Bottom Dweller and The Golden Boys?
I've had experience on a few sets here and there, short films, television. But when it comes to my own stuff, I made short films for years and years. You learn a lot from making short films. A number of them were well-received, if not well-known. One of my horror short-films actually ended up being an award winner at a film festival, which was pretty cool. The Good Samaritan was probably my best short film. That was where I first worked with Daniel Mills and Robert Dunne, who later worked with me on The Golden Boys.
Funny enough, when quarantine hit, that's what ultimately lit the fire under me to take the leap and film a feature-length movie. Again, I spoke to my brother Anthony, bouncing ideas off of him, as per usual. I told him that since we were stuck in quarantine, we needed to shoot a feature-length film in quarantine with one actor in one location. At first, he suggested that we do it as a short, and I told him that if it wasn't feature-length, then it wouldn't be worth doing. He ended up agreeing with me. So, we came up with the idea of a man waking up with his ankle chained to the floor of a cellar. Food and water are just out of reach, and he has to use only what's on him to try and figure out how to get the food and water and how to survive until someone finds him.
With it being our first feature-length film, and not having a cast or a crew, we decided to start shooting without telling anyone. We didn't know if we'd even be able to finish it, so we figured we'd keep it to ourselves. I went over to the cellar and we shot over night until the sun came up. Just the two of us. This went on for maybe a month and a half. And there were a couple of days when a close friend, Ellen, came over as well. She knows cameras better than me, so there were a few days where I had her come in and operate the camera for us. That was it though. Just us 3. We finished the film before anyone knew about it, including two of the voice actors who would become a part of the film, haha. I approached a couple of people, telling them I needed their voice for a film, they asked when I was shooting, and I told them I had already finished, haha. That film is called Confined. I released it for free on YouTube. It was very well received. This was the film I was editing when me and Anthony came up with the idea for The Golden Boys.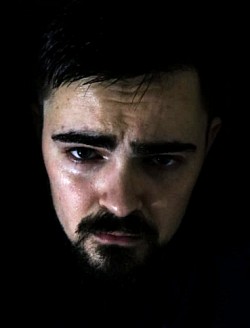 How would you describe yourself as an actor, and how as a director?
As an actor I'd say, I'm expressive. I rely heavily on my ability to get a point across with a look, haha. I think a twitch of the eye or the raise of an eyebrow adds so much to what's being said. That being said, I think I'm still honing my craft as an actor. It's quite often that I end up acting while also directing. It's difficult to concentrate on your performance when you're directing. I'd love to act more often in projects where I'm not also directing haha.
As a director, I guess the way I'd describe myself is, I'm the storyteller. As basic as that sounds, I'd argue that my style is not going to be the same from film to film. Certainly not genre to genre. I have to take into account the reason why I'm shooting the way I'm shooting. Identify the point of what you're shooting, and showcase that point. If I'm leaving a long uncut shot, or doing frequent cuts and edits, or if the camera's far away or comes in close, no matter what I'm doing, there's a reason for it. I feel like a lot of indie filmmakers mistake cinematography and directing as the same thing. They have this long take of a beautiful sunset. And the picture is gorgeous, and we're staring at this beautiful picture for 15 seconds. If you asked them why we're staring at it, they wouldn't be able to tell you, haha. It's just a pretty picture, and they wanted to show it off, and that, in their mind, is a strong decision as a director, when really, it's more of a strong decision as a cinematographer. So, I direct in the way that I believe will best tell the story to a large audience, and evoke an emotional response. Whether that's laughter, or tension, whatever. I'm shooting specifically to serve and entertain the audience that will eventually watch it.
Filmmakers, actors, whoever else who inspire you?
I'm inspired by so many people. As a writer and filmmaker I'm very much inspired by Jon Favreau, Joss Whedon, Alfred Hitchcock, Stanley Kubrick, Quentin Tarantino, Kathryn Bigelow, John Milius, the Coen Brothers, William Goldman, Stan Lee, Akira Kurosawa, and obviously Spielberg and Coppola. As an actor, I'm drawn to Buster Keaton [Buster Keaton bio - click here] and Charlie Chaplin, Meryl Streep, Denzel Washington, Cate Blanchett, Marlon Brando, Robin Williams, and who comes as a surprise to a lot of people, Nicolas Cage, haha. Love him. That's just a few names on a very, very long list.
Your favourite movies?
I believe there's a difference between favorite and best. For instance, Rocky I think is one of the best movies ever made. Rocky IV is one of my favorites, haha. So, for best, let's also throw in The Godfather, City Lights, and maybe The Shining. And for favorite, I'm gonna throw in Just Friends, Airplane, The General and The Princess Bride. Just to name a few on what again is a very long list haha.
... and of course, films you really deplore?

Feeling lucky ?
Want to
search
any of my partnershops yourself
for more, better results ?

The links below
will take you
just there!!!


I'm not often asked that question. I hesitate to say any by name, haha, but let's go with a number of terrible sequels to great horror films. Jason X, Jason Takes Manhattan, Halloween 6, just awful.
Your/your movies' website, social media, whatever else?
My website, Patreon, films, YouTube and Instagram are all in my LinkTree. I appreciate followers on any and all of these links: https://linktr.ee/AOProd
Anything else you're dying to mention and I have merely forgotten to ask?
Nothing comes to mind. Just spread the word, tell your friends about my films.
Thanks for the interview!