Your new movie I Slay on Christmas - in a few words, what is it about?
"Deck the Halls with Horror! In Phil Hermanís I Slay on Christmas, a holiday horror anthology by the masterminds behind Doomsday Stories, the festive season takes a sinister turn. As written by Derek Braasch [Derek Braasch interview - click here], Marcelo Fabani [Marcelo Fabani interview - click here], Debbie D [Debbie D interview - click here], Joel D. Wynkoop [Joel D. Wynkoop interview - click here], and Phil Herman, this anthology unwraps a chilling holiday journey. On Christmas Eve, a troubled soul seeks refuge in the woods, stumbling upon four eerie pine cones. Each cone unravels a macabre Yuletide nightmare, bridging the gap between dread and reality. Get ready for a spine-tingling dose of holiday horror that will forever change your perception of Christmas."
Now how did the project come about, and how did you manage to round up all these directors for yet another anthology movie?
We had just finished shooting Doomsday Stories and it was in post. I swore to take a break. It was mid-November and the Christmas song I Pray on Christmas came on. My wife said ďI Slay on ChristmasĒ would be a cool idea. I said thatís my next anthology. I got in contact with Derek Braasch, Marcelo Fabani, James Panetta and Debbie D. They all wanted in. My partner Joel D. Wynkoop said absolutely not, I donít want to do a horror movie and get bloody, I will pass. Kicking and screaming he finally changed his mind and said will do one more and then taking a break.
What were your sources of inspiration for the wraparound segment?
While looking for locations I came across a pinecone tree in the woods. I had the idea of a tormented soul but was sought of a Christmas Carol idea. I looked at the Pinecones on the grass and there were four bunched together. I said there goes my story. Four evil pine cones, each showing a Christmas horror story.
Do talk about your segment's approach to horror for a bit!
Itís always in my mind to have a horror appeal to the movies I make. It works for me and the audience that my movie appeals to. The holiest happiest day of the year turns to pure horror for this unsuspecting individual. A guy who wakes in the middle of a forest and is attacked by a demonic force for unknown reasons. How horrific.
You also play the lead in the wraparound segment - so what can you tell us about your character, what did you draw upon to bring him to life, and did you write him with yourself in mind from the get-go?
He is sort of a lost soul. A mystery. We have no idea why he is in the woods with no recollection of why he is there. He is as mysterious as the setting. Itís a forest, but a forest in hell. I honestly hate acting but over the years have stopped fighting it and just started playing roles that I find fun. Joseph is a tormented soul, and I found it fun to do. He was ridiculous at times on how he reacted to certain events. Obviously crazy demonic things were happening and he never really showed fear but kept questioning why things were happening the way they were. It was sort of comedic, it was easy casue I was acting with Will Devokees as the demon, and he is amazing to work with.
Do talk about the rest of your cast, and why exactly these people?
In anthology it is impossible to mention everyone since it is 5 stories. We had about 40 actors all equally important to the story and as a whole I thank everyone of them. But I can talk about the guys I got for my wraparounds. I chose who I felt to be very talented and liked in the film community. I always try in my movies to squeeze in as many cameos as possible to celebrate their talent. What they achieve in minutes, actors canít do in a feature. My go-to guys that appear are Carl J Grasso [Carl J Grasso interview - click here], Jon Whitwell, Paul Nada, Christopher Kahler, Dave Perry, Jaysen Buterin (gives a memorable speach) [Jaysen P. Buterin interview - click here], Thomas Antalek (my biggest supporter) and Tim Hatch. The demon who is my costar and good friend is Will Devokees, and my suffering wife Mary is played by Alba OíNeill [Alba O'Neill interview - click here]. Who we were just saying a couple of days ago played my always suffering wife in the last 3 movies. She is a great friend and actress.
A few words about the shoot as such, and the on-set atmosphere?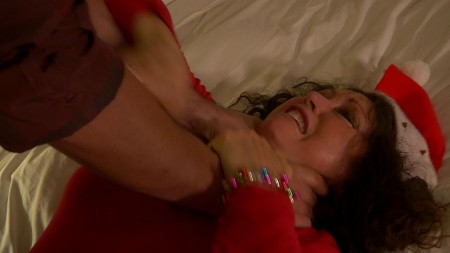 This movie was a nightmare to shoot and the script kept changing till post. It was a completelx different set-up, the wraparounds, and had more to it. First of all I was supposed to start shooting in January. We needed per snow. Well, it was the first time I could remember that there was no snow in NY for the whole season. So we panicked. Won't be a Christmas feel without snow. So we had to do everything in studio with green screen. It worked out because I was able to create the nightmarish forest I envisioned. My editor Marcelo Fabani even said the sound was beautiful, and was able to give the effect of winds and noises better than a natural sound. He created magic with the final cut. My wife is my cinematographer/photographer and was able to capture it making it look realistic. She is an action/surf photographer, so this was easy for her. She just does not just sit there and press the button but composes the shots. She admitted it was a lot more of a challenge to shoot Doomsday Stories, but adapted and pulled off a great shoot. So the atmosphere was fun. It took a week to get everything right, and then we had a few reshoots, but it all came together exactly the way I wanted.
What can you tell us about the other segments in I Slay on Christmas and their respective directors?
I was dealing with all pros. They kept showing and sharing with me pictures and scenes and gave me updates throughout. We had Marcelo Fabani Good Company shot in Uruguay in his native language, which added authenticity and just works better. Turns out the company you seek out for Christmas may not be as good as you think. Derek Braasch had a Christmas Revenge story which was bloody and fun with originality. Santa taken hostage and tortured, need I say anymore. Re-Gifting was written by scream queen legend Debbie D and directed by James Panetta. Turns out finding a perfect gift can be very hazardous. Joel D. Wynkoop entry All Chopped Up and Nowhere to Go takes us back to the glorious slasher flicks of the 80ís. Filled with Wynkoop, blood, boobs and campy fun.
The $64-question of course, where can I Slay on Christmas be seen?
As of now itís an available on DVD for $ 20 shipped. It will be on streaming services hopefully by Christmas. You can order directly by contacting me at one of the links below. Or email me: shagee7977@aol.com
Anything you can tell us about audience and critical reception of I Slay on Christmas?
So far the critics are loving it. We didnít try to do anything too crazy but gave what we thought would be a fun holiday dlasher movie. People were telling us they want us to go old school and go for that 80ís slasher feel. Think we did it. We have not had any negativity yet but true support and praises of the movie as a whole. Which is pleasing to hear. Indie movies always get bashed. But I knew when I agreed to do this my main team (Derek, Marcelo, James and Joel) would not disappoint and we would put together another special movie.
An upcoming film of yours is Crime Through the Decades Presents the Owen Brothers - so what's that one about?
Crime Through the Decades Presents the Owen Brothers is a highly acclaimed crime show that captivates viewers with its chilling exploration of the lives of notorious serial killers in America. Season 2 episode 7 dives deep into the lives of James and Sam Owen, two of the most notorious serial killers in history. Through a combination of exclusive interviews and gripping first hand accounts, the show meticulously unravels the horrifying stories surrounding these brothers, delving into the terrifying and blood-soaked path they forged. Starting from their troubled early years to the shocking adult lives of their explosive and violent crimes, the audience is fully immersed in the sinister and twisted legacy left behind by James and Sam Owen.
You're going the mockumentary route with Crime Through the Decades Presents the Owen Brothers - so what inspired you to take that approach?
Me and Joel D Wynkoop for the last 2 years been doing skits of these characters. We couldnít decide what direction to go with it. Then Joel, who is a fan of crime shows, said letís make it like one of those investigative crime shows. Will get interviews and re-enactments. Make it seem like itís a true crime and these Owen Brothers are real.
You play one of the titular brothers in Crime Through the Decades Presents the Owen Brothers - so what can you tell us about that character, and what did you draw upon to bring him to life?
I play Sam Owen. The outright nut. Joel plays equally crazy but a little more subdued. He always calms my character down when he has his outbursts. It was a great match-up and a lot of the scenes were actually ad-libbed to add to a more realistic approach at the insane interaction between them. I tried a sort of crazy Nicolas Cage persona.
Do talk about the rest of Crime Through the Decades Presents the Owen Brothers' cast, and why exactly these people?
Itís another movie where it called upon who we knew to get to play the crazy characters that have crossed paths with these nuts. Most of the movie like I said was interviews and re-enactments, just like on those shows. Again we had a cast of like 40 people. It was great, we got to use a lot of people from all over the indie scene. Some new and some old favorites. Had a good time casting and writing fitting parts for each character. Since we had a lot of mail-in appearances, Joel did a great job coaching each actor with the vision and performance we wanted. There was a few we had to shoot multiple times, but in the end everyone was pleased, and it was well worth it.
Again, what can you tell us about the shoot as such, and the on-set atmosphere?
Most of the movie was shot separate from us. The highlight of the movie was me and Joel, after being friends and working together for over 30 years, met in Florida to shoot our stuff together. It was the first time in over a dozen movies we had shot together that we appeared together. We had a really great time hanging out with the wives and just having fun. Joel was the king of karaoke and had people on their feet cheering him on. It was truly magical and was sad to see it end. It was great actually meeting someone you have been so close to all these years but never got to actually shake their hands and have a beer. Plus we got really cool footage. It was a highlight indeed. It was 4 days of total fun.
Any idea when and where Crime Through the Decades Presents the Owen Brothers might be released yet, however tentatively?
It will be released as a new year's present. Start the new year with Crime Through the Decades Presents the Owen Brothers. It will be released on DVD. We are taking pre-orders now, $20 shipped.
Any future projects beyond Crime Through the Decades Presents the Owen Brothers?
I have been asked so far to produce 4 movies for 2024. Which is a lot easier than shooting a movie. Me an my partner of chaos Joel D. Wynkoop decided to take a break with our collaboration after banging out almost 9 movies since the pandemic started. He was supposed to sit out on I Slay on Christmas, but after bugging and pleading he came back and said just for you, but I'm sitting out the next one buddy. I just recently was asked to do a feature in the new year. Itís not 100%, but we laid out a script and an announcement will be made in the new year. I hope to team back up with Marcelo Fabani, Will Devokees, Derek Braasch and James Panetta. We have a great connection and really work as a team to get something out we are proud of.
Your/your movies' website, social media, whatever else?
https://www.facebook.com/phil.herman.969
https://www.facebook.com/groups/238849271874218/
https://www.facebook.com/groups/1650488705429820/

Feeling lucky ?
Want to
search
any of my partnershops yourself
for more, better results ?

The links below
will take you
just there!!!


Anything else you're dying to mention and I have merely forgotten to ask?
I have a new written Q/A show on a Facebook group called 3 Questions with Phil Herman. Simple set up, all about past, present, future on the careers of indie filmmakers. Been getting great feedback from our industry and itís fun and not time consuming. Check it out, we are going to have live premieres, interviews and specials, so take a look - https://www.facebook.com/groups/1421706025278203/
Thanks again Michael always a pleasure talking to you and for your continued support.
Thanks for the interview!