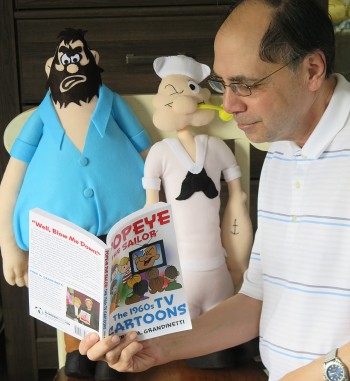 Back in the mid-1950s, when the Popeye theatrical cartoons, first produced by Max Fleischer, later by Paramount's Famous Studios, first aired on TV, they became a runaway success, so much so that King Features Syndicate, rights owner to Popeye the Sailor, decided to produce a series of Popeye cartoons itself to reap in all the profit. "Itself" is of course best half right here, as King Features is not an animation studio itself, so that producer Al Brodax had to find cartoon studios all over the country as well as abroad as contractors to create sufficient content - in all 220 shorts, all being premiered on TV in 1960 and 1961. The contractors in question were Jack Kinney, Gerald Ray, Larry Harmon, Gene Deitch, Halas and Batchelor, and, almost ironically, Paramount's cartoon studio. As a result, the cartoons varied vastly in style, quality and content, but it should be noted that they deviated from the formula of the theatrical cartoons quite a bit, where almost invariably Popeye and Bluto got into a fight about something or other that's usually resolved by Popeye eating some spinach to give Bluto a good beating after having been on the receiving end of Bluto's fists for quite a bit beforehands. In contrast, the TV cartoons incorporated quite a few other characters from the Popeye comicstrip universe, like the Sea Hag, Wimpy and Alice the Goon, while re-christening Bluto Brutus due to a misunderstanding in regards to the rights owner of that character, and of course keeping fan favourites Olive Oyl and Swea'Pea. Suffice to say, King Features' Popeye TV cartoons became a massive hit with audiences and would remain in syndication for decades.
When it comes to all things Popeye the Sailor, there's hardly a man more knowledgable on the subject than Fred Grandinetti, as he has proven in various interviews for this website, and he certainly doesn't disappoint in Popeye the Sailor: The 1960s TV Cartoons, a diligently researched volume that doesn't only state facts but also gives a wealth of context and is rounded out by a complete and detailed episode guide - quite besides some wonderful pictures of course that include stills from the cartoons, sketches, and also photos of vintage merchandise and the like. In short, it's pretty much a must-read for Popeye fans but also an important contribution to cartoon history.
Popeye the Sailor: The 1960s TV Cartoons is available at Amazon as paperback - https://www.amazon.com/exec/obidos/ASIN/1629338508 -, hardcover - https://www.amazon.com/exec/obidos/ASIN/1629338516 -, as well as for Kindle - https://www.amazon.com/exec/obidos/ASIN/B09RQRQB7M.

Feeling lucky ?
Want to search for books by
Fred Grandinetti
yourself ?
The links below
will take you
just there !!!


More on Popeye the Sailor from Fred Grandinetti on (re)Search my Trash: