Your new movie Night Hunt - in a few words, what is it about?
Night Hunt is an old fashioned vampire movie in contemporary times. We have a couple of journalists who are the only ones who know the truth while all the authorities in the city refuse to accept the truth. And the truth is that there's a vampire in town killing people.
With Night Hunt being a vampire movie, is that a genre at all dear to you, and some of your genre favourites?
Vampires are subgenre within the horror genre that yes, I do like a lot. I wouldn't necessarily say that it's my favorite subgenre but it's for sure one of the most fun to write and produce. Also within the subgenre of vampirism there are many different ways to approach it, it's very broad which is also something that I enjoy a lot as a writer. In my case in particular I prefer vampires that behave like monsters, almost like animals, as opposed to seductive pretty people that knock at your window and ask you to come in. In that regards this new vampire movie is pretty much a mix between a werewolf and a vampire in the sense that it's almost like dealing with a savage animal. You also asked me about some of my favorites and I would say that I prefer Christopher Lee playing Dracula precisely because he plays him almost like a monster that almost never talks and is very difficult to stop. I also like The Night Stalker from 1971 where Carl Kolchak played by Darren Mcgavin faces again a silent vampire that is completely unstoppable and bestial.
(Other) sources of inspiration when writing Night Hunt?
As I mentioned in my previous answer, The Night Stalker is my favorite source of inspiration for any vampire movie and definitely for this one that I just finished. Night Hunt plays as an homage to that particular movie from 1971. The Night Stalker-series was shot here in Chicago, and I even located the office of our main characters at the same building and even same window they used for the classic series of the seventies.
With vampire movies being more or less a dime a dozen, what do you think makes yours stand out of the crowd?
I'm not sure that my movie will necessarily stand out as a very original take on vampirism since there are so many movies that have been produced during so many years. However in the context of the type of horror movies and vampire horror movies that are produced nowadays, I do believe that Night Hunt brings us back to a time when there was a very good mix of humor and horror where you can fall in love with funny characters without allowing horror to be damaged by an excess of humor placed on the villain.
Do talk about Night Hunt's approach to horror!
Night Huntís approach to horror is pretty much my approach to horror in general. As a viewer I prefer to watch a movie where I can relate to the characters because they are normal people in extraordinary circumstances. These extraordinary circumstances is where horror comes in. I don't like the heroes, in this case ďsheroesĒ, of my movie to be superheroes. It's a little bit of Stephen King's approach to horror where he introduces his monsters in familiar settings and affecting people that could very well be ourselves.
A few words about your overall directorial approach to your story at hand?
In directing Night Hunt we have to make a separation between how we approached directing the actors and how we approached directing the camera and everything technical. When it comes to acting we were looking for relatable characters, so we did work a lot with the two main actresses Monica Ochoa and Adilene Martinez in order to find these two characters and make people hopefully fall in love with them. When it comes to the technical aspects of this movie, this is a very technical movie with a lot of action scenes that required a combination of stunts, special effects, and getting the right camera angles so that all these practical effects and practical stunts would work on camera. We almost did not use any digital effects or any green screen. We barely used digital technology to erase some elements on the screen such as Wires, etc. In general I prefer to use digital technology only to enhance practical effects and not to substitute them.
You also appear in front of the camera in Night Hunt - so what can you tell us about your character, what did you draw upon to bring him to life, and have you written him with yourself in mind from the get-go ... and how much fun was it to play a vampire?
I did write the vampire character for me because I actually played this same character in two previous movies that I made in the 80s in South America. 30 years later Crowley, which is the name of the vampire, comes back from the dead and I had to be the actor playing it even when I'm much older now. I knew what I wanted back in the 80s and I still know what I want right now, which is, as I said before, vampires that act like beasts, like monsters. They don't talk, they pretty much growl and they're like killing machines. He is on earth to feed and he's looking for blood every night just to keep himself alive.
What can you tell us about the rest of Night Hunt's key cast, and why exactly these people?
The two main characters of this movie are Pilar Franco played by actress Monica Ochoa and Shelley Maxwell played by actress Adilene Martinez. Pilar Franco is actually a crossover from a previous movie that I made before titled Macuma. I brought that character back into this movie and I added some new characteristics to it including having a girlfriend played by Adilene Martinez who not only is her partner in crime but also her lover. These are the heroes of the movie and they are intelligent powerful and funny. I had to find the right actresses to play these characters. I wrote this movie with Monica Ochoa in mind because I had worked with her before and I knew she could pull it off. I did call auditions for the character of Shelley Maxwell, which is a new character and I wasn't sure who could fill those shoes. I was very lucky to find Adilene Martinez who did a wonderful job. Both of them together are very powerful on screen and I think people are going to love them.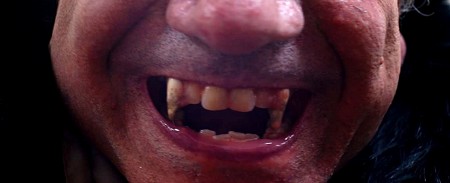 The third main character other than the vampire in this movie is his victim. Her name is Sandra Stevens played by actress Tiffany Curtis, who also did a great job combining strength and vulnerability at the same time which is not easy. She is a strong woman under extraordinary circumstances that turned her into a very fearful victim. That was a difficult combination that Tiffany pulled off beautifully.
Do talk about the shoot as such, and the on-set atmosphere!
We shot the movie in 14 days. They were long journeys with many changes of sets, costume, make up, etc. As in most of our movies, the atmosphere was one of camaraderie and friendship. We did have very cold weather for some exteriors which made our lives a little miserable, but such is the price to pay to shoot these low budget indies in Chicago.
The $64-question of course, where can Night Hunt be seen?
The movie is currently available on Amazon Prime. I know itís been picked up by Tubi TV too, but as of today itís not live yet.
Anything you can tell us about audience and critical reception of Night Hunt?
Since this movie is so new and has barely hit the platforms, I still donít have a lot of feeback to report. However, I did share the trailer on some Facebook groups that have searched the movie on Prime, and their feedback has been very positive. In particular, there is a Kolchack: The Night Stalker group of folks who love the classic series from the seventies where I shared news about our movie. Some members have watched Night Hunt and their response was very good, which is great considering that they love the original material which made them a potential skeptic and tough audience.
Any future projects you'd like to share?

Feeling lucky ?
Want to
search
any of my partnershops yourself
for more, better results ?

The links below
will take you
just there!!!


As I pay for the loan I took to produce Night Hunt I have all 2023 to write scripts. I have just finished the first one titled Transhuman about an organism created in a lab to harvest organs for transplant that gets out on a rampage to recover all his parts... Iím now writing a Spanish language horror script about a woman that turns into a hybrid jaguar/woman that will tear her lovers a part. The title is Garras en la Oscuridad, Spanish for Claws in the Dark, and I have another script titled Do No Evil which is a revenge film about a girl who is raped and left for dead. Sheís deaf and mute and the movie is told from her point of view, so itíll be a silent horror movie. I cannot tell you which one of these three will be my next production yet. Stay tuned...
Your/your movie's website, social media, whatever else?
Our website is alphastudiosfilms.com and Iím on social media:
Twitter: @RIslasfilms
Facebook: ricardo.islas.961
Instagram: @rislasfilms
Thanks for the interview!