Your new movie Don't Fuck in the Woods 2 - in a few words, what is it about?
Survival lol. I know people will interpret what this film is about, but for me itís all about survival.
How closely is Don't Fuck in the Woods 2 connected to the original Don't Fuck in the Woods?
We had a big debate about how to go into this one lol. We tossed around a ďyear laterĒ scenario, as well as a prequel idea, and for me I just wanted to see if Jane (Brittany Blanton) actually makes it out of the woods.
With Don't Fuck in the Woods 2 being a slasher/creature feature hybrid, are these genres at all dear to you, and some of your genre favourites?
Iím a fan of most sub genres of horror, but creature features always stood out to me. Iím not sure if itís because there were just tons of slasher titles out growing up, but coming across a new creature feature at my local video store was always exciting.
(Other) sources of inspiration when writing Don't Fuck in the Woods 2?
So with the first film we defiantly ďtipped our hatĒ to the 70ís & 80ís road trip or camping style films. With this one we wanted to kind of move up a few years in horror history and set the film at a camp. But Iíd have to saw there was some Evil Dead 2 and Slither inspiration in there lol.
What can you tell us about your co-writer Cheyenne Gordon, and about your collaboration during the writing process?
Cheyenne is a phenomenal writer! He wrote The Wicked One, and we had worked on a few films together before we started Don't Fuck in the Woods 2. We both tend to get in our heads and overthink lol. But luckily we never over-though on the same things. So at that point one of us could pull the other one out of that issue. But we basically made a bullet point script and then started knocking scenes out over the span of maybe 2 months. And then we teamed up again for my Bigfoot film Stranded. Cheyenneís family now lol. My kids harass and pick on him and I make sure his daughter gets a new stylish pair of crocs a few times a year lol.
A few words about Don't Fuck in the Woods 2's approach to horror?
Honestly, I donít think we ever thought about the horror lol. We knew we wanted gore, and several evolutions of the creature to be shown more than anything. WellÖ that and sex scenes and nudity lol.
You also have to talk about Don't Fuck in the Woods 2's brand of comedy for a bit!
There are so many different styles of comedy out there, to where we knew no matter what it was gonna have more of an ďopportunistĒ sense lol. I feel me and Cheyenne were those guys in school who had a million oneliners, and quick comebacks which made us funny. So that was a big influence lol.
What can you tell us about your overall directorial approach to your story at hand?
Well, this was the first of my films that I wasnít running camera, so I had the ability to focus more on directing. I say had because Iím not sure if I did lol. Iím always concerned with how the camera moves in a scene because thatís a big part of telling a story in my eyes. Luckily Travis Wilson is amazing and was totally willing to work with me and even humor me with a lot of crazy moving shots lol. Overall Iím still working on directing talent lol. Iím one of those people who if I donít talk to you about your performance then you gave me what I was wanting lol.
Do talk about Don't Fuck in the Woods 2's cast, and why exactly these people?
Man, the first film had a revolving door of talent. Almost every role had been cast two or three times before we found the full cast. So luckily due to the success of the first one, everyone who submitted knew exactly what they were getting into. Some people arenít cool with being in a film with such a title, and I actually have lost friends because of it. Needless to say, me and Cheyenne Gordon knew exactly the type of people we wanted, and thankfully we found them!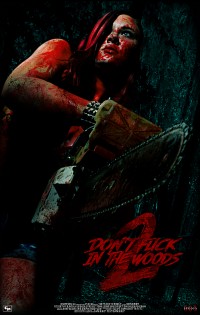 Feeling lucky ?
Want to
search
any of my partnershops yourself
for more, better results ?

The links below
will take you
just there!!!


A few words about the shoot as such, and the on-set atmosphere?
Oh Jesus lol. If we had any downtime it was more of a party atmosphere lol. I can remember a spine and skull beer bong, the women of the cast putting Jason Crowe in drag makeup, and women spanking women lol. It was kind of a blur because we were shooting 20 hour days at that point lol.
Anything you can tell us about audience and critical reception of Don't Fuck in the Woods 2?
So far itís all been amazing! We had the world premiere at Horrorhound Weekend, and it was packed to the point that people were standing in the back just to check it out lol. Which is a phenomenal feeling!
Will there ever be a Don't Fuck in the Woods 3? And/or any other future projects you'd like to talk about?
I can not confirm nor deny that there could be a file folder on my computer. I also can not confirm nor deny that there could be a script in said folder lol. I would love to finish this story and make a trilogy, but I feel I would need $30,000 to do so. So for now we are just focusing on the present lol. Stranded is my latest film that is touring the film fests, and has now won 11 awards, so Iím definitetly torn on what to do next lol. BUT I will most likely have a creature in it lol.
Your/your movie's website, social media, whatever else?
Facebook: www.facebook.com/DFITW2/
Twitter: @DFITWmovie
Instagram: dfitw2018
Anything else you're dying to mention and I have merely forgotten to ask?
Thank you for taking you time to touch base and interview me!
Thanks for the interview!