Your new movie A Light Through Coloured Glass - in a few words, what is it about, and what can you tell us about your character in it?
William's life is quickly flipped upside down after his wife leaves him. He meets Tina, a younger lady with her own issues. Tina is a highly outspoken, misunderstood character who is merely going through the motions. She lacks the things she most desires, including real friends, family, money, hopes, and security. Everyone will be familiar with someone who is precisely like Tina; she lives on every council estate in existence and is just trying to get by.
What did you draw upon to bring your character to life, and how much Sophia Leanne Kelly can we actually find in Tina?
I was raised on a council estate, so you could say I'm a real proud Northern lass. I imagined Tina and my surroundings by drawing on my memories of how things were in the past. I come from the working class, and although my parents never had any money, they worked incredibly hard to earn every single penny. I went in that direction. I didn't complain if I needed something; instead, I went out and worked three jobs at once to make sure I could get by. I used method acting to help me convey how Tina or I felt during the more dramatic parts by drawing on some dark times in my own life. However, Tina Shepherd is solely responsible for the foul language, her arrogance, and her lack of enthusiasm for everything, even life itself.
How did you get attached to the project in the first place?
Actually, I was engaged with another project at the time. I was merely performing a little supporting role when I became incredibly discouraged about my performance and wondered aloud, "Will I ever be good enough?" Up until that moment, I had received a lot of "no"s, "doors in your face", or "support artist work", and it didn't seem as though I would ever be able to realise the full potential I knew I possessed.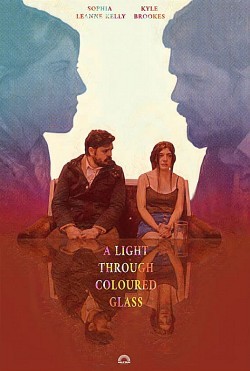 I was on the verge of giving up until Mike Clarke [Mike Clarke interview - click here], who was there as an experienced director to advise that film's new director, noticed something on the set the day I had my small scene that no one else had. I broke down in tears when his production team sent me an email asking me to record a self-tape for A Light Through Coloured Glass. I was given a chance, and I seized it with all of the remaining grit I had. I nailed the audition and received the yes I had been hoping for. I can vividly recall that day, and I was aware from that first email that it was the start of something very exceptional. Was all the waiting and rejection worthwhile? Absolutely!
What can you tell us about A Light Through Coloured Glass's director Mike Clarke, and what was your collaboration like?
What a legend! He is not only a fantastic, honest director but also a genuinely lovely person. Without his talent-spotting eye, perseverance, wit, and charm, none of this would have been even somewhat feasible. It was so nice to have constant advice, pep talks, support, and confidence that it seemed simple to enter and exit character as needed. He discovered me tucked away in the background of another film and made me the star of his.
I'll always be glad that he was able to see something that neither I nor anybody else could. Despite all the difficulties we encountered along the process, he never wavered in his faith, which is what makes him a dream to work with and even more extraordinary than the others for recognising something and making it happen! Being the fantastic filmmaker that he is, it was an honour to work with him, but I feel even more honoured to be able to call him a friend.
Do talk about the shoot as such, and the on-set atmosphere?
I had the opportunity to collaborate with some fantastic talent, and working on set never seemed like work. It was consistently characterised by enjoyment, hilarity, friendly banter, mutual respect, and affection. I found myself spending a lot of time working behind the scenes and not simply as my character as a result of numerous curve balls, including cast and crew withdrawals, a global pandemic, location changes, and a zero budget, to mention a few. The first scene happened in 2019 and the last scene was finished in January 2022, so it did take a very long time to make.
Nevertheless, Mike Clarke, the director, and I worked very hard to get A Light Through Coloured Glass finished. We analysed all of those problems and came up with answers for each and every one of them. It was quite difficult at times but I like a good challenge. Despite all we encountered, I never gave up because I wanted to see the movie through. It was truly a collaborative effort, and I'm extremely happy to have contributed to it. The recognition, reviews, and accolades it has received during the festival run have been so overwhelming that it has made the final product so much more satisfying and worthwhile.
Any future projects you'd like to share?
I'm working on some amazing things, but I'm not sure whether I can commit to stating them aloud or if I'm even allowed to at this time. However, I will say that each character will be very different to Tina Shepherd. I know for sure each role will undoubtedly put my acting talents, versatility, and adaptability to the test.
#watchthisspace
What got you into acting in the first place, and did you receive any formal training on the subject?
I used to enjoy performing for my family or singing and dancing in front of the mirror while brushing my hair. It's strange to say, but I do think I was born to entertain the world. Everyone used to say that I was "born to perform on stage." I get such a rush and satisfaction from seeing people love what I produce. I have only ever thought of myself as an actress. I received training in both stage and film acting, gaining a National Diploma and a BA with honours in Performance Practice from LCC, where I also received a Special Achievement Award. When I was 17 or 18, I did consider going to drama school, but I had neither the funds nor the confidence to do so. As a result, I looked for other ways to try to succeed in the profession while remaining true to myself.
What can you tell us about your film and TV work prior to A Light Through Coloured Glass?
I won't lie, prior to appearing in A Light Through Coloured Glass, I didn't do much because, at the time, the majority of my work was coming from the theatre and I was so convinced that I would pursue that career path. In order to make connections and gain a thorough understanding of the film and television industries, I started building my portfolio by working on several student films, features, and as a support artist travelling for different TV series. My curiosity really began to take off at this point, but I always felt like I wanted to be more than just a background blur.
From what I know, besides movies and TV, you're also doing plenty of theatre - so what can you tell us about your career as a stage actress, and how does performing in front of a live audience compare to acting in front of a camera? And which to you prefer, actually?
I was around 7 years old when I first developed a love for the theatre. After seeing the musical Blood Brothers, I turned to my mother and said, "That's what I want to be doing one day." The rest, as they say, is history. Even though I like both cinema and television, the theatre will always hold a special place in my heart and the performer in me. My first love was it. On stage, it's raw and real; whatever happens, you just have to roll with it. If you mess up a line on set, you can just do another take.
For me personally, the sensation you get on stage is different from being on a movie set. I simply adore the ambiance, the intensity, and the audience enthusiasm. It's similar to a drug in that you can become dependent on it. One way or another, I always find myself lured back to the theatre, and I absolutely love it. The excitement you have while performing or witnessing a live show is tremendous!
Along with Dressed in Time, The Touring Consortium, Kes, To Sir With Love, An Inspector Calls, and A Tale of Two Cities, I have worked in other professional theatre plays across the UK. Recently, I performed as Taylor Flint, the main character, in the stage adaptation Mighty Atoms by Amanda Whittington. A Midsummer Night's Dream, As You Like It, and The Tempest are just a few of the Shakespearean plays I've performed in while touring the UK and Wales.
Having said all of that, I have discovered a new love and passion for film, especially since making my professional debut in A Light Through Coloured Glass. As a result of this movie, I am confident that my passion will only continue to grow, especially with the right team and director by my side. I'm very interested to see where my journey takes me as I advance in the film industry.
How would you describe yourself as an actress, and some of your techniques to bring your characters to life?
I'm best described by my colleagues as a gritty character actor; I adore parts that evoke strong emotions in both the actors and the spectator. I make an effort to authenticate everything I do by performing in a genuine, emotive manner. Being 5ft 2 makes it possible for me to look and perform younger than my actual age, which I think is a big advantage and offers variety. I like to think of myself as a performer who is extremely passionate and works hard in whatever she does, not only acting but also in her daily activities. As I seek the truth and realism for my performance, I do use method and the Meisner technique into my acting.
Research is the first thing I do before ever considering portraying a role. I compile a list of plays or movies that correspond to the part I'm playing and watch them repeatedly to get ideas. I will then study the screenplay in order to abandon it and take on the role after that. The beautiful thing about A Light Through Coloured Glass was that I didn't have to follow the script; I could improv whenever I felt at that particular time as long as I stayed within the bounds of reason and the plot. It simply makes it more genuine for the character and the viewers, in my opinion.
Actresses (and indeed actors) who inspire you?
Dame Julie Walters and Robin Williams are my go-to idols, and this is why:
Dame Julie Walters is someone I've always loved. She has impeccable comic timing, and she portrays every role she plays with such authenticity and reality. She's someone I've admired for a long time because in every interview I've seen her in, she simply comes across as genuine and down to earth. Just her, no ego in the way. It's incredibly inspiring and refreshing!
Robin Williams always managed to make you feel something, whether it was joy, despair, rage, or love, and he did it with such ease. By being himself, he made the world such a happy place, and that was evident in every role he performed. When I watched interviews or saw him on the set with his co-stars, it was nothing but fun and laughter. He could handle anything that was thrown at him. Even though he is no longer with us, he continues to inspire me today just as he did when I was a child. His films will serve as a living memorial to him.
Your favourite movies?
I could write about movies all day, so I'll only mention a handful that come to mind:
The Lord of the Rings trilogy. Simply, it consistently oozes amazement.
Gladiator. Heartbreakingly sad! I cry every time because of the song and finale.
Forrest Gump. Regardless of what he does, Tom Hanks is a true legend.
Jack (1996). Robin Williams serves as an influence to the entire performing community. The film's epilogue features a beautiful monologue. His contributions will always be remembered.
Billie Elliot. Heartbreaking and inspiring plot. All over, the acting is gorgeous and real. What more could one ask for?
Titanic. Sorry, but that absolutely counts as a guilty pleasure.
I could talk about movies all day, but these are just a few that I thought were especially motivational. Location, attire, acting, music, props, colour grading, and a memorable line come into play here. The list goes on and on! Simply said, watching movies motivates me to persevere and appreciate what I do even more.
... and of course, films you really deplore?
Nothing immediately springs to me, but I will say that I detest movies that give the audience information they already know. Let the viewers exercise their imagination and take charge. I just sit there and ask the TV why? It seems to be done so frequently in today's narratives. We don't need to be informed the precise reasons why X, Y, and Z are acting in a certain way at that precise moment. It becomes unbearably dull and uninteresting to watch. I also don't like movies that start out very slowly before picking up steam and then have an useless conclusion. After spending two hours of your life that you will never get back, you feel let down.
Your website, social media, whatever else?

Feeling lucky ?
Want to
search
any of my partnershops yourself
for more, better results ?

The links below
will take you
just there!!!


Make sure to follow me on social media to stay up to speed with all of my most recent work:
Instagram: sophialeanne_actor
Twitter: SophiaLee_Kelly
IMDb: https://www.imdb.com/name/nm7932492/
Spotlight: https://www.spotlight.com/profile/6577-9089-9947
Anything else you're dying to mention and I have merely forgotten to ask?
I appreciate everyone reading, and I'm grateful to Search My Trash for providing me the chance to be interviewed.
Thanks for the interview!