Your new movie The Ghost Lights - in a few words, what is it about?
A journalist returns home after the death of her father and discovers a mysterious cassette tape describing strange disappearances and mysterious lights appearing in the skies of West Texas. In an effort to connect with the memory of her late father, she sets out on a cross-state road trip to discover the truth.
With The Ghost Lights being (among other things) about UFO sightings and alien abductions, what are your personal thoughts on the subject, and to what extent are they mirrored in your movie?
I think we simply don't know definitively. However, as a writer, I love to speculate on the implications of if something were true. I'm extremely fascinated by a mode a paranormal thought called "high-strangeness". The term is used to describe scenarios that don't fit into a specific pre-understood category. So, imagine a UFO sighting followed by a Bigfoot sighting followed by a haunting, with demons thrown in for good measure. The thoughs that there is something going on behind the veil of everyday life that is beyond our understanding, that it might have designs on us that we are powerless to affect, that's terrifying and also great fodder for horror filmmaking.
Other sources of inspiration when writing The Ghost Lights, and is any of the movie based on personal experiences?
I was very inspired by The Mothman Prophecies (book and film) as well as an indie sci-fi titled The Vast of Night. Both of these films deal with this concept of high-strangeness. They are also masterful representations of creating an unsettling atmosphere.
What can you tell us about your movie's approach to the horror and the science fiction genre?
The Ghost Lights is an attempt to strike at the core of traditional storytelling. Think when you've listened to a great oral storyteller. At their best, it is an interactive experience where the listener is adding just as much to the personal experience as the teller. We imagine what they are describing, and it often way scarier than anything they could describe in pure words. I think horror film has the potential to create this interactive experience as well. I think of the original 1960s movie of The Haunting. You never once see the ghost in that film, but it stands as one of the scariest films ever made.
A few words about your directorial approach to your story at hand?
I wanted to take a hybrid documentary/narrative style approach to this film, which reflects my own professional experience. With this in mind, much of the dialogue scenes were not storyboarded. We filmed the conversation in real-time with two cameras. I also allowed the actors to stray off script and embody some of these horrific experiences as if they were actual memories. My hope was to give a lived, visceral quality to the film.
You also appear in front of the camera in The Ghost Lights - so what can you tell us about your character, what did you draw upon to bring him to life, and did you write him with yourself in mind from the get-go?
I play the Man in Black in the film. Historically, the Men in Black are not the fun-loving government agents from the popular franchise. They are a strange legion of hairless, emotionless, humanoids that show up after UFO sightings with no other intent than to sow fear and confusion, truly terrifying. I planned originally to cast someone else in this role, however as we began to do the budget and schedule for the film it became apparent we needed to have as few individuals on set as possible. Covid precautions played a role in this as well. So, I shaved my facial hair and eyebrows, and the rest is cinematic history.
Do talk about the rest of The Ghost Lights' cast, and why exactly these people?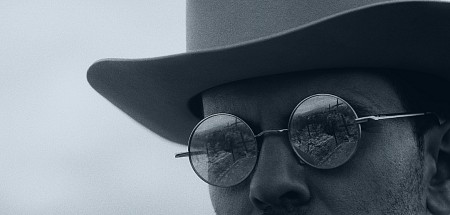 I wrote nearly every part with the actor in mind. I met Katreeva Phillips (Alex) several years ago after she auditioned for a short film I wrote and directed. We really hit it off and became fast friends and collaborators. Knowing the role of Alex required a lot of emoting, I knew she would do a great job. John Francis McCullagh plays Alex's father Aurthur. John Francis is co-producer on the film as well as co-owner of our film studio Spectrograph Films. In addition to being a stellar filmmaker, he's an amazing actor. Again, he was someone I trusted to give a great performance and be along for the challenging ride that is indie feature filmmaking. Mario is played by Billy Blair (Machete, Sin City, 3 From Hell). I actually met Billy years ago at a goth club. He was wearing a top hat and frock coat, looking like the reincarnation of Edgar Allen Poe. Billy is an incredible actor and he really brought Mario's traumatic past to life. I couldn't have asked for a better cast!
What can you tell us about the shoot as such, and the on-set atmosphere?
It was a lot of fun. The arc of the film is a road trip and by necessity the shooting schedule was too. From Dallas to 700 miles away in the deserts of Far West Texas, the whole experience felt like going on an adventure with your best friends.
The $64-question of course, where can The Ghost Lights be seen?
The film releases August 26th on digital (Tubi, Amazon Prime, Microsoft Movies, Google Play, and more).
Anything you can tell us about audience and critical reception of The Ghost Lights?
We've gotten some great responses so far, especially from the paranormal communities. This is sort of a film for that niche. It's also for fans of cerebral horror in the vein of A24.
Any future projects you'd like to share?
We have our second feature film coming out next year, an action-comedy called Dead Hand about a doomsday nuclear device. Lots of martial arts in this one. It looks amazing so far. Wish you all could see now!
What got you into filmmaking in the first place, and did you receive any formal training on the subject?
I attended film school. However, even as a kid, I was trying to make movies with friends or by myself. It's been in my blood since a young age.
What can you tell us about your filmwork prior to The Ghost Lights?
I've directed mostly shorts before this point, all period horror films and written lots of feature screenplays that haven't seen the light of day yet. I also have worked professionally in documentary television which has really influenced my filming style, especially in The Ghost Lights.
How would you describe yourself as a director?
Obsessive.
Filmmakers who inspire you?
Robert Eggers, Jean Cocteau.
Your favourite movies?
La Belle et la Bête (Cocteau), Coppola's Dracula, The Cabinet of Dr. Caligari, Interview with the Vampire, The Witch.

Feeling lucky ?
Want to
search
any of my partnershops yourself
for more, better results ?

The links below
will take you
just there!!!


... and of course, films you really deplore?
Marvel anything.
Your/your movie's website, social media, whatever else?
https://www.spectrographfilms.com/
https://www.facebook.com/spectrographfilms
https://twitter.com/Spectro_Films
https://www.instagram.com/spectrograph_films
Anything else you're dying to mention and I have merely forgotten to ask?
If anyone has $1-3 Million, hit me up. Next project is cooking and ready to go!
Thanks for the interview!