Your new movie Gap Weekend - in a few words, what is it about?
Art Hall: There is life after heartbreak, you just have to be open to see it.
Todd Norwood: I can't top that one!
Now how did the project come into being in the first place, and how did you both end up as producers on it?
Art: This was really Todd's brain child. He writes scripts like crazy, and this was one of those delightful little treasures that could be done well with little resources. It's all about the characters and the writing, and the setpieces of wine country just help to tell it all. I came on as producer because we worked so well together on our first feature Chasing the Sun.
Todd: I've been wanting to film the idea of Gap Weekend for a long time but it was only when it looked like we'd both have some time and opportunity in our schedule did I jump forward to write it and set it up. Art offered to produce the film, a decision I was wildly enthusiastic about as he ended up being a great partner on our previous collaboration together.
Todd, what were your inspirations when writing Gap Weekend?
Todd: I am a big fan of melancholy romances - and I very much wanted to do a project with that tone. More so, I find that in most film and TV - the idea of a "long term couple" as a goal is something that isn't ever discussed. Most stories celebrate brand new couples, and it's a rare story that celebrates the small victories that are enjoyed by a long term couple. Most people search for the spark of freshness, not the warmth of familiarity. I wanted to try to tell a love story in a different light - instead of our lead searching for someone exciting and wild for the weekend, he is instead searching for the feeling one gets after one is together for a lifetime - the inside jokes, the ease of being yourself, the lack of pretense. Of course he is trying this with a stranger for the weekend, so he's got the odds stacked against him!
Art, to what degree could you identify with Ben?
Art: In his general disdain for applications, social media, and online dating. I am part of that lost generation born between '78 and '82. We're not quite Gen-Xers nor are we Millennials. Someone called us the "Oregon Trail Generation", based off the game we all played on a Commodore 64 or Apple IIe in school. Ben is very much that guy. He's aware of the necessity of this tech, but is also loathsome of it. As for emotionally and relationship-wise, we have all been through heartbreak. Ben had what he perceived as the perfect partner and once they split he was in the wind. But the truth is, they were sweethearts from youth. Very few of those connections ever last because each person doesn't know themselves, truly. Only with life and experience do you get to know who you are and who you want. Kudos to those outliner high school sweethearts who make it, but for the rest of us, Ben is going through that first major break up we all do - only it happens to be when he's almost 40.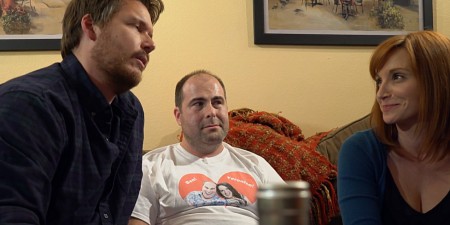 Robb Padgett, Art Hall, Nicola Graham
Related to the last question, what did you draw upon to bring your character to life, and how much Art Hall can we find in Ben?
Art: Oh shit. Well, a lot I suppose, but in a very focused way. Rather, an enlarged way. There are parts of me but they are blown up in proportion. For example, I might lie a little about what I'm doing, but I won't fabricate an entire business opportunity. Or, I might drink a little too much at a dinner and say some coarse things, but I'd never get to the point of insulting a blind date to their face and breaking things. Stuff like that. I will say that when I spill wine on my shirt in the film and curse at it as I rip it off, that is 100% me.
What were the challenges of bringing Gap Weekend to the screen from a producer's point of view?
Art: Surprisingly there weren't many. That's weird, right? Usually indie films are rife with trials and tribulations, but this one ran really smoothly. We had a great time filming up in wine country and along the way and everyone involved was good to work with.
Todd: Yes, we've all been involved with films that are our own personal Heaven's Gate. Those films take a great drain on one's passion for filmmaking. One of the goals with making this film was to enjoy the process and streamline it down and just do things on set that we like to do. As such, we had a small crew, spent weekends driving through spectacular scenery of wine country, and got to sample the wines! Honestly, after filming this, I can't wait to get behind the camera again.
Todd, what can you tell us about your directorial approach to your story at hand?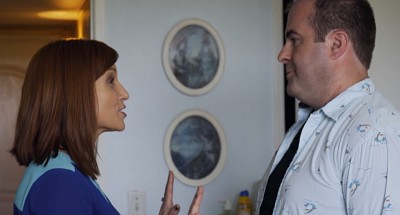 Nicola Graham, Art Hall
Todd: My biggest goal was to hopefully make the audience feel like they are there on the weekend with Ben and Emily. As such I wanted the actors to take the stage. My original intention was probably a little bit more of a smaller scale film, but I have to give credit to both our amazing cinematographer, Mike Barroga, who pushed for a more cinematic look that took advantage of the locations, as well as our brilliant editor, Robb Padgett who pushed for a more unorthodox idea of shooting the film in anamorphic, which leant a big screen epic look to such an intimate story.
What was the collaboration between the both of you on Gap Weekend actually like?
Art: There was much laughter, much wine, and... more wine. We like to reward our filmmaking efforts with a bit of the grape and since we were in wine country... But seriously, we work very well together. I know what Todd wants to get done, and how given any limitations or scheduling, and I know how to make that happen. We have a bit of a short hand now where we can figure out what needs to get done on the day to catch what we need as efficiently as possible.
Todd: Some friends take vacations together, we make movies together instead. As we have worked together so many times in the past, we don't rehearse that much, and let the magic happen on the moment on set. As a producer Art is very good at finding a realistic way of making the impossible happen, which helps to direct my energy into tasks that are more achievable in the insane fast shooting schedule we work under.
From what I know, Gap Weekend isn't your first time working together - so what can you tell us about your previous collaborations? And how did the two of you first meet even?
Art: We have worked on that other feature I mentioned earlier, Chasing the Sun, as well as a bunch of short films in the interim to keep ourselves in practice. Todd has even worked for me on a short I made. We're symbiotic that way. And we met back in, I want to say 2015? It was at a reading of his script Island Time, which featured a character very similar to the one I would go on to play in Chasing the Sun. That particular script was a bit larger in scope so Todd put it on pause and started to write this other more practical piece all about this side character who was a Trop Rock DJ. Todd was curious, what was his journey like to get to this place in his life and the story. And so, he approached me about playing the character because I guess he dug how I approached that one reading.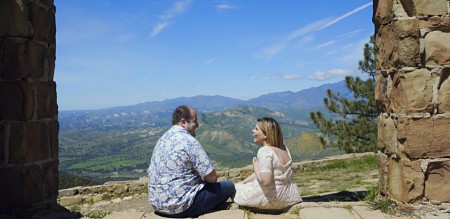 Art Hall, Rosie Koocher
Todd: Art had mentioned a short hand of us working together and that has developed over the years. We met via a mutual friend. Believing him to be as extroverted a person as a character I had seen him play, I invited him out to a dreaded Hollywood "networking event" hoping that he would help me to break the ice with a bunch of strangers. In actuality, he hates such events as well, and was hoping that I would be the extroverted one to talk to strangers and network. Despite that miscommunication - I cast him in my next project. I wrote the role Art played in Chasing the Sun for him (the inspiration of which has allowed me to write his characters in a follow up series of novels). While we have been lucky to make films in some exotic and fun locations such as Key West and Santa Barbara, not all actors would consider the rapid fire pace of our schedule or the fact that I like to shoot things like a stage play a bonus. Art did take to that style of filmmaking well, and as such I've written a number of roles for him. (And, as he mentioned, he for me - though I am not as good at memorizing an insane amount of lines as he is.)
Do talk about the rest of Gap Weekend's cast, and why exactly these people?
Art: I will leave most of this to Todd since he's the director, but I'll say it's because they are who they are. Some are actors we have worked with before and we know they can deliver and are also great to be with on set. Some are new to our stable and they just fit the bill. We wanted to bring people in who were real, but also just cool to spend 10 to 12 hours a day with.
Todd: Art mentioned that we made a number of shorts between features, and a great majority of the actors were cast from those films. The actual production of Gap Weekend came together at a fast pace, and as such, roles were cast right before filming. Looking back on it now though, it feels that it was all "meant to be."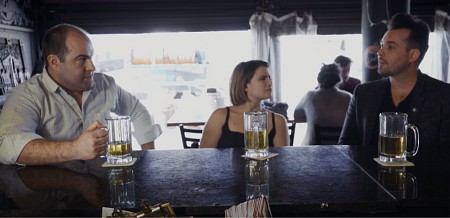 Art Hall, Rosie Koocher, Bryan Bertone
What can you tell us about the shoot as such, and the on-set atmosphere?
Art: Run, run, run! When you're working on a smaller film like this you have to get as much done as you can. Everyone knows, or can understand, that the filmmaking is a dance of time and money. The more time you spend, the more money it costs. If you are trying to keep things reasonable, you need to be quick. So, that's exactly what we did.
Todd: There are always trade offs in film, and while we sacrificed a great deal on shooting time, budget, and amount of crew on this film, we did create a fun, vibrant creative atmosphere in beautiful locations with great wine. As such, the only drama on set was in front of the camera, which it should be.
The $64-question of course, where can Gap Weekend be seen?
Art: I wish I had a good answer for this, but right now the answer is nowhere. We are currently working the festival route before releasing it. I will let Todd elaborate on that one if he so desires. But I'd be happy to update you!
Todd: The film distribution landscape is changing at a rapid pace. Plans we made for distribution even a few months ago have transformed overnight. We hope to have the film out by early 2022 - in the meantime, if anyone is interested in getting notifications on when we are releasing it, they can sign up for my Wanderlust Tales newsletter on my brand new website at: https://www.toddnorwood.net
Rosie Koocher, Art Hall
Anything you can tell us about audience and critical reception of Gap Weekend?
Art: The small screenings we have had have been very successful. People are really receptive to the film and connect with Ben and his frustrations and desires. As for critical response, we have only had a few reviews come back but they have all been positive.
Todd: I truly enjoy sitting in screenings of this film and watching the audience reaction. It's fun to watch others go on Ben's journey as well.
Any future projects you'd like to share?
Art: I have a feature coming out that my production company Troubadour Pictures made called A Can Full of Ashes. We are working on the final stages of post-production and will be looking to hit the festival circuit before making it widely available. I am also working on two podcasts worth checking out: That Was Disappointing - https://that-was-disappointing.captivate.fm/listen - and Subversive Cinema - https://subversive-cinema.captivate.fm/listen.
Todd: I've got a number of film projects in the works, including a short film Bamboo Sunset, which is a short film continuing the adventure of Art's character from the film Chasing the Sun. In addition, over the next few months I'll be publishing a series of novels which follow that character on future adventures that are a little too expensive to shoot on film, and so I'll explore them in prose.

Feeling lucky ?
Want to
search
any of my partnershops yourself
for more, better results ?

The links below
will take you
just there!!!


Your/your movie's website, social media, whatever else?
Art: You can find me at www.facebook.com/arthallofficial
Todd: My Stories for the Wandering Soul website and my newsletter can be found at https://www.toddnorwood.net/
Anything else you're dying to mention and I have merely forgotten to ask?
Art: Nope! Covered it all.
Todd: No, thank you so much for your questions!
Thanks for the interview!