Since we've last talked less than two years ago, you've written quite a number of movies - so first of all, what keeps you going at that rate?
Definitely a little bit of insanity. If I recall we probably last talked just before the pandemic, or right in the beginnings of it. For productions getting to shooting stage, it ground a lot to a halt, but for writing and development itís proved productive for people. A few opportunities arose in that time and Iíve barely had a day off writing since. I did say to myself Iíd slow down in 2022, but before midday on the first of January I was taking on another new project. I often bemoan being so busy, but then if I get a couple of days in a row free, Iím itching to do something else. Iím either a write-a-holic or a workaholic. Maybe both.
Let's start with Renegades - what's that one about?
Itís a star powered, old school action film. An old soldier played by Lee Majors is murdered by gangsters whilst trying to sort out a situation for his daughter (Patsy Kensit). His old war buddies, and the son of an old colleague (played by Nick Moran) team up to get revenge and take down the criminal enterprise (who are headed up by Louis Mandylor).
How did you first get involved with the project?
Iíd been speaking to Jonathan Sothcott [Jonathan Sothcott interview - click here], the producer. Iíd kind of taken the opportunity of lockdown hoping to catch one or two producers who might be less adverse to speculative emails than under normal circumstances. Everyone was at home and probably bored enough to engage more via email, and we then started discussing a couple of projects, including Renegades. Our sensibilities, particularly toward action films were very similar. Weíre from the same era and grew up on Cannon and Orion films.
Renegades is based on a story by the film's producer Jonathan Sothcott - so how detailed was that story before you took over, and how close did you stay to it, how much artistic license did you take?
We had the basic outline, which was along the lines of one of Jonathanís old classics, We Still Kill The Old Way. The idea was to do something in that vein but give it more of an international flavour, and make more of a broad action film than a gangster revenge flick. I had plenty of freedom in filling the gaps, and once Daniel was on board, and began connecting huge names like Danny Trejo, Tiny Lister and Michael Parť [Michael Parť interview - click here], I was given the opportunity to write with these great stars in mind. As a fan of pretty much the whole cast, going back to my formative years, it was a great honour to be able to write for them. Iíve grown up watching everyone in the film. Itís a little bittersweet with Tiny Lister, as it ended up being one of his final films before his untimely passing, but weíve definitely played to his strengths. I think because Iím so well-versed in the work of all of them, I know what works for them, and what wouldnít. Plus we didnít just want the faces on the poster, we wanted to make good use of the talent of Danny, Lee et al. Iím particularly excited to see Nick Moran in action. Heís the leading man in the film and heís perennially underrated. Nickís a great actor.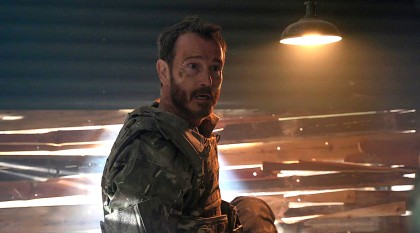 What can you tell us about Renegades' director Daniel Zirilli, and what was your collaboration like?
Daniel knows the genre like the back of his hand. It was great for me, only a few years into my feature career. Renegades was a big step up in scale, compared to most of my films. Iíd co-written a War of the Worlds adaptation starring Vincent Regan (which should be out later this year), but otherwise most of my commissions had been low budget horror. Iíve learned a lot from Jonathan. Heís well-versed in the business. Danielís notes through several screenplays have been extremely useful in honing my craft. He knows his stuff and come the time you get to draft three or four you realise the process is working. Conversely as far as the uber low budget horror gigs, Iím on one draft deals, and whilst they come out pretty organically (I have them down to a fine art), I donít get the benefit of redrafting, honing and perfecting. So I kind of have to hope their subsequent production changes prove effective. Occasionally yes, but not always.
Any idea when Renegades might be out yet?
Itís going to debut in America and hopefully that will be in the summer. I think Iím looking forward to it as much as anyone. Iím a fan first and foremost, and even if I hadnít written it Iíd be ordering the film on physical media.
Another upcoming film of yours is When Darkness Falls - so what's that one about?
Two American girls go hiking across the Scottish Highlands. When one of them disappears unexpectedly, the other goes in search of her friend and finds herself in a life-and-death situation.
What can you tell us about When Darkness Falls' approach to the thriller genre?
Myself and my friend Nathan Shepka have been looking to work together for a while. We have a long standing horror project in the pipeline, called The Clan. Heís based in Scotland and the idea was to make a film utilising those amazing locations. Itís foolproof cinematography in Scotlandís rural areas. They look sensational on film. You could shoot on a DSLR and make something that looks great. The Clan is more elaborate (Mandy meets Hills Have Eyes) and needed a big budget so we just decided to do a simpler idea first. We love old school thrillers, so that was our starting point, to do a throwback to sparse 70s/80s thrillers. Nathan liked the concept of And Soon The Dark, a kind of cult, but not too well known thriller from the 70s, and I love stuff like Breakdown and The Vanishing (basically any film with someone who disappears unexpectedly). We kicked off from there and added our own flavour to it.
Do talk about When Darkness Falls' director Nathan Shepka, and what was your collaboration like?
Weíve known each otherfor years, meeting in Dolph Lundgren, Jean-Claude Van Damme and Steven Seagal fan forums. We have similar tastes in films, and similar aversions to a lot of modern cinema traits. As mentioned, The Clan has been in mind for a few years. Nathan released his first feature Holiday Monday last year. Thatís out in a number of territories including the US and well worth checking out. Itís due out in the UK this year too. So heís adept at putting together productions and has a reliable crew of regulars. The scripting was easy because weíd both fleshed out the story to what we wanted it to be. I was fairly busy at the time, otherwise I might have helped more from a producing point of view, but one aspect of the film I really enjoyed was being involved in casting. Iíve done it before in my own short productions and an international feature, and itís a process I love because, particularly if Iíve written the film, I can gravitate casting back to my mindset whilst I was writing. On a straight up writing gig, I generally donít know who is being cast (unless itís a star driven action film, which allows me to write for Danny Trejo etc etc), and whilst generally in the low budget horrors Iíve been satisfied with who was cast, occasionally something doesnít work like Iíd envisioned from a writer's perspective, or you get the right person in the wrong role. For When Darkness Falls I worked with Nathan to cast Michaela Longden, Emma OíHara and Ben Brinicombe. Theyíre great. Michaela in particular has to lead long stretches of the film by herself, but she holds the screen very well. Sheís on the verge of breaking out right now, so the timing of our film has been fortunate. She has great chemistry on and off screen with Emma too. As for the shoot itself, I wasnít there but Nathan caught a window between lockdowns and shot the film. He and the team really nailed what we envisioned. It looks great and I really hope people appreciate it. Itís a bit daring because itís not the most fancied genre in the minds of distributors, but of late these old school thrillers have been coming back into fashion on streaming. For the budget, I think itís come out very well. Itís a slow burn and builds to a great finale, and hopefully weíve got a few surprises for people.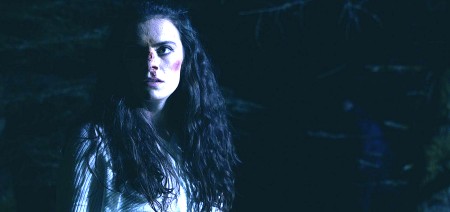 Again, any idea when this one might be released?
All being well this is looking set for June in the US.
Two recent films of yours are Jurassic Island and Reign of Chaos - want to talk about these two for a bit?
As is the way with film, some films have a very quick turnaround, others donít. Reign of Chaos shot at the beginning of 2019, and Jurassic Island was in the summer of that year. In the mean time Iíve had several features which shot after those and which have long since been released (Jack and Jill for example shot May last year and came out in September, hitting three million views on V Horror). Reign of Chaos is kind of Resident Evil meets Buffy and Charlieís Angels. In retrospect we probably should have treated it with a bit more humour and a little camp, but distributors detest that approach (though the aversion is fading just a little this last year). Iíve not seen it but it probably needed a bigger budget to work. The reviews for Jurassic Island so far have been pretty good and I think you can get away with it on a dino film, as people donít mind a cheapy dino film. They have a certain charm. Iím very curious to see how that one turned out, as from what I understand, most of the opening has been rewritten, and a couple more plot points thrown in. I think all based around a ship being made available to shoot on, which sadly for me, wasnít deemed feasible whilst writing. This is the way sometimes, but the added production value certainly canít hurt. Iíve worked with producer Scott Jeffrey through four different companies and loads of films. Theyíre always great fun and have been getting progressively better, so these two in some ways may feel outdated. In terms of whatís coming out with Scott, Area 51 looks very promising, probably our best collaboration by a long way. Sky Monster may also prove so too (and again, we had license to have some fun with the concept). Thereís a couple of disaster films coming, Firenado and Mega Lightning that have scratched an itch Iíve long had, to do that particular genre.
Any other recent or future projects you'd like to share?
Iíve got several exciting projects coming up with Shogun Films, including Crackdown (a buddy cop action film) with Daniel once again, and then thereís a sci-fi action film, Nexus (directed by Ben Mole), and Eyewitness, which will be a great female lead action thriller (directed by Reg Traviss). All three will hopefully shoot in the next year or so, and I canít wait to see the cast line-ups for these. Likewise, working with Ben and Reg, both hugely experienced, is a great honour. Iíve also got a few ghostwriting roles coming up, and Iím working on a film with another legend, Mark L Lester (Commando, Class of 1984). Heís producing a horror take on Cinderella which Iíll be writing. Cinderellaís Revenge will shoot this winter in the UK, with hopefully a big name as the Fairy Godmother. Itíll have license for a little humour too, which suits me as a writer. A sequel to Amityville Witches is also on the cards (Salem Witches). Iíve written that, and producer/star, Kira Reed Lorsch is putting that into pre-production soon and it should be a fun mix of Practical Magic and The Craft. Additionally, Iím producing a feature myself, which my brother will direct. The Juror (Cul-De-Sac meets Cape Fear) will shoot November all being well. Then Iíve got a few more things lined up to shoot with Nathan going into 2023. Going forward, Iíve now probably covered every possible low budget creature horror from a writer's perspective, so Iíll take a break from those to focus on the bigger projects, as well as moving into producing my own.

Feeling lucky ?
Want to
search
any of my partnershops yourself
for more, better results ?

The links below
will take you
just there!!!


Your website, social media, whatever else?
instagram.com/jolliffeproductions
Thanks for the interview!