Your upcoming movie Upsidedown Cross - in a few words, what is it about?
Upsidedown Cross is about a drug addicted prostitute who gets busted and ends up back home with her delusional Christian mother. The mother believes the daughter is possessed so she essentially hires a preacher to perform an exorcism. The preacher is a sadistic grifter and takes advantage of the family.
What were your initial inspirations for writing Upsidedown Cross - and what can you tell us about your co-writer Mike Hunchback and your collaboration with him?
The script is focused on Nadine, the daughter, and how you can end up in the hands of awful people if you don't take responsibility for your own life. That's where most of the 'horror' in the script comes from, not being in control of your own life, having to spend time with horrible people. I also was inspired by the spate of possession films that came out, big and small budget films. My girlfriend Erin Russ was in the Devil Sister trailer for Paige Davis, featured on the Shockfest DVD. Erin was also in The Devil's Hostage trailer, an unmade film from Fever Dreams. I felt there was a better story to be had for a low budget possession film, the story wasn't supernatural, it was more about the predators that lurk among the believers, the Bob Larsons and teen exorcists of the world.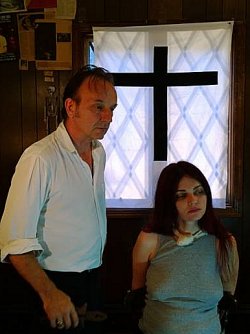 David Yor, Erin Russ
Mike is an old friend, we used to play rock N roll shows together, I was in Tyrannosaurus Dracula (free to listen download on freemusicarchive.org), he in Hunchback (available on bandcamp). Mike Hunchback really helped me articulate the ideas I had. He came in after I wrote the initial script and really helped shape it and tighten it up. He also really helped me motivate to get this thing going. Mike is a powerhouse with loads of cool friends, and they all jumped in head first to help out. I got to writing the treatment and I figured this was a small enough movie I could shoot in a few locations, so I decided to go with this as a comeback... I drank a cup of coffee one morning, got very over excited and just sent a Facebook-message to David Yow, who I have been a long time admirer of. He said he was interested, so I told Mike and I wrote the script, Mike revised it and off it went to David. David loved it and signed on and the ball was rolling. The film was written and in the can in less than 3 months time. Just like old times!
Side note:
Working with David Yow was like a dream come true, I had seen Jesus Lizard over 7 times and Scratch Acid in 2006. I love his records and love him as a performer. He brought tangible depth to the character and even harnessed some of the Jesus Lizard madness for the production. Anyone making a horror film out there hire David Yow!!!!
Upsidedown Cross is almost certain to offend the religious right - at all an intended side effect?
I think the only people my films offend are the ignorant. At least in my opinion they are ignorant. I think any and all fantasy is fair game. St. Mary's church heard I was looking for a holy water sprinkler and they donated one for the shoot.I guess most people have a sense of humor and see horror filmmaking as harmless even if it is a little blasphemous. The movie isn't centered on religion, it's really about people. Man's inhumanity to man. Religion plays a part in that the mother Delilah is fanatical and delusional and can be manipulated because of her delusion.
What can you tell us about the intended look and feel of your movie?
I can't say I had an 'intended' look for the film. My first time shooting HD, wide screen 16 x 9 so I expected the production value to be higher than past efforts and it is, but it is still raw. When you shoot on a miniscule budget with a 60 page script in 5 days you can't expect to know what your gonna get till after it is done. I am impressed but yeah, still a "Hellfire"-picture.
In your past films, you haven't exactly held back when it came to depictions of sex and violence. So how far do you go in Upsidedown Cross, and is there a line you refused to cross?
No line. I do what feels natural to the production and the people involved. I do what excites me or the viewers regardless of moral/social restrictions. This feature is dark and gets very nasty. I have a few photos of David Yow after a particular scene of brutality and he really felt shitty, I mean you could see it in his face. Afterwards I was all excited knowing I had captured a great bit and he just said that he felt like shit. That made me even happier! Yes yes yes!!! I knew this was gonna be good.
Possibly related to that: Do talk about your special effects man Johnny Dickie for a bit, and the effects you have dreamed up with him?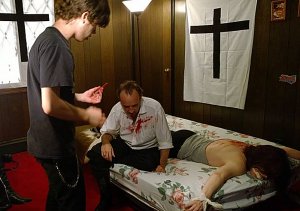 Johnny Dickie, David Yow, Erin Russ
Johnny Dickie is amazing. I reviewed his feature film Slaughter Tales for Alternative Cinema Podcast and since then I had been following him on Facebook. He directed the Misery Date-video for Mike Hunchback, up on YouTube now, and Mike kept telling me that Johnny was interested in the project. I spoke with a hand full of effects artists who were afraid to tackle the effects in the short window of time I had to operate in. Johnny has no such fear. He was great to work with, fast, and produced cringeworthy work that had the cast howling away. We went for simple ideas that read very well on camera, he sculpted some wounds and made some things up on the spot that were just sooo good. He must have been spending so much time doing effects on his own that he is already a pro. Only 16!!!! I recommend hiring him if anyone out there wants to make a horror film.
What can you tell us about your cast?
the cast is David Yow (Jesus Lizard lead singer), Erin Russ (Devil Sister), Colleen Cohan (The Green Monster), Tina Krause (Erotic Vampire in Paris, Bad Biology) [Tina Krause interview - click here], Rick Savage (adult film star) Victor Bonnicore (director of Ice Cream Sunday and co-star of Hunters), Charles Moran (Unwinnable podcast, Dead go West band) G.J. Marko and Mark Demicco.
I had always wanted to work with my girlfriend Erin Russ and I wrote this part around her. I figured she had some qualities that would make this character come alive even though the character and Erin are extremely different in most regards. it was really cool working with her like we were old filmmaking partners.
As far as I know, Upsidedown Cross is still in its fundraising stages - so what can you tell us about your fundraising efforts?
I have just completed an interview with Monster Pictures in Australia, Erin and I taped an appearance on the Strange Dave Show (Long Island) and I have done 2 podcasts for Alternative Cinema #49 in particular announced that there is a 'pot sweetening' from Alternative Cinema where - if you listen to the podcast and donate to the project, Alternative Cinemawill send you free William Hellfire DVDs.
We have about 8 days left and our IndieGoGo is at just over $2k. We were hoping to raise 6k!!!! So please donate!!!
http://www.indiegogo.com/projects/upsidedown-cross/x/4693901
We set it up for a donation of $25 you basically preorder the DVD (which comes signed sometime in Febuary 2014) and you get a Faux Religions comic, a Chik Tract, from artist Mike Diana (Scummy Comix) and special thanks in the credits. The more you donate the more you get, like naughty Polaroid from the set, mini posters and lobby cards and for $250 a producer credit!!! Plus free Hellfire DVDs from Alternative Cinema if you listen to the pod cast and email them after you make your "Love Gift" contribution! You can get up to 7 free DVDs from the list Mike Raso read on the Alternative Cinema podcast [Michael Raso interview - click here].
It might be waaay too early to ask, but any idea when and where the film will be released onto the general public yet?
I think April will be the official release. The teaser is up on Vimeo and YouTube. I work fast!!!
Any future projects beyond Upsidedown Cross?
Yes, I have about 5 written treatments. A feature in preproduction but can't announce yet... stay tuned in!!!
How did you get into filmmaking in the first place, and did you receive any formal training on the subject?
All by accident. I was and still am a ribbid horror fan starting age 4 or so. My parents took me to see Jaws, Halloween 2, The Thing, my sister took me to American Werewolf in London. Chiller Theatre showed me Children Shouldn't Play with Dead Things and Phantasm all before the age of 8. When I was in Disco Missile (noise pop band) I submitted a few songs for Psycho Sisters soundtrack in 1995 and ended up telemarketing for the VHS distributor ei Independent Cinema that became Alternative Cinema. From there i just started making my own films starting with Caress of the Vampire 2 - Teenage Girl Ghouls A Go-Go. It ended up in Tower Video! Then I produced anther 30 films or so till 2004.
I'd like you to say a few words about a handful of movies I've picked from your filmography:
This was my third feature and the first I did with Misty Mundae [Misty Mundae bio - click here]. It was a cross between an Italian giallo and a John Waters movie. Shot on Super-VHS and edited on 3/4 inch at SVA (School of Visual Arts NYC) by a friend. There was shit eating (faked with melted chocolate bar mixed with corn and donuts), full penetration wire hanger abortion and violent bloody blow job. Really gross, completely illegal, incompetently made train wreck with some cool music (mine and some friends). The distributor was afraid to release as is so he edited against my wishes. First release came out on VHS cut with very poor audio mix. Years later it was re released uncut on DVD, but again the distributor used a bad master and there are video hits throughout. One review said it almost made him puke which made me really happy.
Duck! The Carbine High Massacre?
Infamy. Pete Jacelone asked Joey Smack and I to star in, write and direct this feature. It was a satire on the media's take on the Columbine shootings, Joey and I were pretty disgusted with the media, camping out on peoples lawns, writing these half-assed character studies on the kids that were killed and blaming music and video games for the shooting. We told the story from the killers' point of view, made them the only really human characters while adding obnoxious humor and buckets of blood. During the high school shooting scenes cast members started a mutiny and wanted to walk off set cause Joey and I had an especially cruel and gruusome scene with Misty Mundae. It was crazy. Months after the film was released on VHS, the police came to my door to arrest me. We used the local elementary school as a backdrop for a few scenes and brought real guns, not props, on school grounds. This creep from Colorado was doing stories on Columbine since the shooting and he orchestrated the arrests just to make a news story. The FBI was involved and discouraged any action noting 'it was only a movie', but the local Ringwood police really wanted to get on TV. They were laughing and telling me not to worry that I was gonna be 'famous'. Judge laughed it out of court. We made the news for like 2 weeks straight, Nancy Grace made nasty faces at us. Fox News called us 'copy cat killers'.
Bikini Girls on Dinosaur Planet?
This was originally a custom film. A guy paid me to hire actresses and dress them in cave girl clothes and have one actress thrown into a pile of dino poop, a giant mud pit I made with cake mix and water back in the woods by Ringwood state park. I of course added lesbian sex scenes and had a giant prehistoric boar made to pull one of the actress on. I shot this part of the feature in one day from 9 to 5 pm or so while drinking a liter of whiskey so I don't remember too much. Lesbian cave girls fight off cave men and initiate a new cave girl with dino bone dildo, then throw her in dino poop. All the dialogue is "oot oot". Misy Mundae made the costumes out of zebra and leopard print material in like 15 minutes flat. This was 1999 ....fast forward to 2002 and I decided to finish the feature with a wrap-around narration of two girls in the future in space ships narrating a show about the first lesbian cave girl tribe. Made my apartment into a space ship with monitors and silver colored cardboard boxes. Sold the final film to Seduction Cinema and they had Brett Piper add dinosaurs [Brett Piper interview - click here]. Shot in 2 days plus dinomation. Nearly and istant movie! Very silly.
And of course the wonderfully titled Orgasm Torture in Satan's Rape Clinic?
This feature was part custom film, the orgasm torture theme, and I wrote it around the fact that I had access to a doctor's office. So I came up with this long crazy title and decided to shoot and edit before a screening I had at the Anthology Film Archives in NYC. They were doing a Factory 2000 day with a trailer reel, Duck! The Carbine High Massacre and this unannounced new film. I wanted it to homage the wild west of early rape porn like 'forced entry'. It was conceived, written, shot and edited and screened in 8 days. We cut it tight at 45 minutes, could have been longer but felt right short. We screened for like 25 people and some press. fun show. When Orgasm Torture in Satan's Rape Clinic was released on DVD in 2005 Alternative Cinema's credit card company dropped them! Just because of the title. The then had to change the name to Torture in Satan's Clinic, so it wouldn't case any trouble. Doesn't make any sense to me.
Any other films of yours you'd like to talk about?
The Devil's Bloody Playthings is probably my best feature film to date. Besides the upcoming Upsidedown Cross. The Devil's Bloody Playthings is my fave hands down. I wrote it entirely as a passion project, and years of making exploitation films culminated in a solid fun bloody picture. Really homage of the late 60's and early 70's exploitation or ruffie pictures with some guts thrown in. I had a bunch of really cool people around me at the time, and the cinematography and editing done by Christian Moran was fantastic. I used tempura paint based blood so it looks ultra '70's! Still a lo-fi endeavor, think I produced for less than 5K. The one film I actually got really good reviews for. If you're new to Hellfire pictures, The Devil's Bloody Playthings, Duck! and Infamous Bondage Murders 1 and 2 (only on VOD and VHS) are your best bets hands down.
How would you describe yourself as a director?
Anxious.
Filmmakers who inspire you?
I love Argento, Fulci [Lucio Fulci bio - click here], Bob Clark, Romero, Rene Cordona jr, but I don't think my love for them reflects in my films. I think my films are real lo-fi exploitation, punk rock inspired. I dig counter culture, psyche and noise rock. I think that stuff influenced my filmmaking more than films did. Answer Me Magazine, Hare Krishna, serial killer fasinations. As a whole I dig early exploitaion, ruffies, ghoulies... Herschell Gordon Lewis [Herschell Gordon Lewis bio - click here], Michael Findlay that stuff was soooo coool. I loved when horror and gore films felt taboo and spooky!
Your favourite movies?
Children Shouldn't Play with Dead Things, Godzilla (1954), Salo, Martin, Zombi 2, Tenebre, Suspiria, Night of 1000 Cats.
... and of course, films you really deplore?
Too many...
Your/your movie's website, Facebook, IndieGoGo, whatever else?

Feeling lucky ?
Want to
search
any of my partnershops yourself
for more, better results ?

The links below
will take you
just there!!!

Find William Hellfire
at the amazons ...

amazon.com

amazon.co.uk

amazon.de
Looking for imports ?
Find William Hellfire here ...
Something naughty ?
(Must be over 18 to go there !)

https://www.facebook.com/upsidedowncrossmovie?ref=br_tf
http://www.indiegogo.com/projects/upsidedown-cross/x/4693901
http://www.youtube.com/watch?v=qNnzuyD_mZY
http://www.alternativecinema.com/?pg=podcast
Anything else you are dying to mention and I have merely forgotten to ask?
Alternative Cinema has just "sweetened the pot" for the Upsidedown Cross - starring David Yow (Jesus Lizard) and Erin Russ (Devil Sister) - IndieGoGo campaign. If you make a love gift contribution of $50 or more you will get to choose a free signed William Hellfire DVD. The more you donate the more DVD's you get. $50 bux gets you 1 free DVD. $100 gets you 2 free DVD's, $250 gets you 3 free DVD's and $500 gets you 4 free DVD's and $1000 gets you all 7 DVDs, plus some really rare Hellfire swag like test prints of box and promo art. Really cool of Alternative Cinema to get behind Upsidedown Cross. Don't forget you also get all the materials offered through IndieGoGo!!!! So listen to the Alternative Cinema Podcast #49 and send in your 'love gift'!!!! Help Upsidedown Cross help you jump out of your skin!!!!
Thanks for the interview!